MANY HUNDREDS of Celtic Supporters gathered today at Cambusnethan Graveyard in Wishaw to celebrate the life of one of Celtic's finest ever players Jimmy Delaney.
Today's event was the latest organised by Celtic Graves Society and their patron Lisbon Lion Jim Craig, who wrote The Celtic Star's Diary piece in our first year, was the guest speaker and the Jimmy Delaney CSC Cleland were well represented as you would expect.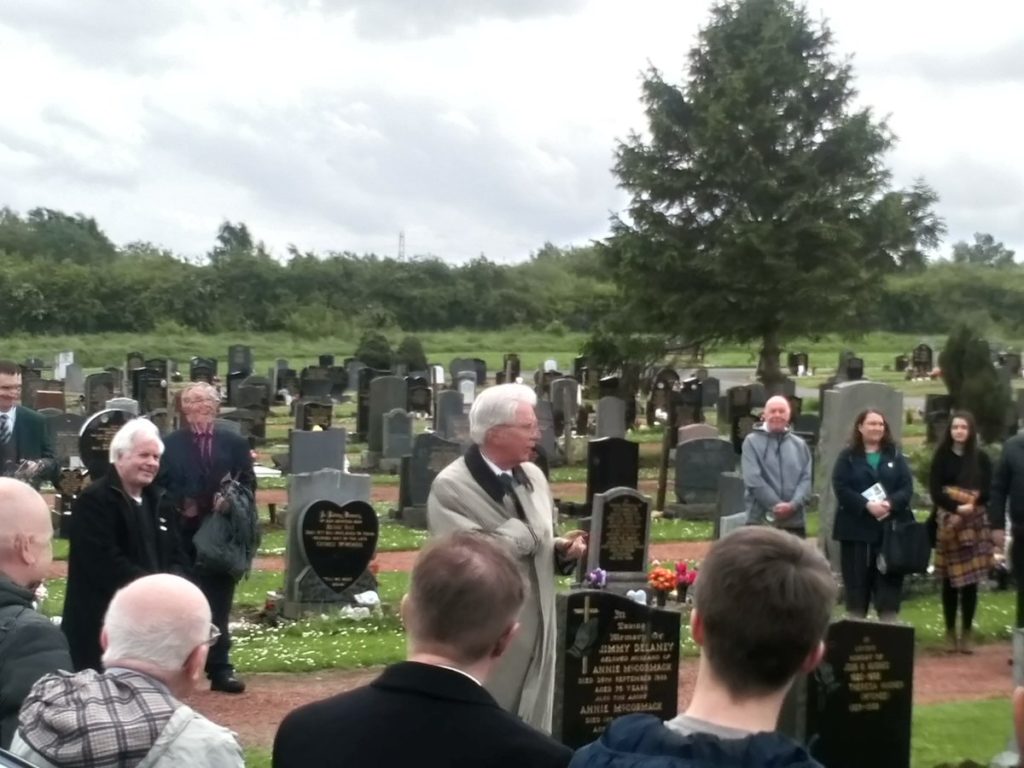 The Celtic Star yesterday took our readers on a journey through some of Jimmy's career highlights at Celtic during the late 1930s including league and Scottish Cup wins as well as that wonderful triumph in the Empire Exhibition Cup Final against Everton.
These articles, written by Celtic historian David Potter are well worth reading if you missed them. Links to them are below.
Here are some images from today's Jimmy Delaney commemoration.
Great turn out at the Jimmy Delaney event today. pic.twitter.com/rQHRGLhscO

— Celtic Graves Society (@CelticGraves) June 1, 2019
Great turnout at Cambusnethan Graveyard for the Jimmy Delaney Commemoration. pic.twitter.com/d6Q8rz2Hgy

— ScotPatsFan ???????????????????????????????? (@Scotpatsfan) June 1, 2019
Flowers from every club Jimmy Delaney played for,
from Elgin City to Manchester United and if course his beloved @celticfc.@CelticGraves pic.twitter.com/z1pQA3QZua

— CelticResearch (@CelticResearch) June 1, 2019
The greats here paying homage to the greats.#JimmyDelaney#celticlegends.@CelticGraves pic.twitter.com/v8L6cf0gFi

— CelticResearch (@CelticResearch) June 1, 2019
What a turnout here in Wishaw to remember Jimmy Delaney@CelticGraves pic.twitter.com/2V49lCkaMp

— CelticResearch (@CelticResearch) June 1, 2019
Watch Jimmy Delaney score two goals for Scotland to defeat Nazi Germany at Ibrox
Celtic 1935-36 – McGrory, McGrory Hallelujah, Jimmy Delaney's hat-trick against Rangers
In 1937, 'Celtic had some great players, Jimmy Delaney on the right wing was as good as one would get,' David Potter
Celtic 1937-38 Champions – Our 'devastating forward line' of Jimmy Delaney, MacDonald, Crum, Divers and Murphy
Empire Exhibition Cup and The Great Jimmy Delaney, 'the best player of pure football that Celtic had ever had'