GARY PENRICE has spoken about his new job at Celtic as Head of Recruitment with the Bristol Post. The 56-year-old was appointed to the role last month but the former Bristol City striker had been working as a consultant for the club since December.
Following Brendan Rodgers' departure to Leicester in February 2019, Lee Congerton followed later to the Premier League club last summer meaning Celtic had a gap in the recruitment department. Nicky Hammond was appointed in an interim role, which later became Head of Football Operations whilst he combined his role with overseeing the club's scouting endeavours. The club secured Jay Lefevre as the Head of Scouting Operations after poaching him from Arsenal as Hammond reshuffled the club's scouting and recruitment department.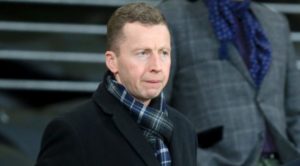 Celtic announced last month that Penrice had become the club's new recruitment chief and now Penrice has spoken out about his role as well as how he is managing to fulfil tasks even with the Coronavirus pandemic resulting in no football being played. When asked what he was doing now, the former QPR and Bristol Rovers man discussed his scouting achievements and how he manages to fulfil his scouting duties from home.
"I have just been appointed Head of Recruitment at Celtic – and been connected to the club in a consultancy basis since December.
"Nick Hammond is there who I worked with at West Brom, I get on well with Nick. But prior to then I sorted scouting department out at QPR, I was at West Brom and Everton running their scouting networks.
"I also had my own scouting project, which is one of the biggest in Europe. And I do it all from home. I have never moved house in 27 years, and currently live in the Cotswolds.
"I moved a lot as a player, so to be honest it's nice to stay put. And I've obviously worked as a coach and assistant manager, which involved moving around as well, which drives you mad, but doing this you don't need to.
"I can travel from here, or hop on a plane and be where I need to be."
When asked how the current global pandemic had affected his work, Penrice gave a surprising yet exciting answer. The European market specialist revealed that he is watching an enormous amount of players.
"Not that much to be honest, as there are other ways of doing things now. Obviously I can't travel to see games, and there aren't any anyway! But I can keep in contact with people. It's actually been busy, manic, catching up with all stuff, and tapping into a huge global market.
"Celtic's market is absolutely huge. It's global. I am currently watching 240 players."
The news that Celtic are actively watching 240 players with a view to next season is encouraging that the club are continuing to look to strengthen. Whilst Celtic already know the merits of targets like Fraser Forster and Paddy Roberts, Penrice will be scouting the global transfer market for potential signings with  a view to bringing them to Glasgow in the future.
The chances are that these won't be marquee signings given the financial state that Scottish football finds itself in, which means that any decision to sign players needs to be worth it.