His tactics were – as usual – spot on. The team spirit in his side inspirational and there are some really good players in this Celtic side. Surely hat-trick hero Sarah Ewens is going to be getting some international recognition for the season she's had, and there's still one chapter remaining next summer – so fasten your seat belts!
Fran Alonso had every reason to be delighted with his team's performance that had at least one Forfar player in tears. Sitting next to their media staff who must have felt that they were defending the Alamo as wave after wave of attacks reined in and their casualties mounted up.
If you were to select a handful of players fo the Player of the Match then a real contender was the Forfar Farmington goalkeeper who Lauren Perry who had an excellent game and denied Celtic on at least half a dozen occasions with some saves so good they'd be in the ridiculous category. Yet she had to pick the ball out of the net on at least ten occasions.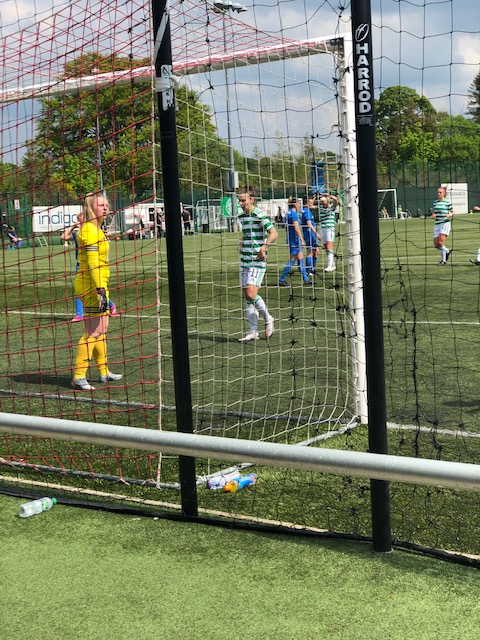 Just before the team's emerged at around five to two this afternoon 'I Believe In Miracles' blasted from the Celtic dressing room, presumably as Alonso's inspirational team-talk came to a close. Everyone in that dressing room knew that a BIG win was needed to keep a most unlikely title challenge alive and after today's results that's a job done – even though Glasgow City themselves scored six. They also lost two so the 10-0 win gives Celtic a six goal swing in our favour. We need theRangers – themselves needing a win in the hope that we slip up at Motherwell – to beat Glasgow City next Sunday, 6 June – D-Day.
So a Celtic win be say 3-0 at Motherwell and a 1-0 win for theRangers (who have already beaten Glasgow City this season) and Celtic would be the Champions. Still Alonso is focused on his side winning which guarantees Champions League football. Then he'll check the other game to see who comes out on top and what that means for the destination of the title.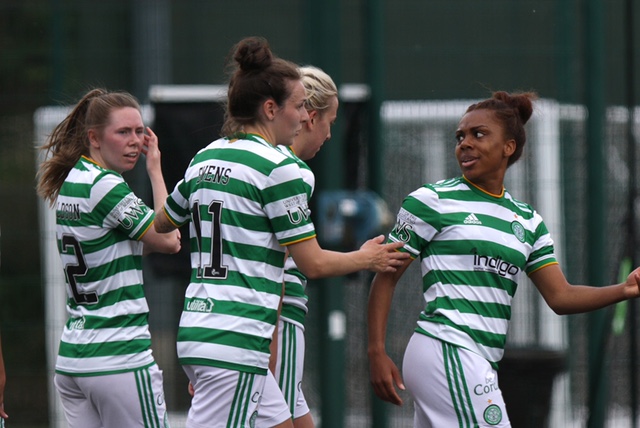 Fran thanked his team, as usual after the game. "Thanks to this unbelievable group of players and staff once again! Another superb display, clean sheet and 10 goals scored!! 34 points for 36 possible, just 3 points away from making our dream come true!" he tweeted.
I Believe in Miracles – hopefully Fran Alonso is signing that himself next Sunday…
Thanks to this unbelievable group of players and staff once again! Another superb display, clean sheet and 10 goals scored!!
34 points for 36 possible, just 3 points away from making our dream come true!! @UWCL

Now more than never, Mon the HOOPS!!!
Together!!! One CLUB!! HH🍀 pic.twitter.com/dZzYtbWsH5

— Fran Alonso (@FranAlonsoFA) May 30, 2021