I have given thought as to why I support and love the Celtic Football Club and family. I grew up at Shortroods next to Love Street in Paisley from 1947 and attended St.James primary school. My relatives were a mix of Celtic, St Mirren and Rangers supporters and I grew up watching St. Mirren in the days of Lapsley, Wilson, Baker, Rodger, etc.
These were my early years. When I left school and started my first job I made friends with another young fellow named Tony who was a dyed in the wool Celtic supporter and he would tell me everyday about their history and how good the players were.
At lunch time we would go to a cafe around the corner from where we worked (it was at Smith Crisp factory across from the old Paisley Ice Rink). Tony as usual was wearing his Celtic scarf and we were sitting chatting about his favourite subject, Celtic.
There were also a group of older boys from a high school in the area. They took exception to Tony's Celtic scarf and started to bully him. I could not understand why they were doing this (although I had gone to a Catholic school, I had been raised by my mother to respect everyone and religion was never an issue). This led to a to pushing and shoving and as a result both Tony and myself lost our jobs (although it was outside of work and in our own lunch time).
This led to me thinking why did this happen? Why pick and bully someone who was wearing a Celtic scarf? so I started to get more interested in Celtic and started to attend games with Tony I also discussed this with my mother and she explained the real facts of life in Scotland at the time regarding anyone associated with Celtic (not much has changed).
I then began to read everything I could about Celtic and the players' past and present at the time, how they were founded for all the right reasons and were open to all.
The first team team I could recite as though I was old enough to be there was, Kennaway, Hogg, Morrison, Geatons, Lyons, Patterson, Delaney, McDonald. Crumb, Divers ( I loved the Divers of my era great header of the ball) and mMrphy and other teams and players, Thomson, Cook, McGonagle, the mighty atom Patsy Gallacher (my grandfathers favourite player), Jimmy McGlory etc.
I fell in love with Celtic and would listen for hours to the older supporters that I had worked with over the years and my grandfather.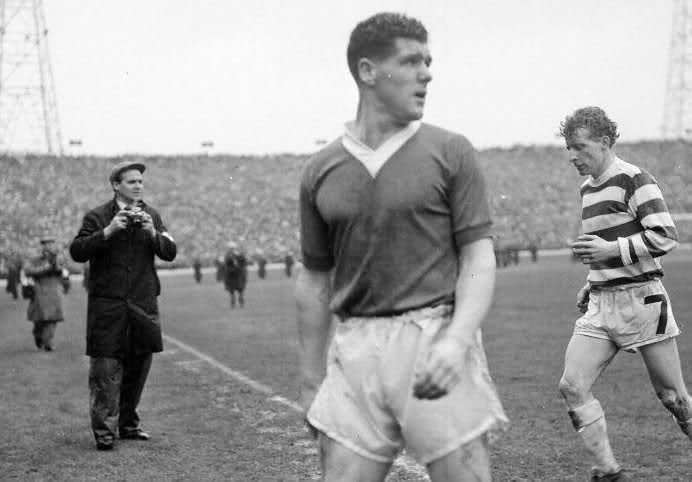 Then in 1963 in the Scottish Cup final against Rangers I saw for the first time the player who I believe encapsulated all the things that Celtic way of playing football was all about, of course it was the magical JJ. I was amazed, enthralled, spellbound, I could not believe that someone could do what he was doing with a ball, I was now hooked.
I was fortunate enough to watch the younger players from that time grow into great footballers and become their own Legends of the club. I have so many happy (and sometimes not so happy) memories of that time.
The game, 7-2 against Dundee United, an excerpt from the papers, I was at this game and I cried tears of joy watching JJ. The next day's newspapers struggled to find adjectives to describe Jimmy. The Evening Times reported that in one run, Jinky dribbled past six United defenders plus Willie Wallace into the bargain. The Glasgow Herald stated that: ​'Little Jimmy Johnstone stood tallest. Impossibly he beat three men, four, five. Then, in case anybody had not believed it the first time, he did it again. He flitted past opponents to the inside and outside; over and under; sometimes it seemed he went through them.'
The European cup semi-final, the Leeds game I have never been in a bigger crowd.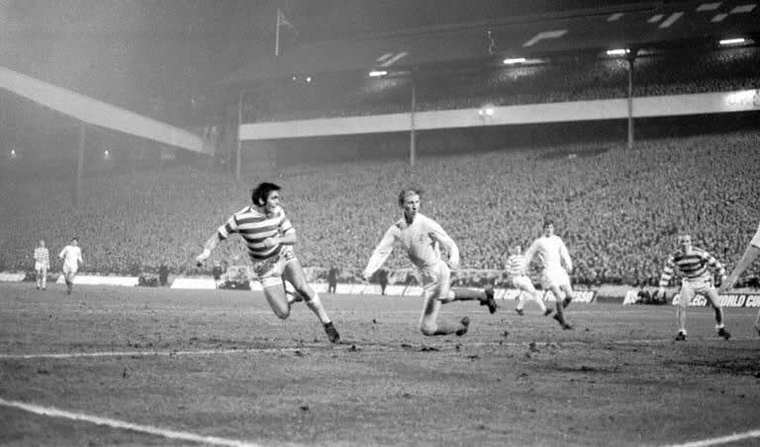 Then in 1972 I emigrated to Australia with my wife and two children. There was not any reporting of the Scottish league then in Australia so all I got for years was the results and an occasional article in a Football magazine.
Then in 1977 Celtic came to Australia, all my dreams come true to watch my team again and Celtic won the tournament, I lived on that memory for years.
As the years wear on you tend to get softer and softer in your beliefs and sometimes forget why you started to support this great club.
Then in 2009 Celtic came to Australia to play Brisbane Roar up in Queensland. I flew up there for the game with my nephew and some friends and we had booked into a hotel in the centre of the city which was situated in a pedestrian mall.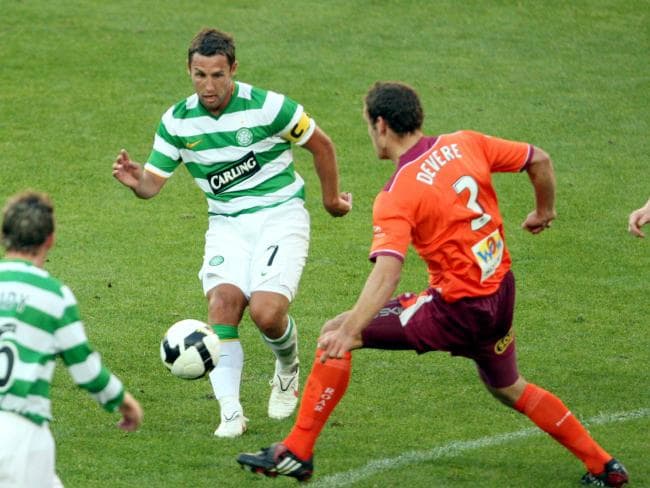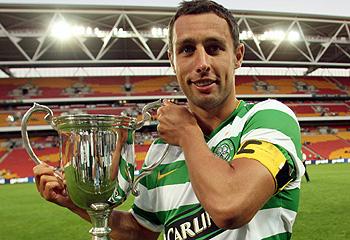 On the Saturday morning I arose early and went down to the mall (this is where it all came back to me why I am a Celtic supporter) the mall is a very long area and all I could see was a sea of green and white hoops, thousands of them, grandparents, children, grandchildren, uncles, aunts, cousins, nieces, nephews, friends, it then all came back to me why I Love this club. We are not alone, we are one huge family with one common goal, the love and support for the greatest club in the world.
So that is how I became and remain Celtic supporter.
After over four decades in Australia I went back to Scotland for a holiday and paid a visit to Celtic for the tour, During the tour the young girl asked if there was a Mr Qugley here and I said yes, she asked if I would do an interview for Celtic TV ( unknown to me my son in law who is an Australian had sent a five page letter to Celtic explaining my background and how this was my first time back in over 49 years) it was the most wonderful experience the club could not have treated me and my family better, my grandson who is Australian was one of the mascots on the following Saturday game.
This is my story on why I became a Celtic supporter and love this Club so much.
Brian (Poppy)