There was great excitement in Aberdeen on Hogmanay 1987 as the rumour that Arsenal striker Charlie Nicholas was signing for the Dons swept through the city. Then later that evening as the Bells approached the signing was announced live on BBC Scotland from the stage of his Majesty's Theatre.
Nicholas, once the darling of the Celtic support, had rejected an opportunity to return to Parkhead and instead was heading to North East to play for Ian Porterfield and there have been few signings made by Aberdeen that caused such excitement as that of the former Celtic star. Aberdeen paid Arsenal a transfer fee of £400,000 for the striker.
Speaking to the official Aberdeen FC website, Nicholas looks back at his two-and-a-half years playing for the club and makes reference to his departure from Celtic in the summer of 1983 and revealed that the way he was treated by Celtic at the time resulted in him opting to sign for Aberdeen and not Celtic on this day 34 years ago.
Nicholas had fallen out of the picture at Arsenal but the Gunners boss George Graham wasn't keen on selling him to a rival club in England. Nicolas looked at options in France and spoke to Aberdeen chairman, Dick Donald, who had a few months earlier sold his star player Joe Miller to Celtic, and had also spoken Celtic manager Davie Hay about a return to Paradise.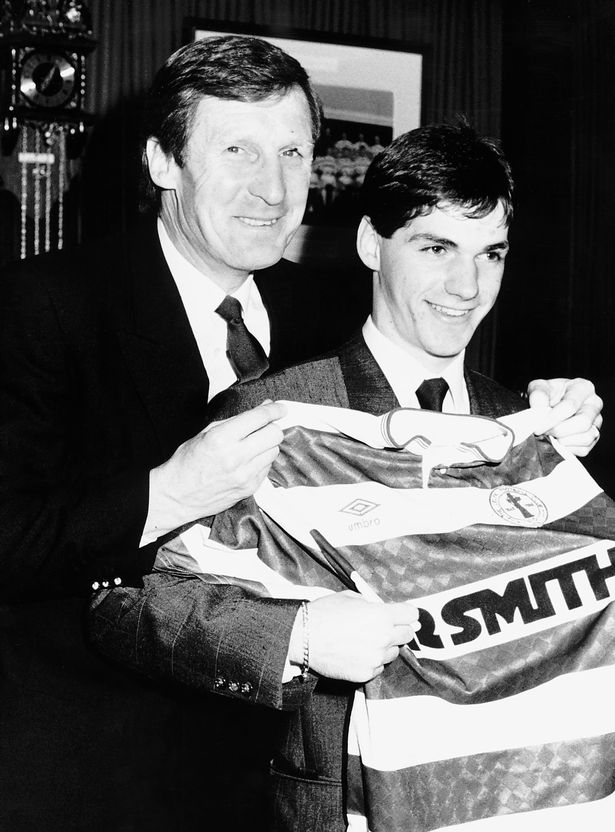 And not only does Nicholas not regret snubbing Celtic in 1997 he actually regrets leaving the Pittodrie club to return to Parkhead two-and-a-half years later.
Nicholas, who turned sixty yesterday, scored 36 goals for Aberdeen and struck up a decent partnership with Hans Gillhaus, much as he had done at Celtic in the early eighties with Frank McGarvey. In an interview in Red Matchday Magazine (presumably meant to have been published for the now postponed visit of theRangers, told the story of how he ended up signing for Aberdeen.
"I was at Arsenal and it was clear I wasn't in George Graham's plans. I was never a guy who would hang about if I didn't feel wanted. I have never been like that. I don't see any merit in that for anyone.
"I was sent all over the place with Arsenal reserves and George even sent me away with the youth team. I was even sent up to Cambridge University to sit on the bench. It was clear my Arsenal career was over. There was no point in picking a fight, my time was up.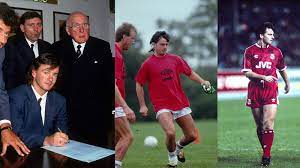 "So when Aberdeen came in for me I went up and met the chairman, Dick Donald. I met him in a hotel in Aberdeen and I was really impressed with him as a person and his ambitions for Aberdeen.
"It was a few days before New Year when I went up. Dick was a gentleman and I was impressed with his plans and ambitions for Aberdeen. I said give me a couple of days to think about things but I did say I wasn't sure about coming back to Scotland," Nicholas stated.
"If I was being honest I wasn't really thinking about going back to Scotland before I joined Aberdeen", Nicholas admitted. "Celtic were interested. There was an approach through Davie Hay to see if I would be interested in going back?
"I would have thought about it although I felt I was harshly treated at Celtic when I left. I was basically booted out the door and told that I had asked for a transfer, which was never the case.
"I then went to France and I had always wanted to play abroad. I went to Toulon, who were in the French top-flight at the time. I flew out with the Arsenal secretary Ken Friar and we had agreed a deal with them but then George blocked it. Brian Clough then came in for me to take me to Nottingham Forest and Jim Smith tried to get me to Queen's Park Rangers and Newcastle but George wouldn't allow those moves either.
"George Graham wouldn't have a meeting with me," he added. "I had to go to Ken Friar but he said it was up to the manager to agree to a deal for me. George wouldn't let me resurrect the deal with Toulon or go to England so I just told Ken that I wanted to go to Aberdeen.
"Aberdeen was a deal that George wasn't adversed to. So I decided that was where I wanted to go and I phoned Dick on Hogmanay to tell him that I was going to Aberdeen and that is when the story began to break."
"I think the Aberdeen fans were happy I signed for Aberdeen. It showed the club they still had a burning ambition and the pull to sign players from the English top-flight. I just wanted somewhere to play and enjoy my football. I wasn't even thinking about Scotland recalls or anything like that.
"I just wanted to get back to playing and enjoying my football again. My time at Aberdeen was amazing. I was there for just over two and a half years. The one thing I always appreciated about the club. They were always good to me. They also had to be patient when I signed because it took me a few months to get fit and up to speed.
"I knew it would take me the best part of two or three months to really get fit. When you are not playing and it really does setback you. Scotland was also so much faster and physical than England. I knew that and the club accepted that. I have to say the fans were also great and were patient with me as well. "At Arsenal we won the cup and had the bus trip the next day and then the celebrations at the town hall and there were 100,000 people there.
"It was similar when we won the two cups at Aberdeen and especially the Scottish Cup. The number of people who were out on the streets of Aberdeen was amazing. It just showed what Aberdeen as a football club and a city could deliver if and when they were successful. I also knew I was walking away from all that.
"When the team came out on the balcony the fans were brilliant to the team and me and I really appreciated it. Looking back with hindsight, I know I should never have left Aberdeen when I did," Nicholas stated.
He of course left to return to Parkhead in the summer of 1990 after scoring the decisive goal in the Scottish Cup Final penalty shoot-out against Celtic.