JEREMIE FRIMPONG yesterday broke his silence on the horrible two footed lunge from Kilmarnock's tough man Alan Power that he thought had ended his season with a broken leg.
The wing-back has recovered though and was on the bench at Pittodrie and will be in the Celtic party heading to Copenhagen for the first leg of the round of 32 in Copenhagen on Thursday in the early evening kick-off.
For Frimpong it will be his first chance to experience European action for Celtic – he was not registered in the squad for the group stages as he was signed at the very end of the summer window – too late to be evaluated for the Europa League squad that was pretty much submitted at the same time as he signed.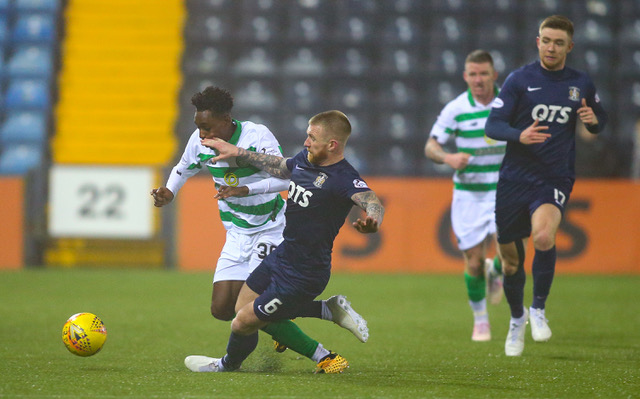 "This is the first injury I've had and at first I thought it was going be bad. I've looked back at it and his legs were up," Frimpong said to the Media, as reported by Scottish Sun, while looking back at Power's shocking challenge.
"If my foot had been planted on the floor, it would have been a really bad injury — it could have been a break. As he came in to challenge, my leg was lifted up a little bit — that's why it wasn't as bad as it might have been.
"It was over the top but what can you do? I don't know why he did it. I don't know what was going through his head. He did win the ball but it was a hard, hard tackle. There were two minutes to go and we were winning.
"I thought it should have been a card at least but the referee didn't do anything. I wouldn't say it was a big injury. I've been out for three weeks so it wasn't a long time. But I got a fright.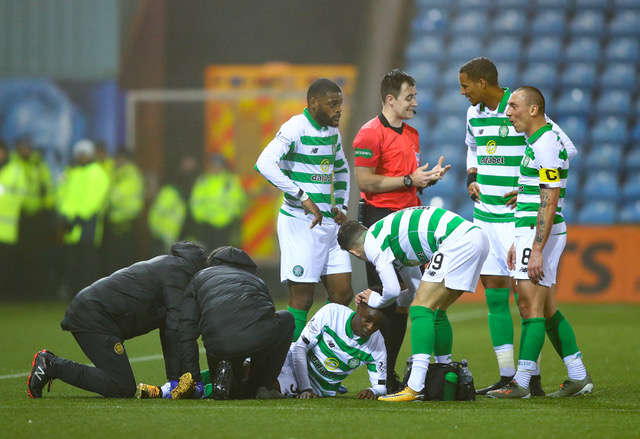 "I knew Scottish football would be tough and you've got to be ready for it. I just didn't expect it to come like that. If you're on the pitch, you can't be soft. You have to go in hard but in the right way.
"Maybe you have to change your style of play. Next time, in that situation, I'll just dodge it. It's all about learning and I'm doing that every day."
Little was said about Power's challenge in the aftermath to the game, much more attention was given to Leigh Griffiths throwing his sock tape in the bin next to the Kilmarnock Uncle Albert, but that's Scottish football for you.
Sitting on the sidelines on the European nights in the first half of the season were frustrating for Frimpong, as has been watching on for the past three weeks after Power's lunge almost ended his season.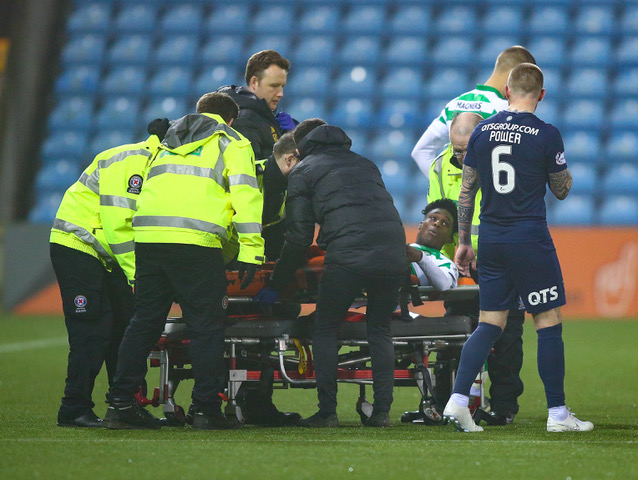 "It's been frustrating. I want to get on the pitch as fast as I can. But I've been waiting patiently and now I'm back so I'm happy. I enjoy watching the team play. We're getting our goals and the team are playing really well.
"I've been waiting to be involved in Europe and I'm ready. The matches have been intense but they've been fun to watch. My favourite was the win away to Lazio. I wasn't there but I watched it on TV. I was on the edge of my seat."
With Greg Taylor a major doubt for the left wing-back role in Copenhagen after coming off in the first half in the 2-1 win at Pittodrie, Frimpong has hinted that he could be in line for a place in the team down the left hand side of the pitch. "I can play on the right and left — I've played on the left before," he hinted.
Help raise money for Celtic Youth Development by joining the £1 weekly lottery and you could win up to £25,000 – just click on the photograph below to join. Lots of our readers have already done so and they're now doing their bit to help fund Celtic Youth Development that can deliver the stars of tomorrow and beyond. And you might even win a few bob too!