Once we heard the result on the radio, the 1967 European Cup win in Lisbon prompted me and a group of friends to run around the streets of Denny celebrating with Celtic strips on. I imagined myself as Bobby Murdoch, who was always an absolute hero of mine.
I was brought up as a Celtic fan, and went to St Patrick's RC Primary School (whose school team played in green-and-white hoops) and later to St Mungo's in Falkirk.
As well as playing for my school teams, I played at various times with Denny Boys' Club and Gairdoch United, before joining Campsie Black Watch.
Whilst with Campsie, I ended up playing a trial match for Airdrie reserves against Rangers reserves. This was in 1975, and Rangers had a group of youngsters that Jock Wallace was calling 'The Golden Boys'. This crop included the likes of Alec O'Hara, Gordon Boyd and Martin Henderson, who scored a hat-trick on this particular night as Rangers comprehensively dismantled us 6-0.
After the game, Aberdeen scout Jimmy Calder approached me and asked me to sign for them. I remember thinking, "Have you got the right guy here?"
I suppose in many ways I was in the right place at the right time. I signed for Aberdeen, and went on to enjoy a lot of success at Pittodrie. We beat Celtic in the 1976 League Cup final, which wrecked their treble chances, and I was also part of the 1980 league-winning side.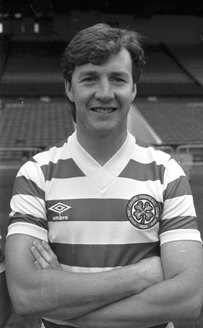 Ally MacLeod was my first manager at Aberdeen, and for the 1976 League Cup final he deliberately booked us into a hotel just off a roundabout in Newton Mearns. Celtic were at their usual pre-match location in Ayrshire, and Ally had someone in a car waiting for their team bus to leave Seamill Hydro. We were sitting in the team coach waiting, and when this car appeared over the brow of the hill, Ally knew that Celtic were approaching.
As soon as Ally seen the police motorbikes, which were escorting the Celtic team coach, he told George the driver to make his move. We pulled out in front of the Celtic bus, and you could see Jock Stein sitting down the front looking slightly bemused. Ally turned around to us and said, "That's us, boys. We'll never be behind them again today." That was typical Ally; he made us believe that we could beat anybody.
Ally MacLeod left to take the Scotland job in 1977, and Billy McNeill came in with John Clark as the new management team. They were like a breath of fresh air around the club. They were so professional and great to work with, and crucially they brought in Gordon Strachan from Dundee, and Steve Archibald from Clyde.
The lure of a return to Celtic was too much for these two Lisbon Lions though, and there was no real surprise when they moved back to Glasgow the following year to be replaced by Alex Ferguson.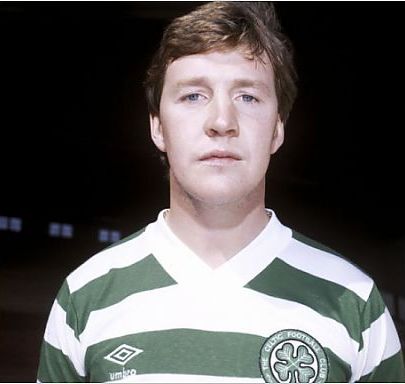 Fergie was very single-minded, almost autocratic, and it was immediately clear that he wasn't going to take any nonsense from anybody. He also inherited a very good side, and some excellent young prospects who were already working their way through the youth system.
I played a fair amount of games under Alex, but I broke my leg in Bulgaria against Marek Dimitrov in the European Cup Winners' Cup, and Alex McLeish got into the side alongside Willie Miller.
It became clear to me that McLeish was going to be Fergie's first choice to partner Willie Miller in the centre of the defence. This meant that I played for long periods in the reserves, which I really didn't enjoy.
I knocked back a move to Allan Clarke's Barnsley, and I later regretted that because I would have tripled my wages. I decided afterwards that I'd go to the next English side that came in for me, but nothing happened for another six months.
Eventually, I got a phonecall from Wallace Mercer, who wanted to sign me for Hearts on less money than I was getting at Aberdeen. It wasn't ideal, but there were no other offers at that time, so I told him that I'd think about his offer over the weekend.
Then Fergie phoned me out of the blue on the Saturday morning and informed me that John Clark had been on the phone and wanted to sign me for Celtic. My response was, "That will be happening." I wasn't interested in negotiating wages with them; I just wanted to go to Celtic Park and sign. To be fair to Fergie, he knew how much I wanted to play for Celtic, and he didn't demand a big fee for me; I think it was £35,000-£40,000.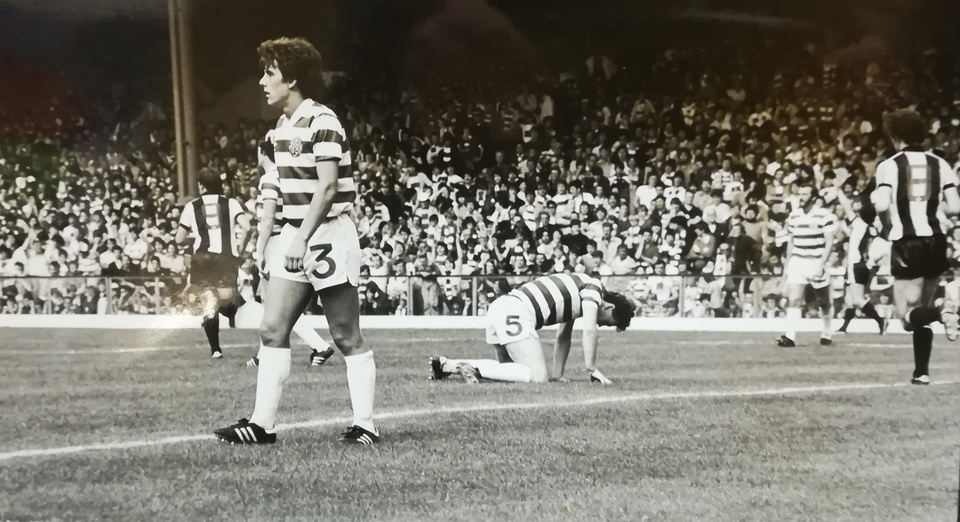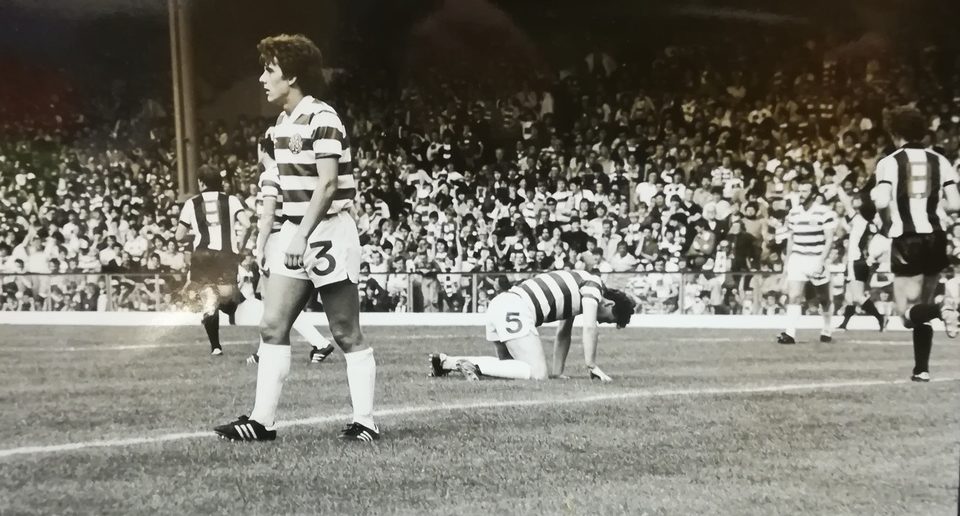 At that time, I was driving a bucket of a car. I decided to hire a decent motor to drive down to Glasgow and meet up with Billy McNeill. I was offered a two-year deal on double the wages that were on the table at Tynecastle, but the money wasn't important to me. It had always been my dream to sign for Celtic.
We flew to America for a pre-season tournament a few days after I signed, and I partnered Roy Aitken in central defence as we played against the New York Cosmos, Seattle Sounders and Southampton, who had Kevin Keegan in their team. We then played a few games in Germany and the Netherlands, where we won the Rotterdam Tournament, and I thought I performed pretty well.
Our first competitive match of the season was against St Mirren in the League Cup, and I was delighted that I kept my place in the heart of Celtic's defence. My entire family were at Celtic Park to watch my debut that day, as was half of my hometown Denny.
Roy Aitken told me to make sure I went over to the Jungle before the game to acknowledge the supporters, which I did. I remember looking around the stadium, and thinking, "Wow." Roy also told me he would give me the ball early to settle my nerves. When he did, I played a diagonal pass, which came off as planned, and I felt that I started the game pretty well.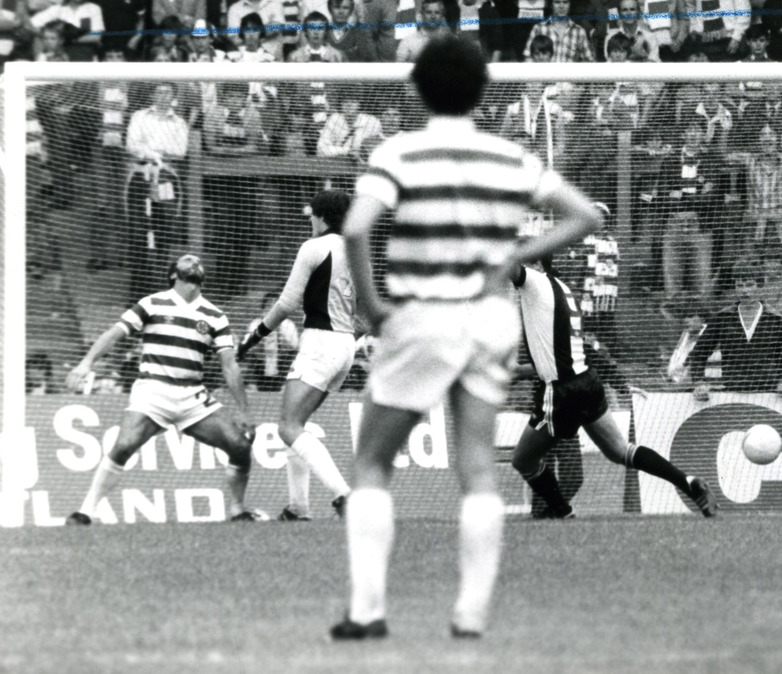 We went 1-0 up through Frank McGarvey after half-an-hour, but shortly afterwards Frank McDougall advanced down Roy's side. I was expecting my defensive partner to close him down, but he seemed to back off the St Mirren striker. I decided to go across to him just as McDougall struck a shot from 20 or 25 yards. It ricocheted off my foot, and looped right over Packie Bonner, who was standing on his penalty spot, and into the back of the net. That certainly wasn't the start I had expected on my Celtic debut, but I wasn't too concerned at that stage. I was confident that we would still win the game.
We were defending the Rangers' end in the second-half, and Ian Scanlon raced down the Jungle side, he went beyond Danny McGrain, before smashing it across the face of the goals. I was in the six-yard box, and decided to simply header it out for a corner. Unfortunately for me, the ball hit my head about an inch off its intended target, and the ball ended up in the back of our net again.
The Jungle began to grumble and there was nowhere for me to hide; I didn't know where to look. An hour into my Celtic debut and I had scored two own goals!
I looked across at the dugout, and fully expected Billy McNeill to haul me off. To his credit, he let me finish the game, which we went on to lose 3-1.
That night, I felt utterly dejected, and decided to take my wife out for a bite to eat at an Italian restaurant in Moodiesburn called La Campagnola. We were waiting in the reception area to be seated when Ian Redford of Rangers walked in with his missus.
"How are you doing, big man?" He asked with a smile. "Don't start," I replied, as I wasn't in the mood after the day I'd had. "I know you lost," Ian continued. "But how did you get on with your first game?"
I told him he'd read all about it in the following morning's papers, and at that point Ian and his wife were called to their table. He stood up, accidentally knocked the table we were sitting at, and my full pint soaked me down the front of my trousers. It's safe to say, I've had better days.
After that disappointing introduction, my Celtic career never really got going. St Johnstone beat us in our next game – also in the League Cup – and I lost my place in the side after that.
I played one more league game a couple of months later, when Hibs beat us 1-0 at Easter Road. After the match, Billy told me the punters weren't happy with me, and I understood where he was coming from. The rest of my Celtic career was spent in the reserves, and I had a couple of loan spells at Alloa Athletic and then at Rochdale, who wanted to sign me permanently, but I didn't fancy the move down there.
I was hugely disappointed that things didn't work out for me at Celtic, especially when you consider that we were a league-winning side that season. A young Davie Moyes partnered me in the reserves, and I used to help him with his game. Although he was decent in the air, his distribution was poor. John Clark told me that Billy fancied Moyesy because he seen a bit of himself in him, and he started appearing in the first-team more regularly. I realised then that I had to leave the club I had supported my whole life.
Before I left, I had the small matter of the Daily Express five-a-side Challenge Cup at Wembley to contend with. Jimmy Lumsden went down with myself, Peter Latchford, Charlie Nicholas, Danny Crainie, Willie McStay and John Weir. We only took six players because the club wouldn't pay for any more.
The English clubs took the tournament really seriously, but we had a side made up mainly of reserve players. We beat Watford; Ipswich, who had Paul Mariner, Russell Osman and John Wark playing for them; Manchester United, with Lou Macari, Bryan Robson and Jimmy Nicholl in their side; and Southampton, complete with Kevin Keegan and Mick Channon.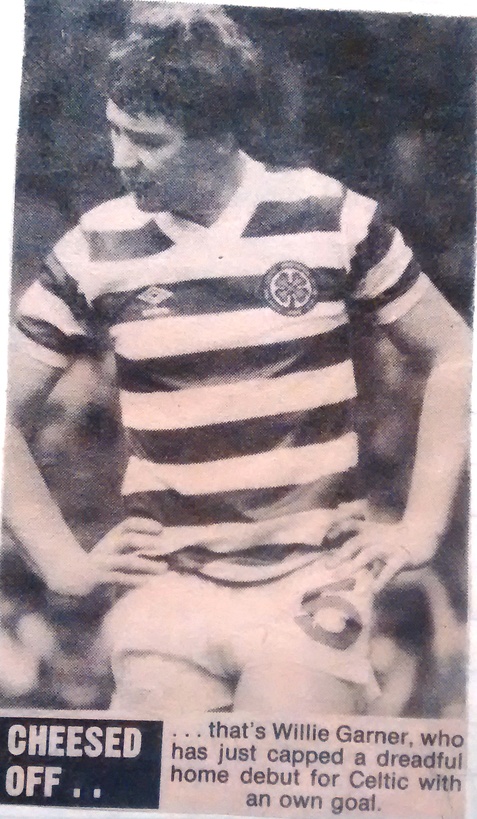 Wee Charlie was different class during that tournament. I think a lot of the English clubs started to stand up and take notice of him as a result of his performances at Wembley, even though it was just an indoor tournament.
Having played for Alloa briefly, they then offered me the role of player/manager. I was slightly apprehensive because I was still only 27 at the time, and I phoned Fergie for his advice. He told me to take the job, and Billy didn't want a fee, so I left Celtic after less than a year-and-a-half at the club.
My next move two years later was an even bigger shock, as Alex Ferguson asked me to be his assistant at Pittodrie. Archie Knox had gone to Dundee, and it gave me a fantastic opportunity to team up with my old gaffer back at Aberdeen
I enjoyed a huge amount of success with Fergie, as we won two leagues, two Scottish Cups, and one League Cup. It was a footballing education, and one that would surely have held me in good stead. Then disaster struck again.
Fergie came back from the Mexico World Cup and advised me that he was taking Archie Knox back from Dundee, and that there was no longer a role for me at Aberdeen. I was out of a job and signing on the dole the following morning. A few months later, Alex and Archie went down to Old Trafford and never looked back.
Football can be a cruel game, but I got over my disappointment and moved into a new career in the banking industry, which lasted for 25 years.