Ange Postecoglou was named as the Scottish Premiership's manager of the month for February earlier today and also spoke at the Celtic Media Conference ahead of Sunday's crucial match away to Livingston on Sunday lunchtime. Here's how it went…
Q: Can you give us a squad update – how is Giorgos Giakoumakis doing?
ANGE: He's fine as he trained today and yesterday and I made the decision on Wednesday as best not to push it as we had some options there. Giorgos is fine and nobody else came out with anything from training and the games. It will be the same sort of squad plus Giorgos.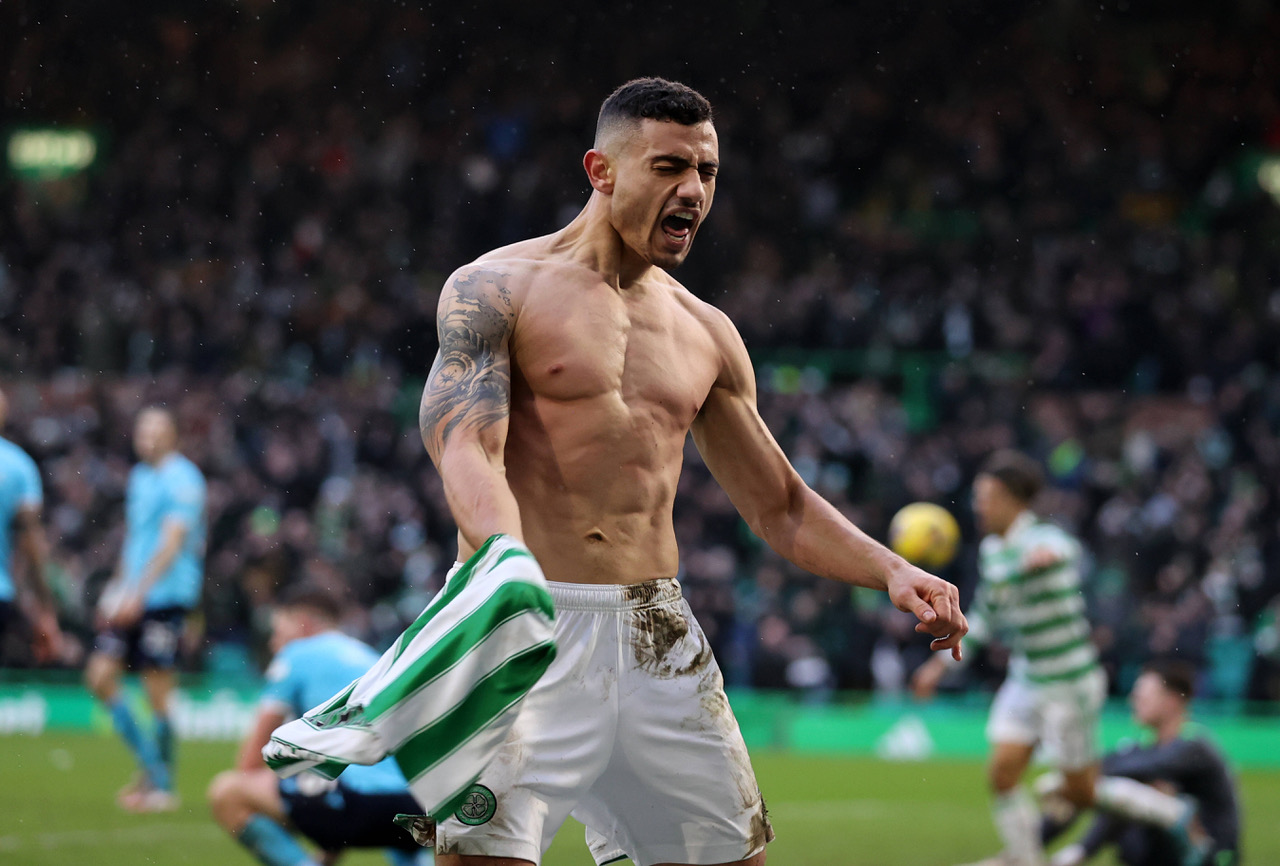 Q: You've played Livingston a couple of times this season – what is it about them that make them difficult opponents?
ANGE: I think they've grown into the season and got stronger as the season has gone on. They seem to have a good spirit within the group and they work hard together and they are well drilled and structured. That makes them hard to beat and in the two games we have played against them we've had a good challenge in front of us and I'm sure Sunday will be the same.
Q: The results you have had against Livingston this season does that make it an extra challenge for your players?
ANGE: We are under no illusions, I think it will be a challenge for us. As you have seen in recent weeks every game is pretty tight not just our games but all games around the league. There are very few blowout scores and it is pretty tight table-wise for different reasons as teams are trying to achieve different things.
We are under no illusions that this will be a tough game for us come Sunday. It is another good challenge. We haven't played them in a while and we've grown as a team since then as well in terms of dealing with showing any resilience we need to show to win games of football. Whilst it will be a good challenge it is one that we are up for.
Q: We are in the business end of the season is the pressure being cranked up on every team in the league?
ANGE: I don't know about pressure. I just think there is more of an edge to games as everyone is playing for something and it is only natural that this time of the year all sides in all games have a little bit of an edge and they are a little bit more anxious about the outcomes.
They mean so much more but in terms of pressure, it doesn't really change. The pressure has been the same since the first game we played against Hearts until today and I am sure the pressure will remain until the end of the season.
Q: Do you look back on the two games against Livingston and see if you can pick holes in the opponent's tactics?
ANGE: Not really because both matches happened a while back and there has been a lot of football since. I think both teams have probably evolved a bit since then and I think more relevant is how they have gone about their business recently and take that as our reference point rather than the way we went in against them in the other two games. For us, we just make sure that we prepare and respect every opponent we play.
We prepare the same way, we scout them and look at their recent form and everything they bring to the table and counter that with the football we want to play. We have changed a fair bit as a team since then I think for us the focus will definitely be on continuing to do the things we do well. I think I said after the midweek game that the solutions we need to find are within our game rather than looking at the opposition.
Q: Players showed patience on Wednesday night, can the fans do the same as they will occupy three stands and make a difference by getting right behind you?
ANGE: The fans can make a difference as it is a tight little ground and it is a little bit unusual as our supporters will have three-quarters of it. Our supporters have been really good all year and I understand that it is human nature to get a bit anxious around this time of year.
We can't rely on external factors and that is kind of where I am at. Irrespective of whether there is the atmosphere or there isn't we need to stay focused and stay calm and whatever other challenges are laid before us we really have got to focus on ourselves.
We have to block out anything else that could potentially make us look for solutions outside of playing our football. We will go there and I am sure our supporters will be up for it and I'm sure their players will be up for it as well. The Livingston players will enjoy the atmosphere as well. We can't rely on anyone else but ourselves to make sure we get the job done.
Q: Karamoko Dembele made his return, is he a player you hope can have an impact in the title run-in?
ANGE: It depends as that is his first tentative step. He is still a long way off being able to be a meaningful contributor as he has missed out on so much football. The idea is that we try and get him some more football in the B team and we build his fitness up.
He is one that I was looking forward to working with and unfortunately the pre-season injury meant that he has missed the majority of the season and he has been training with us since has been back healthy. He is looking good at training and we have competition in those wide areas in depth.
That's his challenge and Mikey Johnston is back training as well. With that kind of player, it is all about giving them opportunities and allowing them to develop and see how far their progress goes.
Q: His contract is up at the end of the season, is that something you have looked at and is he a player that you like to see stay beyond the summer?
ANGE: With all those things it is kind of a two-way thing and that will depend on Karamoko himself and where he sees his future and we will sit down at the appropriate time with him and sort of try and map out what's best for him and what he thinks is best for him and we'll come to a decision.
🗣️ "We are delighted again to receive this award, but once again we receive it as a group. It is something which reflects our real collective effort in delivering positive performances and results for our fans."

More from the #cinchPrem Manager of the Month, Ange Postecoglou ⤵️

— Celtic Football Club (@CelticFC) March 4, 2022
Q: How much do you enjoy attending Celtic events like the Charity Foundation dinner and Tommy Burns evening for good causes?
ANGE: It's important to me when you assume the responsibility of this role you need to understand that it goes beyond just being a manager of the first team. You are representative of the larger Celtic family which includes our supporters and the divisions within the organisation whether that's marketing, media and the Celtic Foundation is a big part of the football club as well. I take that responsibility seriously and I understand that it is important as the manager of the football club that I attend these events.
Not only do I attend but I contribute to them as much as I can. The Tommy Burns night was sensational as was last night and you could sense the room was full of enthusiasm and love which was great. If you time them right and you win the game before those nights then it usually ends up all right. It is a great cause and the Celtic Foundation do a great job and I was happy to help.
The main man is in the building! 🇦🇺💚

Delighted to be joined by 𝗔𝗻𝗴𝗲 𝗣𝗼𝘀𝘁𝗲𝗰𝗼𝗴𝗹𝗼𝘂 tonight- thanks for all your support Ange 👊👏@CelticFC | #SD2022 🍀🍽 pic.twitter.com/5Q1iqk8tuB

— Celtic FC Foundation (@FoundationCFC) March 3, 2022
Q: There is a 12-day break in between Livi and Dundee United in the Scottish Cup – are you planning on doing more hard work on the training ground?
ANGE: It is the first midweek we will not have a game for a while. That's unusual for us. It's a combination of things and it will help to freshen up some of the players who have had a heavy schedule. It also gives us the opportunity to do work on the training as coaches we love to do that.
Time doesn't allow us when the schedule is so heavy and we tend to rely on video analysis and giving them feedback that way rather than out on the pitch. The good thing for us is that we have pretty much got a healthy squad apart from one or two.
We hope to get them back which means training can be really competitive and we can really push the guys. I think it is going to be an invaluable time and I know the other coaches are looking forward to it. Once we get over the weekend hopefully with a positive result that gives us a good lead into the international break and after that we are just going to have to go for it so this time could be valuable for us.
📍 𝑳 𝒆 𝒏 𝒏 𝒐 𝒙 𝒕 𝒐 𝒘 𝒏

The Celts prepare for another tough league fixture 👊#LIVCEL | #cinchPrem | #COYBIG🍀 pic.twitter.com/WNje5egRQM

— Celtic Football Club (@CelticFC) March 4, 2022
Q: Do you think we are at the stage of the season where the fitness levels of the players will shine through?
ANGE: It is important. I said a while back that the whole idea is that we are at our strongest at the end of the season rather than just trying to hold on. We manage our programme that way and we try and get the players to be in the best possible condition for the most important part of the season. In theory that is how we want it to work.
January was good for us as the players we brought in allowed us to rotate the squad a bit which means we have a really healthy group apart from one or two players – Dave [Turnbull] and Kyogo [Furuhashi] – but everyone else is in good condition. We can put some work into them at training and be really strong for the last part of the season which I think we'll have to be.
You have seen with all the games a lot of them are really tight and a lot of them are getting decided late whether that's in the last half an hour or 20 minutes of a game. Us being strong physically is going to be important for that.
Q: What elements will you be looking for the team to improve in this match compared to the other two outings against Livingston?
ANGE: Every game lives in its own little world. As much as we as coaches and supporters love to control everything to think that there is a blueprint that we all have got to follow, it just doesn't happen like that, you are dealing with human beings.
Who knows what we are going to face at the weekend. It may or may not be a fast start, we may or may not start well, all those kinds of things when you are dealing with human beings on both sides, it's very hard to plan out a 95-minute blueprint that everybody is going to follow.
What we have done since then is that I thought we really struggled in the first game at Livingston and things weren't going our way and we got really bogged down and didn't find the solutions we needed to the day.
The second game at our ground was a bit different and it was one of those games where I felt we needed an early goal but we got a little bit frustrated. What's happened since then is that we have still had challenges and every game has not been perfect but what we have done is within the context of the game we have found solutions within our football to get the job done and that is what I keep reinforcing to the players. I get it that people think we should be going in there every week with a clear plan to beat the opposition.
In football and in real life plans get thrown out of the window when you get your first punch in the face. We've taken the blows and kept going that's what we are preparing for with Livingston as it will be a tough game they are a good side and are in good form so you know they will be coming in confident. We have to play out football and know that whatever challenge we face there are solutions within that.
Q: How far away is Celtic from peaking towards the end of the season?
ANGE: That is the plan in my mind and you look at the last international break like the one where you take a deep breath before you go for the finish line. I haven't overburdened players in the second half of the season. The plan is to get to that break and then take stock and then go for it. That's the theory but the practicalities and reality of it we'll see as it unfolds.
Q: You won the manager of the month award again, is it good to get recognition for the form you have been in this month?
ANGE: I'm at pains to say I'm the frontman but there are a lot of people in the staff who put in a lot of work to get the players ready and for us all to hit such consistent form and to get recognition is great. A lot of people off the field do a lot of work to get the players to that level. I am really pleased for all of them and that is the kickback for them for their efforts. I bear the burden of fronting up at these things but I share the awards with everyone else.
Q: Are you expecting Livingston's game plan to frustrate and how do you combat it?
ANGE: I think it is underplaying a little bit to say Livingston will just frustrate us. If you look at their form they have some attacking players and threats. Dave has done a great job with them. It is easy to dismiss them as a team who will frustrate it but they will have a go at us too and we have to be ready for that. It is about maintaining the discipline around our game plan and that has got to be our focus.