It wasn't quite like living the dream, but something close to it.
Walking through the main entrance of Celtic Park. Being met by a Celtic official. Then walking through the corridor that leads to the dressing room, where I met big Billy and his Celtic team. My team Celtic.
The excitement was even more palpable as the Celtic had beaten Real Madrid 2-0 : yeah, THAT Real Madrid, three days previously in the Quarter Finals of the European Cup.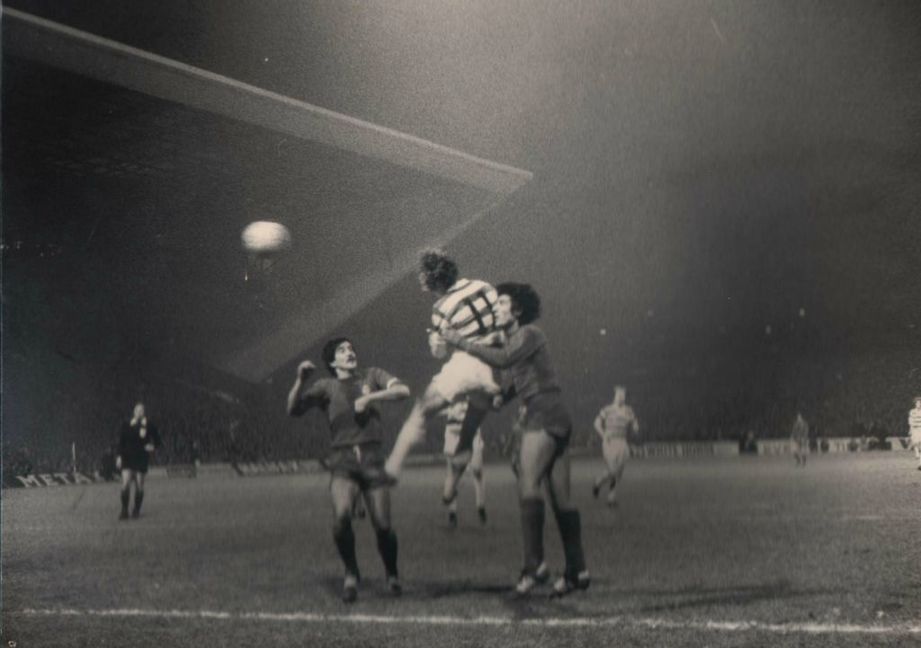 To be amongst all this was brilliant. I was a teenager and Celtic daft.
I had entered the weekly 'meet the players' competition that was in the Celtic View – the original newspaper format – I did this every single week for ages. After reading the View from cover to cover, I would leave it for my wee Da to read when he came got in from work.
Like it was for thousands and thousands of Bhoys, it was my Da that first instilled Celtic in me. Taking me to my first game when I was four. I have since been told that I'd cried to go home.
And from that introduction till now, I've always been the same….Celtic daft.
Having come home from wherever I was, my Ma informed me that there was a letter for me in the Mantlepiece. Now I did not receive many letters in those days, so I instinctively knew who it was from. And it was.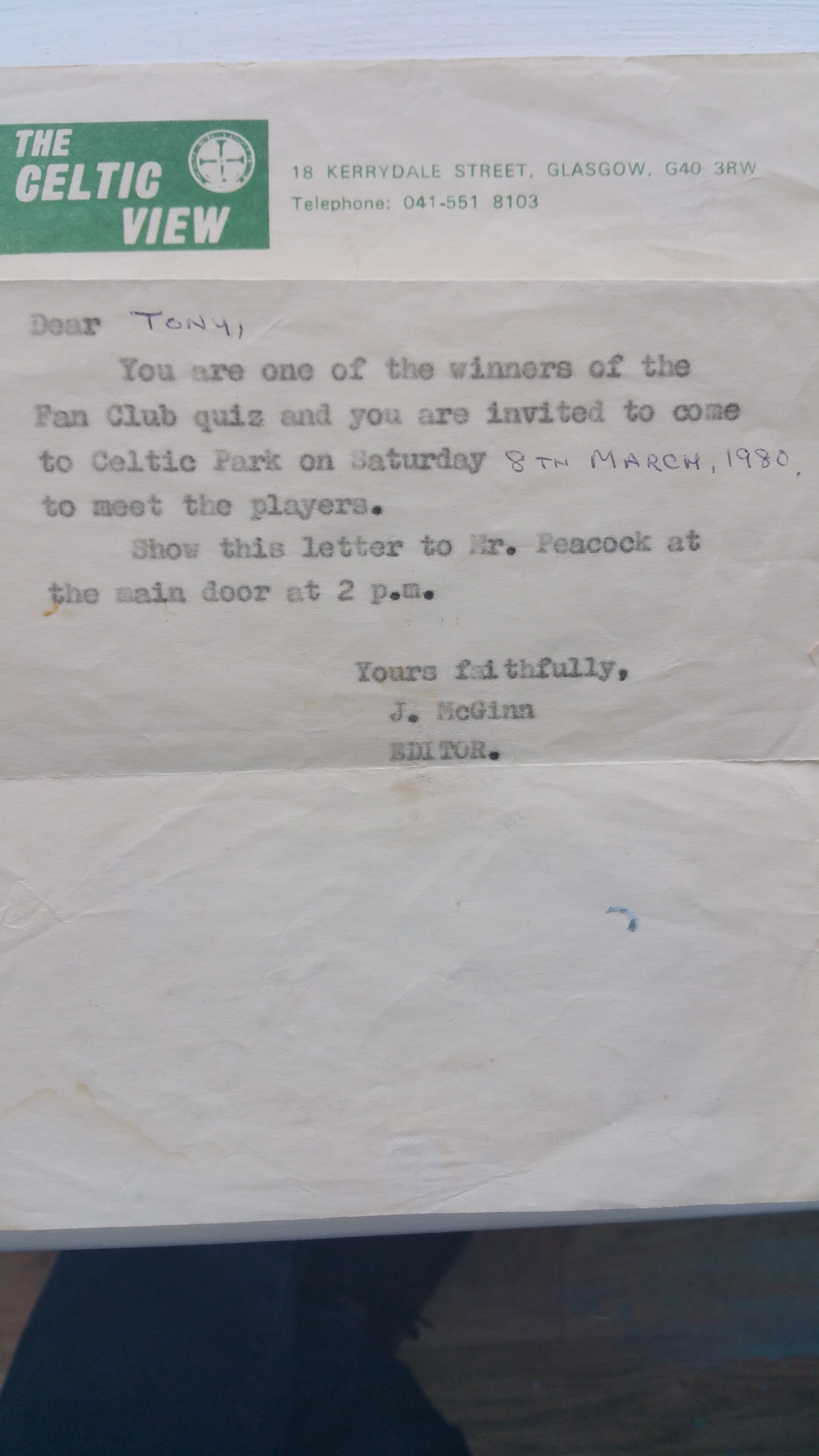 I had been selected to meet the Celtic players. The invitation was for the following Saturday 08/03/1980.
I read the letter over and over again before showing it to my Ma who was concerned as to the reason for my stunned silence. I could not wait to tell my Da. He was delighted. He kept saying to me that the Ink would fall off the paper if I kept reading it.
Before my big day there was that Madrid game where I took up my usual position with my mates, the middle of the Jungle, were I would stand on empty beer cans to see the game because I was wee. The obvious downside of this was that anytime we scored, the empties went one way and I went the other.
Ater which I would try to locate the cans or ask someone bevvying to give theirs when they were done. It would have made more sense to go down the front, but I did not like the view from there.
In saying that though, when Johnny Doyle's header flew past the Madrid goalie that night I ended up down the front regardless due to the sway of the crowd. It was Bedlam…The Jungle was brilliant!
And so the big day arrived. I did not sleep well the night before and got up early on Saturday. My Da had already left for work, he was a joiner and always had a shift in those days, and I would give him the rundown on the Celtic game later on as I went home and away.
He had left me a note to wish me a good time and to remember to bring my camera (no chance of forgetting that).
Along with the camera I had my 67 final programme for big Billy to sign and the one from the other night for the team to sign. An hour or so later I was for the off. I got the No 5 Bus from Castlemilk (where I lived) through Govanhill (where I was born and now live) into the town. A walk up the Gallowgate to my second home, Celtic Park.
I felt like a player would feel when I was met at the door, and going into the dressing room to meet my heroes was out of this world. Fantastic!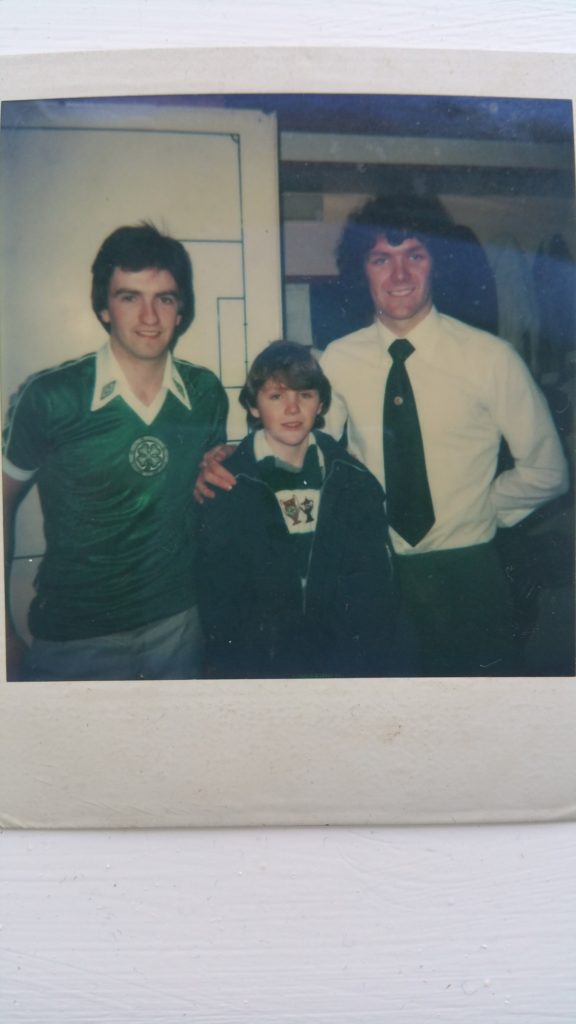 I got my programmes autographed and my picture taken with my chosen player Mick Conroy – big Roy joined in – and got big Billy to take it, as even though the official photo was in the following week's View, I wanted my own. Big Billy made me smile before he took it by stating that Mick Conroy was rubbish!
Thirty minutes or so later I was shown to my seat for the day which was in the Main Stand where I watched Celtic beat Morton 2-0 in another Quarter Final, the Scottish Cup this time.
Celtic went on to beat Rangers 1-0 in the final. Alcohol was banned at the footie after this game due the riot that followed. That was the end of the beer can standing routine!
And that was that. Back home to tell my wee Da all about my day at Paradise.
I'm now in my late 50's and still Celtic daft. R.I.P Da. And thanks.
Tony
If you would like to write for The Celtic Star we'd love to hear from you! You can write about any Celtic related subject you like, the only condition is that it is about CELTIC (we're kinda obsessed, you see).
Email editor@thecelticstar.co.uk and we'll get right back to you.