MIKAEL LUSTIG will be in the unusual position today of watching the Glasgow Derby at Ibrox on Celtic TV rather than being in the thick of the action on the park. He does reckon though that this particular game lost something last season when the Ibrox side reduced the numbers of visiting supporters coming to the Free Broomloan because their own fans couldn't handle the over celebrations that were taking place in the Celtic end.
Celtic then acted in a similar fashion for the two games at Celtic Park so these Derby matches now only have around 800 in the away end, and that's not good according to the former Celtic Star, who is now settling into life at his new club Gent.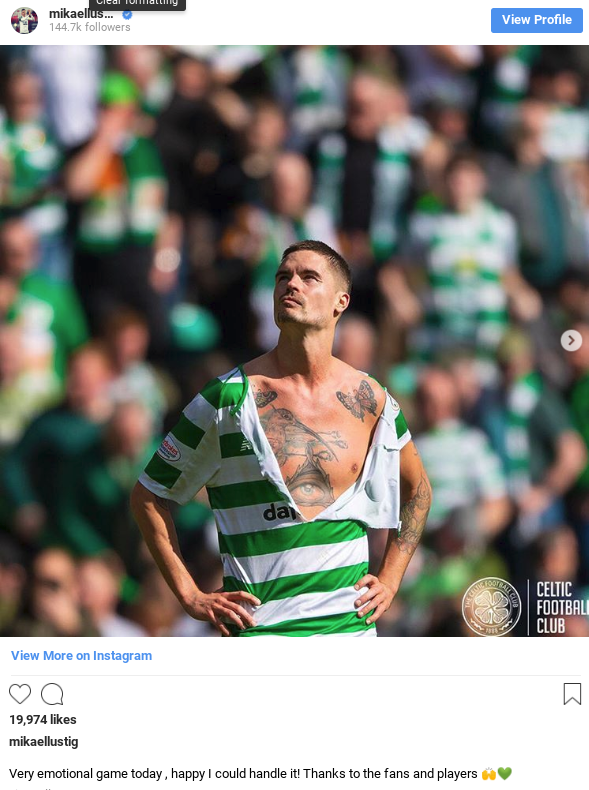 "Ibrox isn't intimidating or 
anything like that,"Lustig told the media's reported by Daily Record.
"I don't know why the decision was made to cut the tickets. Maybe it was financial, I don't know, but I think it was because we were doing well there and our fans were enjoying it a lot.
"Rangers maybe thought it would be a way to try and catch us. But it has killed the fixture a bit. We were poor on the last couple of visits to Ibrox but it wasn't anything to do with the numbers of supporters."
The Ibrox fans who forced through this decision will beg to disagree with the Swede on this assessment. They will point out that they lost both home matches against Celtic when we had 7200 in the Free Broomloan but turned that around to win both games – that is a 12 point swing – last season. They still lost the league though by 9 points but it's a call that not going to change anytime soon.
Lustig scored at Ibrox in Celtic's 5-1 win in April 2017 and in his final game against the Ibrox side at Celtic Park, he had his shirt ripped off him as the anger among the losing Rangers players boiled over.
"My last game at Celtic Park against Rangers was pretty special. I thought it would be my last one at Celtic Park so it was good to go out and get the win.
"The policeman's hat game is the one I'll never get away from! It was just one of those crazy moments. James Forrest had just scored – it was the first time he had scored against Rangers – and it was just a moment of joy as we were celebrating.
"I heard fairly quickly that the police were not happy.
"I had to speak to Jamie Church, Celtic's head of security, and make sure that I got on the phone and offered my apologies. But it was a special day, that's for sure!"
Lustig was asked to name his toughest opponent in the Glasgow Derby fixtures he's played in and had no hesitation in selecting the Rangers player he reckoned was the best.
"Barrie McKay was the toughest player I came up against for Rangers. On a one-versus-one he was very tricky. He caused us a few problems when he played against us."
Lustig was full of praise for fellow Scandanavian Celt, Kris Ajer who if he's fit is likely to start at right back this afternoon. That though will be touch and go with Neil Lennon suggesting that the Norwegian, who went off injured in the early stages in Stockholm on Thursday night, is likely to be okay for today. That could be a bluff though, we'll have to wait and see.
"When Kris first came in it looked as though he had arrived as a No.10. But then he went out on loan to Killie ( playing as a central defender) and never looked back. He just got better and better.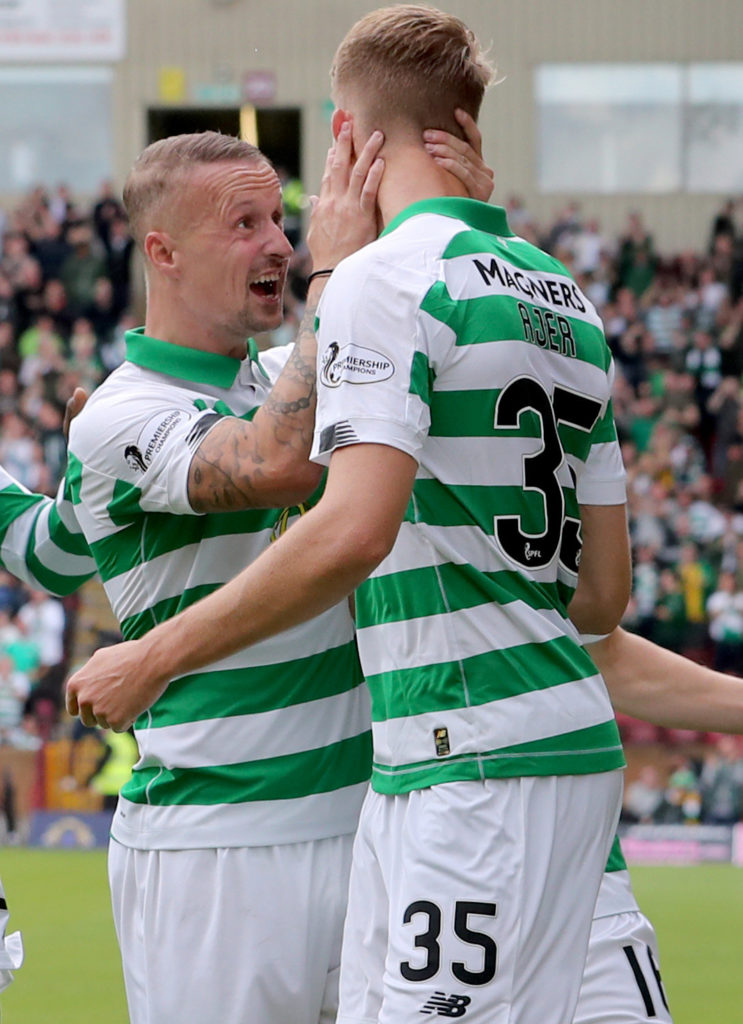 "He could be like KT and go on to play at a really high level. I know teams have been 
interested in him but hopefully he will stay at Celtic for another few seasons because he has become such an important player.
"He really gets it. He fights for everything and is a winner. He has already shown a strong 
mentality to come to a foreign country as a kid and stick it out when it wasn't going so well.
"He has been 
brilliant and I wish him all the best."
Lustig also had a word about Kieran Tierney who left Celtic last month to join Arsenal in a £25million transfer. Like Lustig, Tierney will be in the unusual position today of watching this game merely as a supporter.
"Playing with KT was like having a fan who had walked into the changing rooms out of the stand.
"I know it wasn't an easy decision for him to make to leave. But when a top-six club from the English Premier League comes in then you have to take it.
"I'm excited to watch him 
progress because we all know what he can do. He grew up at Celtic and his 
family were all so pleased that he made his dream and played for the club – so I know how tough it was for him this summer.
"But he has gone out a winner, involved in three Trebles."
Also on The Celtic Star…
'Shameful' – Lenny Calls Out Rangers who apologised to Clarke but not him for Sectarian Abuse suffered at Ibrox…see HERE.
'The 'Rangers' are mere pretenders, all they have is words,' Niall J…see HERE.