CELTIC went to Ibrox on 29 December 2018 and lost 1-0. The scoreline flattered Celtic, Craig Gordon stood up to the hostile environment better than any of his teammates, and was then rewarded by being dropped.
The back four that played in front of Craig Gordon at Ibrox on 29 December was Lustig, Boyata, Benkovic and McGregor.
At the time Celtic were planning a bid for the Belgium right back Timothy Castagne, we later discovered that we had an £8million bid rejected for him as we reported on The Celtic Star – see HERE.
Celtic was at this managed by Rodgers but as Harry Brady reported this week, the Celtic Board knew that his departure was imminent.
Celtic's midfield three at Ibrox that day was Brown, Ntcham and Christie, a mistake that would be repeated last Tuesday against Cluj by replacement manager Neil Lennon.
Up front the three players in the team were Scotty Sinclair and James Forrest on the wings and Mikey Johnston through the middle. There was no-one else available to play centre forward as Odsonne Edouard was out, Leigh Griffiths was off his work and Moussa Dembele had been sold for £20million on the last day of the transfer window which of course meant that there was no time to replace him. Conveniently.
Another window has come and gone and Dembele's still not been replaced. Yet we could bid £8million for Castagne in that window, but not for a striker.
Anyway, of the back four that day three players have left Celtic – the three defenders, as has Kieran Tierney who was on the bench as a sort of bluff aimed at the Rangers. He was unfit that day and has subsequently been sold to Arsenal for £25million with the Premier League club now saying that he's be out until October.
Lustig was exposed that day and indeed in the next visit there in May, in the 2-0 'dead rubber' defeat. It does count though as it gives them belief, it gives them momentum. The Swedish right back from the previous summer's World Cup – where he was a stand-out – was let go in the summer. He signed for Belgium side Gent and his wife posted a lovely video about his last few medal winning days at Celtic. On 29 December Lustig was replaced at the interval by Anthony Ralston – who incidentally stood his ground better than Lustig.
Boyata also starred at the World Cup, for Belgium and actually came back with a bronze medal. Beside him in the centre of the Celtic defence was Filip Benkovic, who played despite carrying an injury and didn't last too long before having to go off injured. He was replaced at the interval by Kris Ajer. Celtic were losing at the interval after Jack's deflection off Scott Brown finally beat Gordon on 30 minutes.
So for the second half the Celtic back four was Ralston, Ajer, Boyata and McGregor.
Lessons from the game for The Celtic Board? Remember, Rodgers they knew was for the off.
The whole Celtic family knew that Callum McGregor was NOT a left back, he did okay, even scored but was flagged offside (it was tight) but the loss of him. in midfield and the way it exposed Scott Brown was the problem. I know this, so do you but it seems Celtic didn't.
Lustig needed replacing – roasted in that first half. Kieran Tierney was injured but was going to be sold anyway (Lawwell was always selling him), and Emilio Izaguirre was not trusted to play in this game. He had conceded a penalty at Aberdeen on Boxing Day (it was never a flaming penalty incidentally), and was substituted. Celtic won 4-3, Scotty Sinclair scored (remember him Neil?) scored a hat-trick.
Boyata was leaving, having been refused a move to Fulham in August which would have brought £10million into the club, and Benkovic was a Leicester City player, so would be going back (Lenny should call Rodgers today and see if he can get him sent back up the road for another loan period today!).
We needed to sign a first pick right back and left back (as KT was to be sold) and both our central defenders that day needed replacing. Kris Ajer filled one of those gaps but one quality central defender was needed.
None of these problems were sorted in that January window although Bayo was brought in on the recommendation of Kolo Toure who cleared out with Rodgers the next month. Bayo has had a few minutes playing time, against Kilmarnock in stoppage time at Rugby Park and against Cluj in the time added on against Cluj on Tuesday. Rumours from Lennoxtown have NOT been encouraging about the level he is at as a player.
So we moved on with Bayo and some loan players coming in – the unimpressive Toljan, the wide boy Weah and the work in progress Burke – but it worked and we pulled away from the Rangers, who drew level on points with us after that win on 29 December. We also retained the Scottish Cup, with Aberdeen taking care of the Rangers threat for the second cup competition that season. Lucky that eh?
Neil Lennon replaced Rodgers after he was in rather strange circumstances available to do so after falling out with the players at Hibs. Cynics might think this was more than fortuitous but we'll never know. Perhaps it was some kind of pay-back for the John McGinn stand-off from the previous summer, who knows? Celtic also picked up £9million in compensation for Rodgers leaving from Leicester City.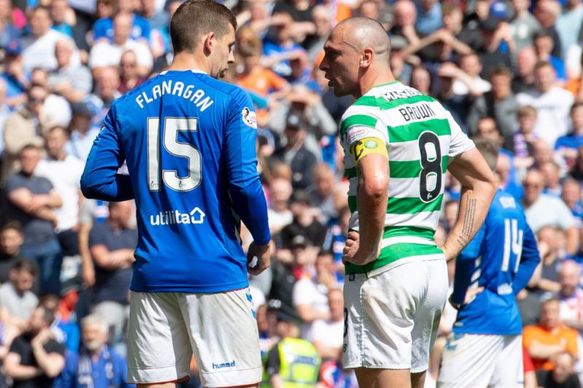 Lennon took Celtic to Ibrox in May having already won the title, and he should be given immense credit for doing that in the circumstances.
He lost 2-0, it was a dead rubber as we've said, but it did give them oxygen. It also proved to Dave King that his fans were correct in forcing him into reducing the ticket allocation for Celtic fans. They had turned two home defeats against Celtic from the previous season into two home wins and there were certainly plenty of evidence that certain Celtic players didn't fancy playing at Ibrox under these new more intimidating circumstances.
On 12 May at Ibrox Neil Lennon had Scott Bain in goal (Craig Gordon was injured incidentally so there wasn't an alternative, other than 'Dreadful' Dorus de Vries), the back four was Lustig, Ajer, Simunovic and Hayes.
Boyata had done his hamstring in the 2-1 win over them at Celtic Park at the end of March, so his playing career at Celtic was finished. Benkovic was an unused sub – Lennon didn't fancy playing loan players unless he had to, thinking ahead to the Champions League qualifiers (no laughing at the back).
Tierney was still unfit and his understudy Izaguirre still wasn't trusted.
Lustig failed to make the second half again, being replaced by the disinterested Toljan, who looked like he'd rather be anywhere else other than in Govan.
Up top Oli Burke played and showed why Celtic would not be signing him, apparently his display was the subject of a conversation in the dressing room with the then caretaker manager after the game.
So the board by this time knew we needed two first pick full backs, at least one first pick central defender and a striker.
To be fair though they were busy planning. Planning The Celtic Festival, another excuse to take money from the support, this time during July, normally a financially. poor month for takings. Actually, that is also now a month when there's money to be made from the huge gates, matched nowhere else in Europe, for these lucrative Champions League qualifiers.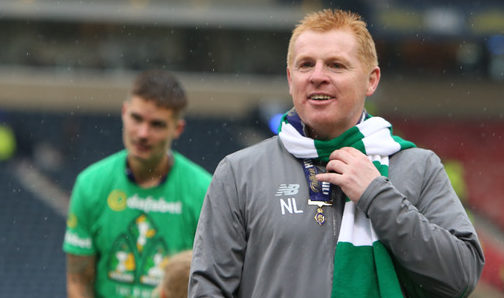 Minutes after the Sottish Cup was won Peter Lawwell announced that Neil Lennon had been given the job. He also said that no-one else had been considered, far less interviewed.
We moved on, with the support getting behind the manager. The transfer window was about to open. There was going to be a clear-out, KT would be sold but new signings would come in as Celtic geared up for 9 and 10 in a row.
Rodgers had signed load of players who were frankly a waste of space. There were residue signings too, the Scott Allan for example, that were draining resource and contributing nothing. Lawwell actually in what looked like a cheap shot at Hibs refused to allow Allan to leave in January to join up with the Easter Road side after having signed a pre-contract with them.
The players out included Lustig, who was offered one year but wanted three and Kieran Tierney and £25million came in from that transfer.
Players signed are Bolingoli, Jullien, Elhamed and Connell and that adds up to around £12million in transfer fees, with only Elhamed being seen as a Neil Lennon signing.
Lennon did want to sign Nice left back Romain Perraud who was on loan at Paris FC in the French second tier last season. Lennon scouted him personally, he was in Paris in the day the sad news broke that we had lost Billy McNeill.
Perraud made no secret of the fact that he wanted to join Celtic to play in the Champions League. After two bids were rejected he eventually signed for Brest, who were promoted to Ligue 1 in May so knew Perraud from their games against Paris last season. The fee was £2.5million.
Perraud after the move explained that Celtic had mysteriously dropped their interest in signing him so he went to Brest. Harry Brady in his second article last week revealed that this interest in Perraud was dropped due to the effect his signing would have on the Tierney fee from Arsenal – remember Arsenal had had two bids rejected as they had at that time not met the £25million price that Celtic had set (it wasn't KT who set this was it?)
So the boardroom decided that Neil Lennon could not have his left back. They already brought in Bolingoli – apparently recommended by Shaun Maloney (Jullien seems to have come from a John Kennedy contact) – and he would have to do.
The Cluj disaster needs to be seem in the context of all of the above and it goes some way to explaining the crazy team selection that gifted the tie to the Romanians.
Lennon apparently did not trust either Jullien or Bolingoli to play in that game. Both played yesterday against Dunfermline and Jullien in particular looks well short of what is required at this stage. He may get better but he'll not be selected at Ibrox unless injury forces Neil Lennon's hand on that one.
And he didn't fancy Bolingoli either. He'd also gone through the Hayes as a left back trial and didn't fancy that either and the boy he wanted to sign had gone to Brest due to our boardroom's negotiation tactics with the Gunners.
That's why we got Callum McGregor in the side at left back against Cluj.
Now John Kennedy, very much Lawwell's man incidentally, stood beside Rodgers at Ibrox and watch what happens when you move McGregor to left back and play a midfield three of Brown, Ntcham and Christie yet he let it happen.
We go to Ibrox in a fortnight. As things stand Craig Gordon is in goals, Bain's injury saved Lennon the trouble dropping him. He was at fault for the opener at Fir Park and Lennon ignored the warning signs and played him against Cluj.
The back four?
At Right back we have Elhamed or Ralston (not fancied by Lennon but he did okay there previously).
In the central defence we have Ajer and Simunovic (if they are fit, Ajer was injured yesterday and Jozo is always an injury doubt) and Jullien, who gifted Dunfermline a great chance to score early in the game yesterday. No thanks! Then we have Jack Hendry.
At left back we have Bolingoli or Johnny Hayes (we have read the script on that one in the game in May).
So we need to do something about that and quickly. The game is two weeks away and the window remains open until the day after we play at Ibrox. We need a left back urgently and probably a right back too.
The Green Brigade's banner yesterday pointed to Celtic's down-sizing and say that the board were gambling with Ten in a Row. They are 100% correct in this.
The mood among the support should worry The Celtic board. They have two weeks to sort this mess out. A mess that THEY caused. The Champions League elimination is NOT down to Neil Lennon, or Callum McGregor, or Scott Brown or Scott Bain and thy all had terrible nights against the Romanians.
The blame lies fair and squarely with one man and that is you, Peter. Yet again your failed transfer strategy has cost Celtic tens of millions in lost revenue. You are an Accountant, a CEO you are not and never will be a Director of Football.