Morton were the visitors for the last home game of the season, as we moved into May. The crowd of under 13,000 probably reflected the majority view that the title had gone.
Nevertheless, there was still a job to be done, and first-half goals from Aitken and Nicholas, the latter from the spot, kept the flag race going to the final day.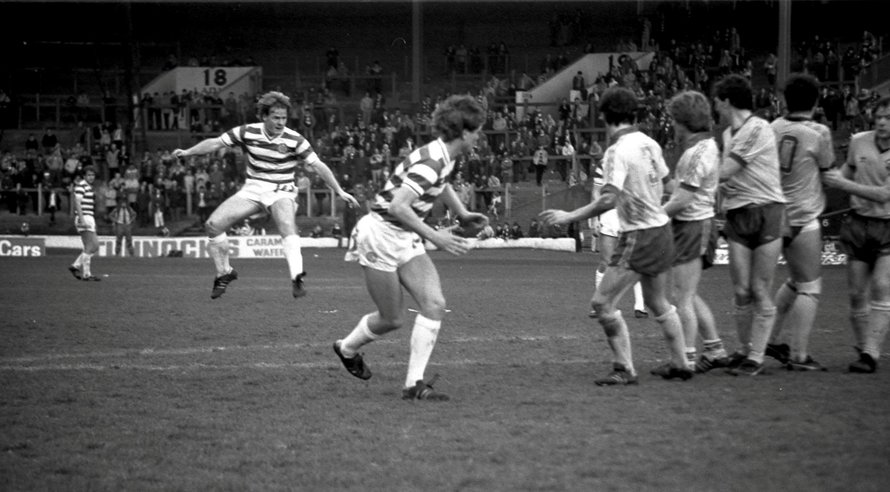 And what a final day it would be, with all three teams still in with a realistic chance of glory. United were in pole position, one point clear of both rivals and with a slightly better goal difference.
If they could win at Dens Park, home of their fiercest rivals, then they could not be caught. However, any slip-up would allow either Celtic or Aberdeen to pip them to the title, should one better the Arab's result.
Celtic also faced a derby, Rangers at Ibrox, and in that pre-social media age, we were dependent on radio updates as we took our seats in the Broomloan.
It was the worst possible start, as news filtered through of an early goal at Dens for the visitors, quickly followed by a second and then a goal for Rangers, Cooper blasting home a free-kick.
And when Clark deflected a shot past Bonner for 2-0 six minutes later, Hoops fans could perhaps have been forgiven for heading for the exits there and then.
But this is Celtic and as Billy McNeill often said, "there's something very special about this club".
I will never forget the reception the team received on returning to the field for the second half.
Ibrox was a sea of green and white scarves as the most wonderful rendition of 'You'll never walk alone' filled the Govan skies.
The players looked on entranced and suddenly the mood changed.
Within a few minutes of the restart, a clumsy McLelland challenge on Provan earned Celtic a penalty, which Nicholas coolly converted. Suddenly, it was one-way traffic towards us and on the hour, a McAdam header made it all-square.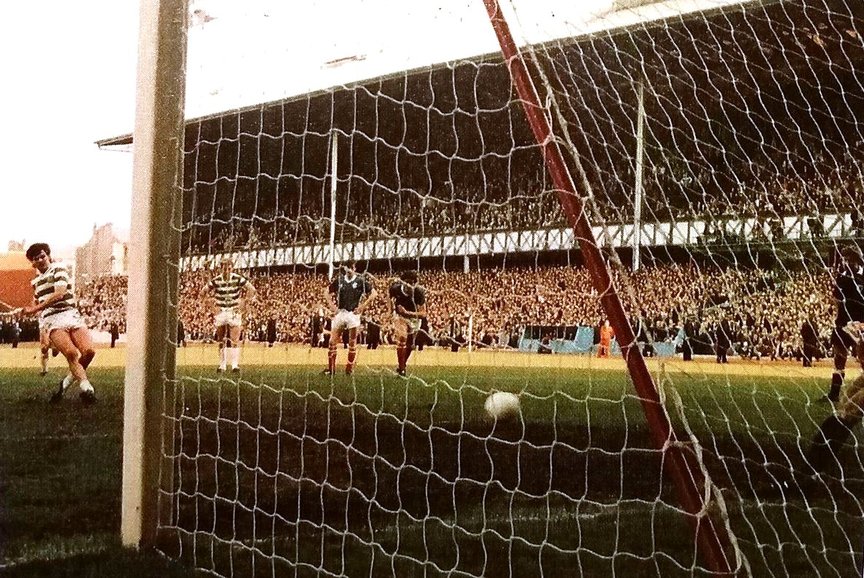 Still Celts pressed and with twenty minutes remaining, McGarvey somehow beat the giant McCloy to a cross and the Bhoys were in front for the first time. We then had that classic moment, which I will never understand, when someone passed on the message that Dundee had equalised, and there is brief hysteria before 'tranny-guy' corrects that, spoiling the brief, impromptu party.
With a few minutes left, the roar from the other end signifies that United have won and our comeback, to some extent, has been in vain. However, there is still time for a fourth Celtic goal, a second penalty for Nicholas, in what many predict will be his final game for the club.
It sneaks in below the keeper and seconds later the whistle blows, a superb second-half performance has delivered a victory on the day but not the third successive title we crave.
It is one of the most bittersweet days of my Celtic life.
There is a real show of strength and defiance from the support as the team take a bow.
As so often that season, particularly away from home, the fans have been incredible. It will be later before we reflect on just how much of an opportunity lost this has been.
Against two of the best Scottish sides in the post-war era, we had the title in our grasp, playing fantastic free-flowing football, scoring a barrowload of goals the Celtic way.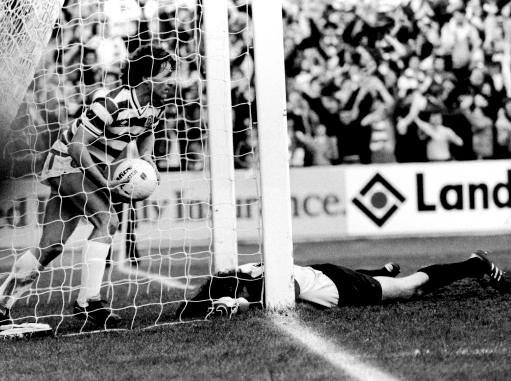 The dynamics at full-time are a concern, with Charlie Nicholas appearing to say his farewell, as are the rumours that all is not well between Billy and his board.
The events over the coming weeks will be critical in shaping the immediate future of our beloved Celtic.
Hail Hail!
Matt Corr
Follow Matt on Twitter @Boola_vogue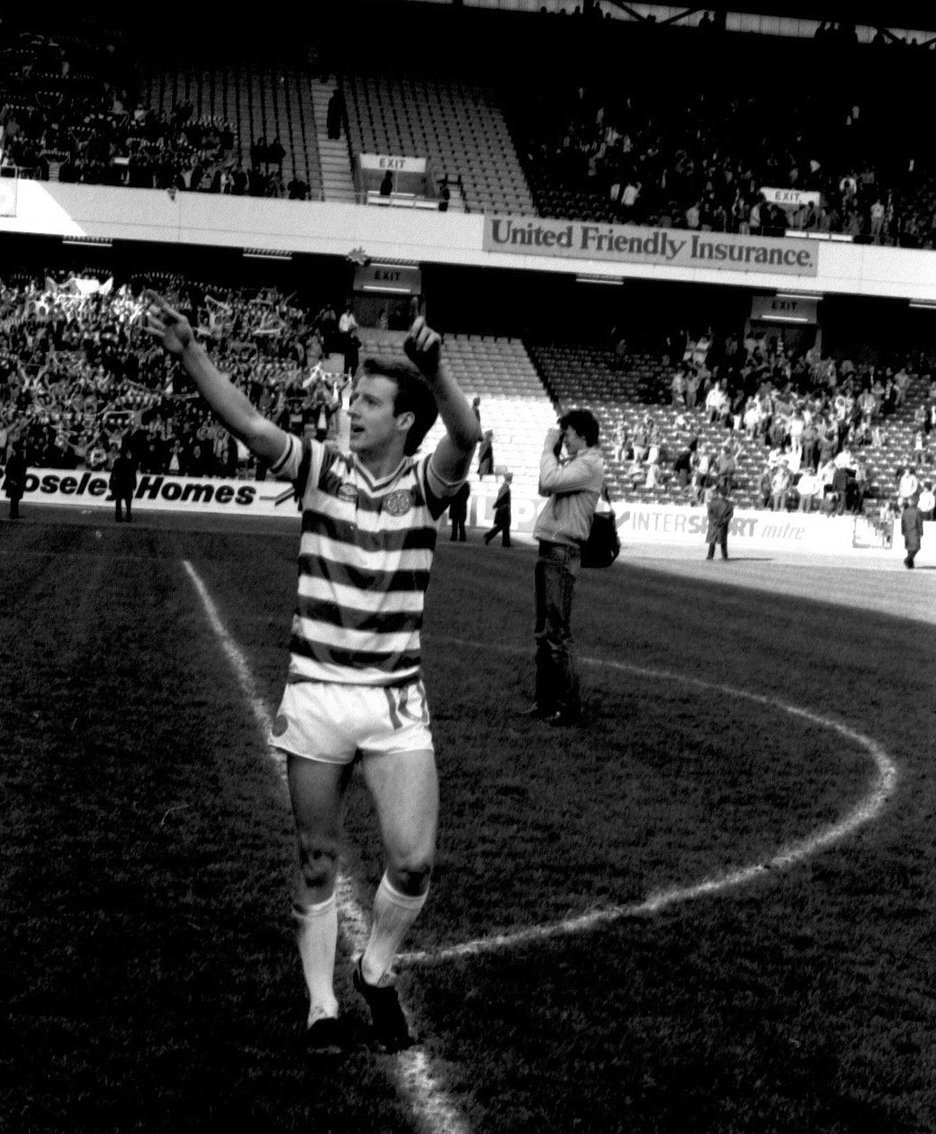 Catch up with Matt Corr's review on Celtic's 1982-83 season on our home page for the earlier posts on the first half of the season, taking us through to the end of 1982.
For Matt's account of Celtic in January 1983…'There were Celtic fans in three sides of Ibrox within a 42,000 crowd,' Matt Corr…see HERE.
And onto the next month of Celtic action…It's February 1983 and Alex Ferguson is causing problems for Big Billy….see HERE.
And here's what happened the next month…March 1983: Ex-Rangers winger Willie Johnston head-butts Davie Provan…see HERE.
Then into April 1983…Celtic suffer 3 defeats in a week to the New Firm…see HERE.
Thanks to Matt for that wonderful account of Celtic's season 1982-83. You'll Never Walk Alone had it's finest ever rendition that day right enough!