I have normally little inclination to comment on what goes on over on the other side of the city, after all guys like Joe, James and Phil do it so much better.
Indeed, my overarching concerns of late have been mainly how Celtic as a club capitulated last season to a club in its infancy and one who hasn't turned over a single profit in its small window of existence, and why we happened upon this even being a thing. Yet recent events kind of draw you back in.
But I'll keep this brief before getting back to criticising the off-field stagnation, nae decline, my own club is experiencing whilst lauding the incredible juxtaposition of the progress Celtic are exhibiting on the park under Bosstecoglou.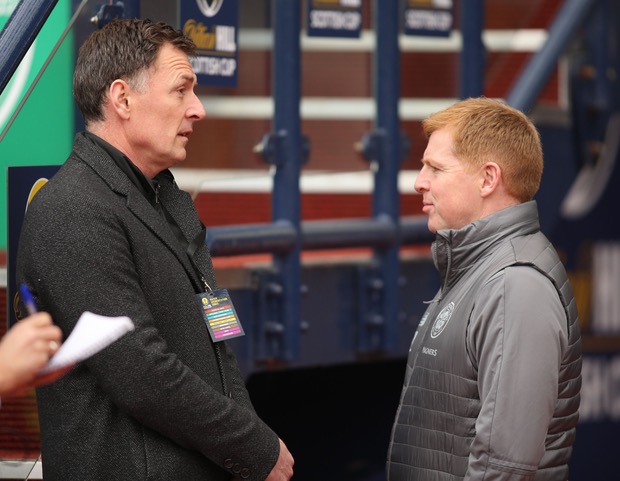 Chris Sutton and Neil Lennon, it seems found themselves banned from going about their job of work on Thursday night. Apparently, this was due to theRangers and /or Police Scotland being unable to guarantee their safety to visit Ibrox as a pair of pundits for the Europa League double header as Celtic headed to Seville to face Betis and theRangers played Lyon.
Stewart Robertson is theRangers Managing Director apparently, a man you'd assume has a bit of gravitas, solemnity or even grandeur in such an important role. Yet this is a man who now it would seem admits he can't ensure the safety of visitors to his ground, who in turns blames the local constabulary, who in turn respond with 'aye we probably could, had we actually been asked' so you'd assume they hadn't been asked and as such you conclude there is more to this than meets the eye.
Yet there isn't much more, not really. This is a case of a club who pander to the lowest common denominator amongst their support and indeed recent media partners. A club so hamstrung when it comes to attracting outside investment that they are terrified to give up the day-to-day financial incomings – whilst not realising said pandering further blocks their ability to attract new investment – of their historical rank and file support. You know the ones for whom stuff like anti-Irish racism, a general dislike for any alternative to extreme Protestantism and entitlement is a badge of honour while the rest of the world takes a knee and encourages moments of introspection. Those guys.
In short, the access and then denying of it to Lennon and Sutton was all about the ever-decreasing circles of theRangers financial pull, and the inaction and lack of realisation of guys like Robertson to understand that to make strides as a football club theRangers need first to rid themselves of media partners who would demand such infantile demands in exchange for 25,000 pieces of silver.
Those who then have influence over the same hordes of bigots who will march through city centre's singing of famine and why some should consider moving their residency across the Irish sea, and furthermore will walk in orange attire, torturing ear drums and sensibilities through the streets of Glasgow and more besides, past Catholic churches, communities and schools because apparently that is their right this weekend.
Those days are ending, they really are. And much like the weakening wasp who lands on your table, slumbering and desperate in a pub garden and continues to sting the beer matt in pathetic defiance, so theRangers as a club, and their support, alongside their historical place in a modernising climate is becoming as obsolete as the seasonal and cyclical role of the wasp.
As Napoleon said it's probably best not to interrupt your enemy when he is making a mistake but you can't help but remind fools like Robertson that from a business perspective the tail is wagging the dog. But by all means go ahead, the end after all is nigh, I don't mean to interrupt.
Niall J
Definitely not an anti-Catholic hate parade though pic.twitter.com/uMHBpKDqA0

— Tam sellic son (@TamsellicsonIII) September 18, 2021