IT'S SIXTY IN A ROW FOR MIKE MAHER…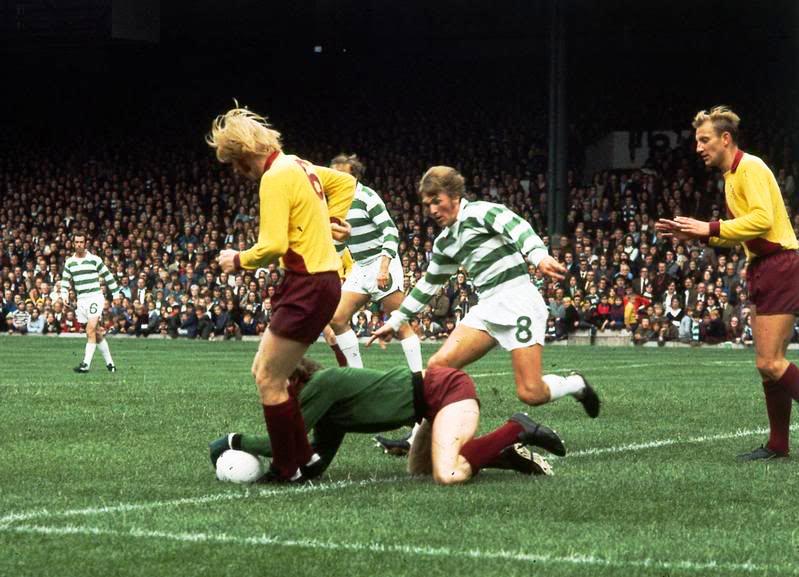 The season started as usual with the League Cup and a routine 2-1 win at home to Motherwell. However, the following |Wednesday night at Somerset Park we looked out of sorts and Ayr United beat us 3-2. I remember Big Jock making his feelings known about how he was not happy with the performances of many of the players. The warning was heeded. We won our next 3 games, home and away against Dundee Utd and the return encounter at home to the Honest Men. With the section won before the last game we were not concerned about only drawing 2-2 in the final group fixture at Fir Park.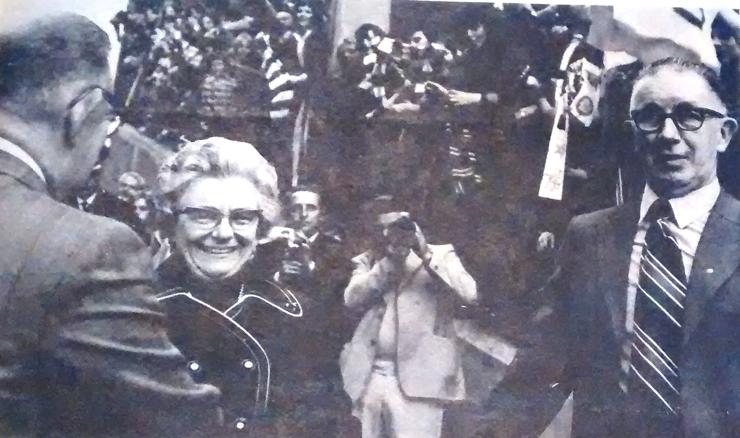 The title defence got off to a good start, a 5-0 home win against Kilmarnock followed by a 4-2 victory at Shawfield. Next up was Rangers at Celtic Park. I watched this game from the Jungle. Many of the mates I had gone to the games with over the past few years were not as regular attenders by now so I had started to go more often with some guys who were in the Saturday Morning League team I played with.
Their stance was near the back of the Jungle facing the 18-yard line at the Celtic End of the ground. From there we saw Celtic dominate the first half and thanks to Kenny Dalglish go in at half time with a 1-0 lead. As Rangers had not won at Parkhead for 6 years we were confident that we would see out the game but that was not what happened. Rangers performed better in the second half and Colin Jackson headed home their second goal in a 2-1 win.


A few nights later there was more despair. Our European campaign started with a 1-1 draw at home to Olympiakos Piraeus. My own disappointment that night was not the result, or even the general performance but the realisation that we were no longer a real force in Europe.
The Greeks were a good team, they were really well organised in defence, but they were not great. I couldn't help think that a few seasons earlier we would have seen them off. A couple of weeks later they unsurprisingly won the second leg 2-0 and we were out of Europe at the first hurdle.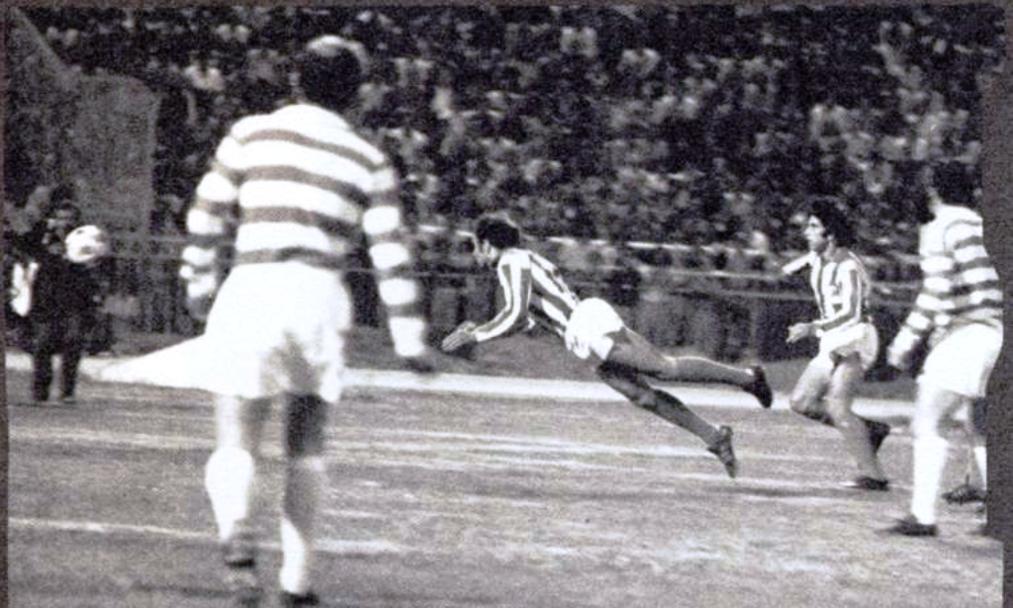 That caused some despondency around the place but we kept churning out wins in the League. On the penultimate Saturday of October we clicked. Hibs, who were playing well and considered as genuine title challengers came to Parkhead full of confidence and were swept aside 5-0 with Dixie Deans getting a hat trick. The following Saturday Dixie repeated the trick and despite Joe Harper also getting a hat trick he ended up on the losing side as Hibs were beaten by 6 goals to 3.
It was a great game and the goal I particularly enjoyed was Celtic's 5th and the one that completed Dixie's hat trick. He threw himself at a wayward Jimmy Johnstone shot that was going across the goalmouth and diverted the ball into the net with a powerful diving header. It reminded me of my father's description of a typical Jimmy McGrory goal.
One of my friends had managed to acquire a centre stand ticket for this game and he found himself sitting a couple of seats behind his parish priest who was a somewhat reserved man. However, when DIxie scored that goal he was up out of his seat yelling and jumping like a dervish!
The following week we had a good, but narrow win (1-0) over Aberdeen. The Dons played well that day and might have felt they were worth a draw which they might have got but for a missed penalty. A few weeks later it was our turn to miss a penalty and had to settle for a single point in a scoreless draw at Tannadice. In the run up to the New Year form was good.
On a cold December Saturday at Dens Park I witnessed probably the greatest overall individual performance I have ever seen from any Celtic player. Kenny Dalglish gave a masterclass. He scored 3 goals and made 3 others in a 6-0 win.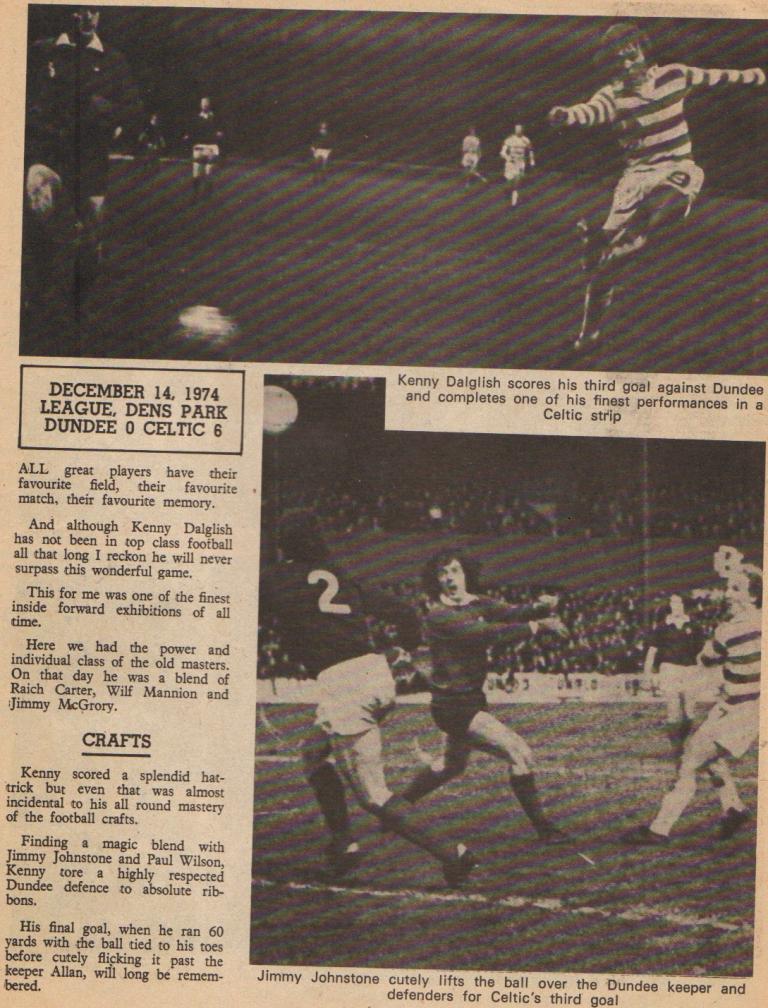 As we made our way back down from Dundee everyone was raving about him and looking forward to seeing the highlights on Sportscene that night. I explained however that I would not be at the pub as I had recently started dating a new girlfriend from Viewpark and had promised to take her out for a meal that night. Margaret fancied a Chinese but I suggested a good steak meal at the Coachman in Broomhouse. A bit more expensive but I assured her she was worth it. Imagine our surprise when we discovered there was a TV in the lounge there with Sportscene on the screen!
So, despite the home defeat in September we had got to the end of the year and into the start of the second half of the campaign with a 2-point lead over Rangers. 1975 got off to a good start with a comfortable 5-1 New Year's Day win over Clyde to set us up nicely for the trip to Ibrox 3 days later.
When we arrived at Ibrox we discovered that George Connelly was out injured and that Harry Hood was starting ahead of wee Jimmy who was on the bench. We were not sure if that was down to the conditions (it was raining and the pitch would be cut up from almost the start) or was it a tactical move.
Whatever we started well but conceded to a Derek Johnstone header after 6 minutes. Despite that we pressed on and Paul Wilson was causing problems for the Rangers defence. However, chances were not being taken. Harry Hood had one chance that looked as if it just needed to be prodded over the line – but he missed. And we were punished for those misses. Rangers went 2 up after only 5 minutes of the second half.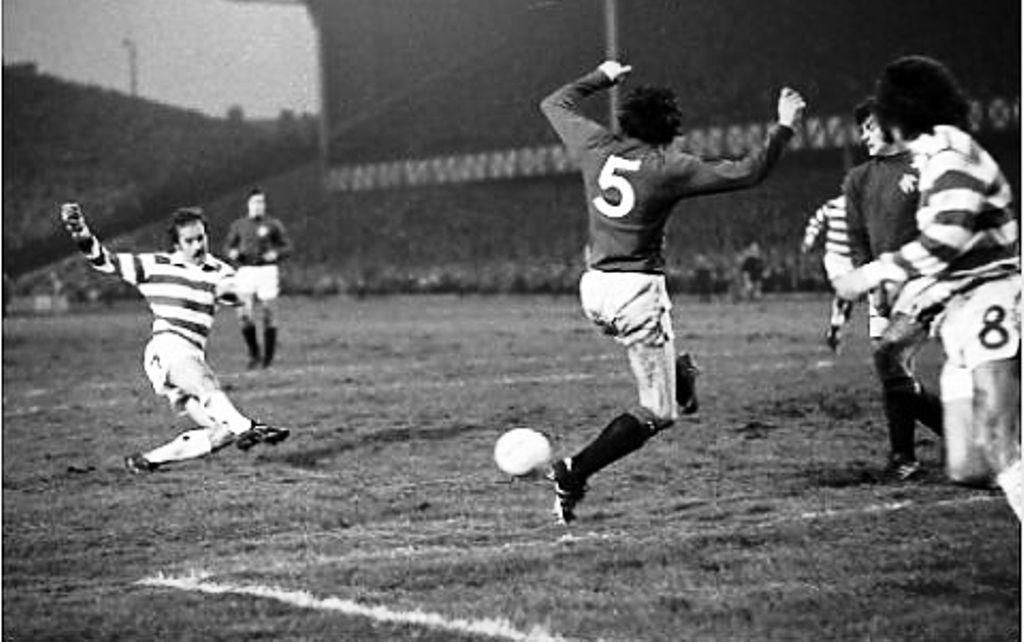 But even then I still felt we had a chance. We had plenty of the ball but as the pitch got heavier we got bogged down in midfield and if we did break through the opportunity was missed or saved by Stewart Kennedy who had a great game in goals for Rangers. With about 15 minutes to go Rangers scored again and there was no way back.
We stood, soaked in the open terracing at the Celtic End listening to the roars of celebration from the other end.

 Although there still 14 games to go and we were level on points with Rangers I felt that game dealt a big psychological blow to the players and the fans. We had not played too badly but we had lost 0-3. And you could feel the confidence that result had given to Rangers. They must have believed that our 9-year stranglehold on the title could soon be over.