On this day in 1888, Saturday, 9 June, Celtic played the second game in our history, the visitors to First Celtic Park being Dundee Harp.
Harp had been founded in 1879, five years after Edinburgh Hibernian, to satisfy the needs of the large Irish community in Dundee, at that time reflecting around a fifth of the city's population. They played in green shirts with a harp on the chest, the emblem of Ireland, white hose and black socks.
Dundee Harp are the club who could have been famous – but for an honest committee man. On 12 September 1885, they beat Aberdeen Rovers 35-0 in the Scottish Cup…or did they? The referee had actually noted 37 goals but was then corrected by said club official, who had been keeping a tally of the individual scorers. Remarkably, the referee reported the lower score to the SFA, which stood.
18 miles along the coast, Harp's bitter rivals, Arbroath, were entertaining another Aberdeen side, Bon Accord, at the same stage of the competition. They won by 36-0, although claims were made that this score was actually even higher. In any case, their 36-0 remains a world record to this day.
Celtic's second visitors had played in Glasgow's east end previously, notably in April 1887, travelling to face Clyde on their original home ground of Barrowfield Park, Dalmarnock, in an attempt to raise funds for Brother Walfrid's Poor Children's Dinner Tables, for his Sacred Heart parish in Bridgeton.

Just over a year later, Harp faced the new group of Irishmen from Glasgow in front of around 6,000. Celtic would win the match 1-0, thanks to a goal scored by left-winger, John Coleman, with just ten minutes remaining.
John Coleman had been born in Dublin, in June 1863, and had only recently signed for the fledgling club, having played for Hibernian against Cowlairs in the first-ever game played at Celtic Park, the previous month. He would go on to make 18 League and Scottish Cup appearances for the Bhoys over the next five years, scoring 3 goals, later becoming the reserve team trainer, in November 1895. Despite being over-age, Johnny would join the war effort before eventually settling in Canada, where he passed away in March 1927, aged 63.
As Johnny was scoring Celtic's first winning goal, at the other end of the field Michael Dolan was keeping the first clean sheet in the club's history.
28-year-old Mick Dolan had moved to Celtic from his local side, Drumpellier, having played in the 5-2 win over Rangers just under two weeks earlier. Although he remained at Celtic Park on-and-off until 1894, his career was spent largely in the reserves, playing only three League games at the end of the inaugural season, in spring 1891, as the title was shared between Dumbarton and Rangers.
He then moved to the wonderfully-named Coatdyke Gaelic, in 1894. During his spell at Parkhead, Mick would not have had far to travel to and from games, as he lived on the Great Eastern Rd (now split between Gallowgate and Tollcross Rd), just a few minutes walk from the ground. Dolan died in July 1910, aged 50. Both Johnny and Mick have been honoured by the wonderful folk at the Celtic Graves Society.
Mick's younger brother, Francis, also played for the club, between 1890 and 1894, so they may lay claim to be Celtic's second set of siblings, after Tom and Willie Maley. Francis was a centre-half who had the misfortune to understudy James Kelly, widely acknowledged as the finest player of the time. He would play only twice in the first-team as a consequence.
A few years after their meeting with Celtic, Dundee Harp would run into severe financial problems, often struggling to pay their players. By 1894, suspended by the SFA, they had played their final game, ironically against a team from the same city who had been formed as an amalgamation of East End and Our Boys. They would now be known as Dundee FC.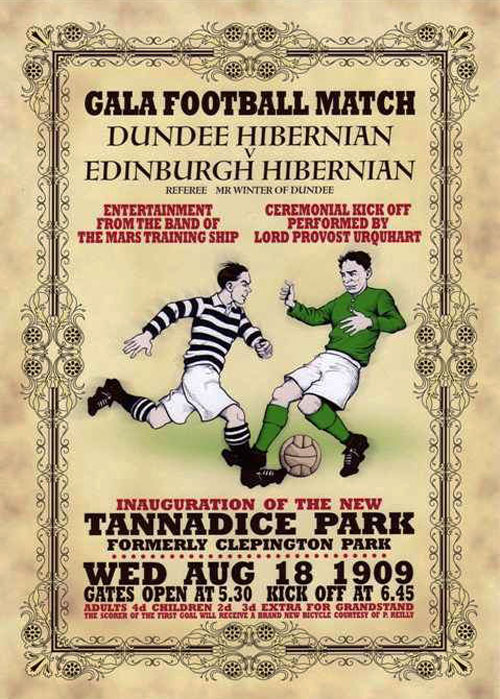 In 1909, a new club was established to fill the vacuum in the lives of Dundee's Irish community. They took the name, Dundee Hibernian, and played, as the Harp had, in emerald green. By 1923, the new side themselves struggling in a financial sense, they changed their name in an attempt to appeal to a wider audience, first to Dundee City then to Dundee United, at the time also changing their colours to black and white. United would retain those until the adoption of tangerine in the late 1960's.
Back in June 1888, there would be two further games for Celtic, following the defeat of the original Irish side from Tayside, Dundee Harp. The following Saturday, 16 June, Mossend Swifts made the journey from West Lothian to Glasgow, to take on the Bhoys. The match would finish 3-3, and whilst the timing of the Swifts goals are unknown, it is likely that Neil McCallum's 85th minute strike was the first late equaliser for Celtic. There would be many more where that came from, over the years.
On Saturday, 1 September 1888, as Celtic were beating Shettleston 5-1 in our first-ever Scottish Cup tie, Mossend would cause a huge shock, knocking 1887-winners, Hibernian, out of the competition. The little West Calder club would then go all the way to the last sixteen, where they were beaten by Dumbarton. The Sons of the Rock were then beaten in the semi-final by Celtic, who succumbed 2-1 to Third Lanark at the second attempt in our first national Cup Final, the original 'Snow Final' having been declared void.
Both Final games took place at Second Hampden, renamed Cathkin from 1903, at which time Thirds moved in here as their new home, following Queen's Park's relocation to the present Hampden Park. Cathkin would remain the base of the 'Hi Hi' until their sad demise in 1967.
The last game played in June 1888, on Saturday, 23rd, would constitute Celtic's first derby fixture, as the visitors this time were Clyde, their opponents based just a short distance away at Barrowfield Park, on the boundary of Dalmarnock and Bridgeton, Brother Walfrid territory. Whilst some details of this match are a bit sketchy, what is clear is that this would mark Celtic's first defeat.
Clyde came from 2-1 down to win 4-3, two of Celtic's goals coming from James Kelly and John Madden. Both men would remain famous in later life, beyond their playing careers, Kelly as Celtic chairman and Madden as 'the Father of Czech football', following his work with Slavia Prague in the new century.
Dedicated to the memory of the late, great Harry Hood, a Celtic legend and also a former Clyde star.
Thanks for the memories, Harry.
Hail Hail,
Matt Corr
Follow Matt on Twitter @Boola_vogue
Thanks and credit as always to the folk behind the wonderful Celtic Wiki, an invaluable resource for Celtic historians.