CURRENT ASSISTANT MANAGER has been looking back to the arrival of Martin O'Neill as manager of Celtic twenty years ago today and from a personal point of view, John Kennedy reckons he has plenty to thank the 'Irish Messiah' for.
Looking back two decades Kennedy recalls being at that start of what he hoped would be a fulfilling and successful playing career and the arrival of O'Neill – a proven winner as both a player at Nottingham Forest and a manager at Leicester City – was as exciting for the young defender as it was for the Celtic support.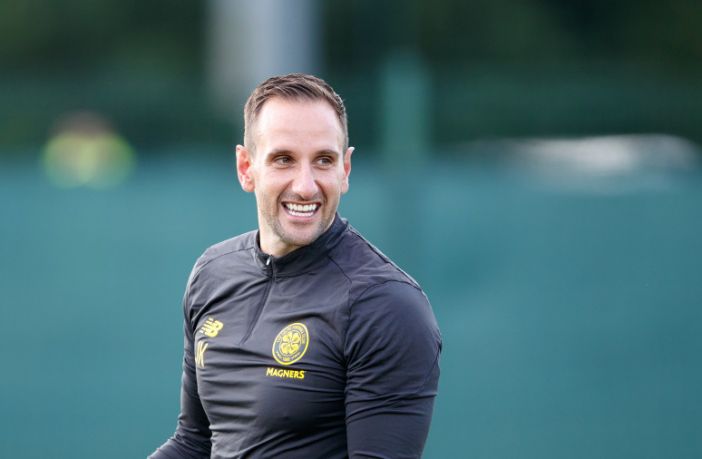 "When Martin came in I was involved in his first pre-season," Kennedy told the media, as reported by Glasgow Times. "I was just a young player on the fringes and he started to build his team. He brought in a lot of big money signings, big players with big personalities. He obviously had great success in his time.
"But he also showed a lot of faith in myself, Shaun Maloney, Liam Miller, Colin Healy. He loved big players, but he still had a group under that he spent time with and tried to develop. We trained with the senior players most of the time and then over a period we got to play alongside them. It wasn't just about the big guys with Martin.
"His man-management, the way he dealt with big personalities, was pretty much the same as how he would deal with you. Martin had a great aura, a great presence in the dressing room. He demanded respect which he got. Personally, I had a really good relationship with him.
"He wouldn't hesitate to put you in if he felt you were ready. There would be no questions asked, he wouldn't talk too much about it, you were in and that was it. Martin would just say 'you're playing, you're good to go'. His trust in you meant a great deal, gave you that belief.
20 years ago today! 🍀⚪️

✍️ Our second Treble-winning manager, Martin O'Neill became #CelticFC boss #OnThisDay in 2️⃣0️⃣0️⃣0️⃣. pic.twitter.com/BhieQE1bzb

— Celtic Football Club (from 🏡) (@CelticFC) June 1, 2020
"For a young player, it can be quite challenging to be suddenly getting a chance in beside so many big players. Daunting even. But I thought it was great and I didn't have a problem with Martin not dressing things up too much, just getting to the point and leaving you to prepare for it.
"Nowadays, as a coach you'll probably spend more time with young players, speaking to them and framing their mind about what's ahead. Back in the day you just had to go in and deliver. It was straightforward as that and we had some wonderful players like Johan Mjallby, Joos Valgaeren, Lenny, Chris Sutton and Henrik.
"It was a huge challenge trying to break into that Celtic team. Martin trusted you enough, though. And all of the young players like me appreciated him backing you. It was a great learning curve for me playing with guys like Neil, Chris Sutton, Henrik and Johan and all these guys."
"I will do everything I possibly can to bring some success to this football club."

Martin O'Neill didn't just break the sense of invincibility at Rangers. He smashed it to smithereens. They could only cope by industrial scale cheating. It proved fatal.https://t.co/mI0rwU7jnH pic.twitter.com/cu9plLueWH

— Celtic Wiki (@TheCelticWiki) June 1, 2020
Working under O'Neill has certainly come in handy for Kennedy as he finds his way up the ladder at Celtic to reach his current position as Assistant Manager to Neil Lennon, who obviously is also steeped in the MON man management style.
"It was also very interesting for me to see how Martin handled a dressing room with such big profile players and different personalities. He did it brilliantly and his record of success with Celtic speaks for itself," Kennedy continued. "Martin would give you the information you required and just leave you to get on with it. He wouldn't over hype a situation or a game. He told you he had faith in you to deal with whatever came your way.
"I was lucky to have so many players around me with top experience. They helped me get through the games I had back then before my knee injury. I learned so much about preparing for big games and coping with the pressure. They would guide me during the action."
"People appreciate what Martin did for the club. He came in on the back of a difficult period for Celtic. Kenny Dalglish had already given me my first team debut, but I was realistic about my chances of being a regular. I was still learning and Martin had to make an impact in the transfer market.
#OTD in 2000: Martin O'Neill became the new Celtic manager and made a promise 🍀pic.twitter.com/zycCig5Eix

— 🍀 Celtic1967.com 🍀 (@Celtic1967_com) June 1, 2020
"His personality was also just right for Celtic. He developed a team and a squad that got Celtic back on top and he did it in the space of one season against a very good Rangers team that had plenty of resources.
"The team scored a lot of goals, was exciting to watch and won a lot of trophies. Martin was a terrific manager for Celtic. I've got a great respect for him in terms of the time he gave me on the pitch, the guidance he provided.
"He also had a big impact on me with regards the tough spell when I was out injured. He was great with me, fantastic with my family. He showed them great respect and gave them his time. I'll always be grateful to Martin."
VOTE NOW FOR THE CELTIC STAR'S PLAYER OF THE YEAR
 Loading ...