BERTIE AULD celebrates his 82nd Birthday today. Bertie always likes to be centre stage so here ie is talking about that wonderful day in Lisbon on 25 May 1967. Happy Birthday Bertie from everyone at The Celtic Star.
Talking of The Celtic Star, that is just about the perfect description of Bertie, even at 82! Here's his recollections of Lisbon, a story he has told thousands of times , always brilliantly, at Celtic functions around the world….
BERTIE AULD ON THAT DAY, IN THE HEAT OF LISBON…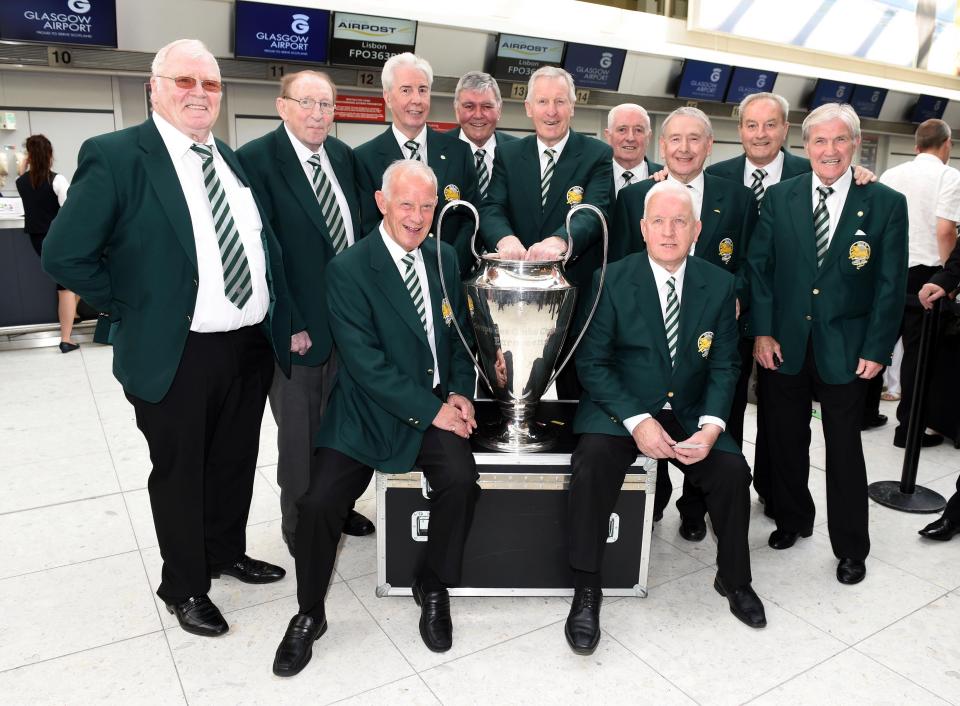 So many fabulous memories come flooding back about that day. I'll tell you this, though – I'm totally convinced there was no need to kick-off in Lisbon.
We won that game in the tunnel, believe me. I will always, always remember the horrified look on the faces of their players when I belted out the Celtic Song and all my team-mates joined in.
There was a fair distance to walk to the tunnel from the dressing room and we were all left standing there in this cramped space waiting for the go-ahead to come out and walk into that glorious sunshine en route to the lavish green grass of the pitch.
The timing had to be absolutely right because, of course, the match was being beamed live throughout Europe and some networks would have timed it to start only five minutes or so before the kick-off, giving them time to list the teams, referee etc.
Anyway, we were in the tunnel and these guys from Inter Milan looked like gods, never mind footballers. I recall they were all immaculate, there wasn't a hair out of place anywhere. They oozed glamour.
Their blue-and-black tops had been hand-pressed by an expert. A lot of us were standing there minus our false teeth. It didn't look like a fair fight.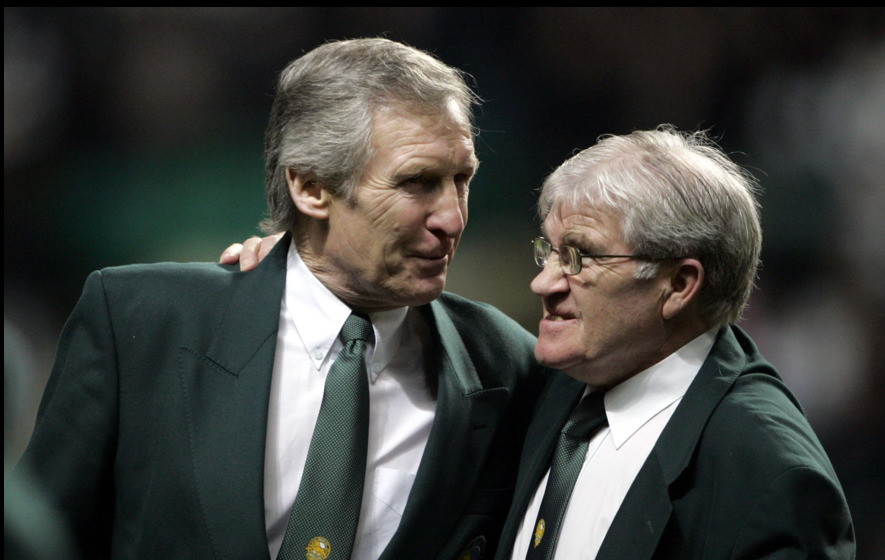 I looked at Giacinto Facchetti, their world-famous left-back. He was about 6ft 3in and was such an imposing figure. He looked as though he had stepped straight out of a sportswear cataolgue.
We were all having a good laugh and the Italians simply looked bemused. I heard mutterings of 'loco, loco' among their ranks. They really didn't know what they were up against. "Hail! Hail! The Celts are here", bounced around the walls of the tunnel.
Big Billy, of course, was first out, chest proudly expanded to its maximum. In order, our captain was followed by Ronnie Simpson, Tommy Gemmell, John Clark, yours truly, Bobby Lennox, Stevie Chalmers, Jimmy Johnstone, Willie Wallace, Jim Craig and Bobby Murdoch.
Reserve keeper John Fallon came next with his lucky teddy bear and then out strode Jock Stein alongside Neilly Mochan, our trainer, with assistant boss Sean Fallon and physiotherapist Bob Rooney following on.
If you get the opportunity to watch footage of the teams strolling out onto the track and then onto the playing surface have a look at the Italians. A lot of them are actually eyeing us up and down and shaking their heads.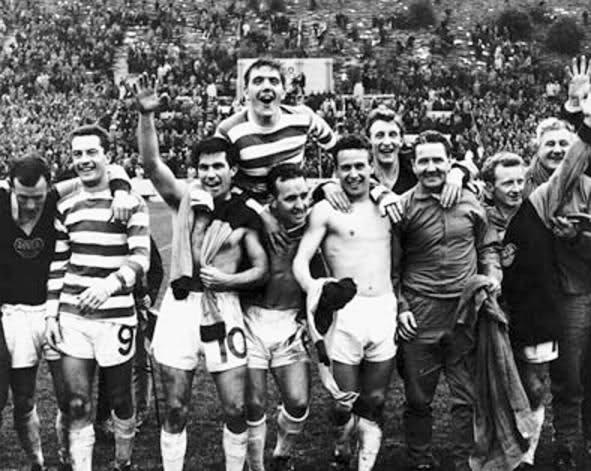 They were just a tad bemused. They were going to get a lot more bemused by time-up, that was certain!
I hit their crossbar with a run and shot as we swept down on them looking for a first-half equaliser. I've often been asked if I intended a cross, but the ball took a strange swerve and ended up heading for goal.
Take it from me, that was an attempt at goal. I put a little bend on the ball as I hared into their box and I thought it looked good. Well, it would have had to be good to beat their keeper Sarti who was unbelievable.
However, the woodwork got in the way of me and glory and the ball bounced to safety. Thankfully, Tommy Gemmell and Stevie Chalmers had better fortune later on.
Bertie Auld
🎉 Happy birthday to #CelticFC legend and Lisbon Lion, Bertie Auld! 🦁🟢 pic.twitter.com/zmYPbjI4OL

— Celtic Football Club (@CelticFC) March 23, 2020
On this day in 1938, Bertie Auld is born. He was a midfield genius, and one of the sharpest minds Celtic have had, full of humour and cutting remarks. Happy birthday! pic.twitter.com/5XEJ6I1mYQ

— CelticLisboa (@CelticLisboaa) March 23, 2020
Happy Birthday Bertie – didn't realise until looking at this photo (below) that the Lisbon Lion is celebrating next to the number 10!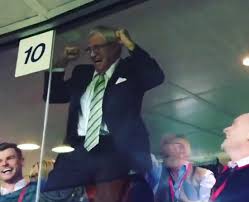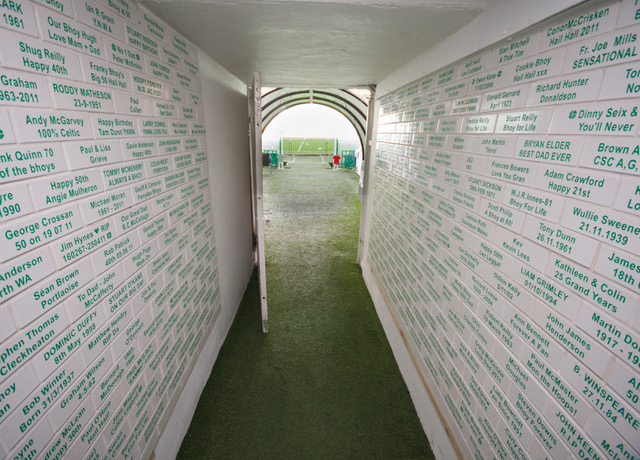 Take The Celtic Star's Photo Tour of Celtic Park and enjoy our stunning photos from inside Paradise RIGHT HERE, RIGHT NOW.
Support Celtic Youth Development
Help raise money for Celtic Youth Development by joining the £1 weekly lottery and you could win up to £25,000 – just click on any one of the photographs below to join. Lots of our readers have already done so and they're now doing their bit to help fund Celtic Youth Development that can deliver the stars of tomorrow and beyond. And you might even win a few bob too! And a special thank you to all The Celtic Star readers who have already signed up and are now supporting youth development to give us the Celtic Stars of the future…