SCOTT BROWN had an awful night against Cluj as Celtic crashed out of the Champions League and it didn't get much better after the game when he mistakenly liked a social media post on Twitter that was criticising manager Neil Lennon.
Very few of the of the supporters who disagree with the sentiments in that particular post but when The Celtic captain actually publicly agrees with it, then there really is a story there and it is a worrying one.
@kellybaby3 wrote: "LENNON come on to f**k your to blame you played McGregor at LB didn't you learn when BR played him n look you've made him look awful when he's a magnificent player tell ya some of the players even @ScottBrown8 need to say to lennon hes to blame this time and Chris benched REALLY".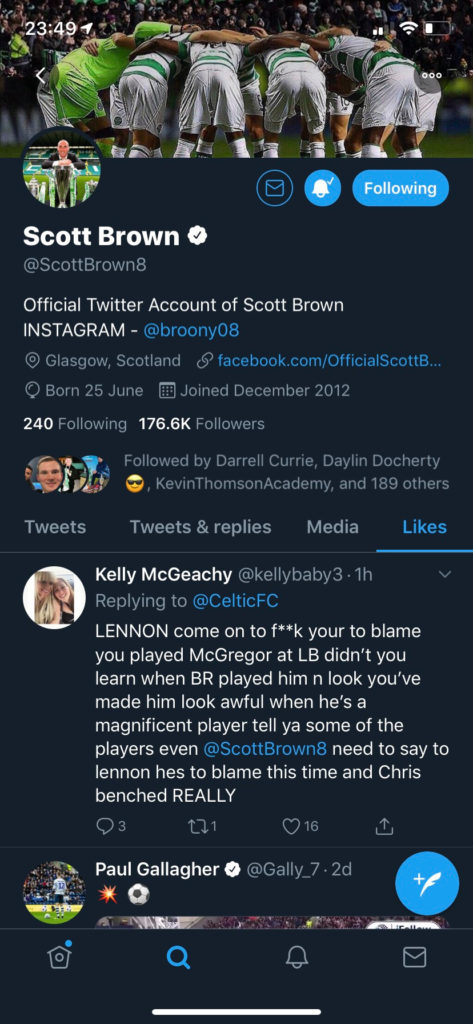 Indeed to significance of this is pretty profound. On Kerrydale Street forum after the game, q poster claimed that Callum McGregor doesn't like Neil Lennon and that the manager has fallen out with Scotty Sinclair and £7million summer signing Christopher Jullien.
That sort of stuff – whether true or not -is what you get when you flop as badly as Neil Lennon did last night. Ronny Deila was a dead man walking at Celtic all through his second and final season in charge because of his dismal fallings in the Champions League qualifiers. Neil Lennon now has to walk in those very same shoes and answer these questions?
Why did you play Scott Bain ahead of Craig Gordon after Bain shipped goals in Romania and Motherwell?
Why did you play Callum McGregor at left back after we ALL saw what happened at Ibrox on 29 December? McGregor played better that day than last night incidentally, the problem was taking him out of the midfield and the negative effect that that decision had on the performance of Scott Brown. Sounds familiar Neil?
Why did you sign Jullien and Bolingoli if you clearly didn't trust them to play last night? Were these your signings – did you scout them – or were they the work of the de facto Director of Football Peter Lawwell? Incidentally Jullien we get – he was poor at Fir Park, but not Bolingoli.
Before leaving for the game I posted an article speculating about the team selection.
I strongly suggested playing Gordon in goals, better at keeping the ball out the net.
The back-four was Elhamed, Ajer, Simunovic and Bolingoli. Middle of the park, Scott Brown Callum McGregor and Ryan Christie and up top James Forrest and Odsonne Edouard. The other position, wide on the left was for Mikey Johnston but in order to play Olivier Ntcham and make us a little harder to play against, I suggested bringing Olivier Ntcham into the team, playing him at number 10 and moving Christie to the left.
Even when the team was announced I thought he was playing three at the back with a diamond. The horrible reality when Callum appeared at left back, and duly was culpable at the first goal of the night, was hard to take. Hard to forgive.
And Lewis Morgan was stripped and ready to come on just as Scott Bain and Craig Gordon were throwing away a 2-1 lead – what him and nit for instance Nir Bitton to shore things up? Or even Bolingoli to play at left-flaming-back? It was too late. What exactly has zero goals and zero assists Lewis Morgan done to deserve getting picked ahead of Scotty Sinclair, who is experienced at this level and almost saved Celtic in Athens last summer when he came off the bench? Is this the manager's call or the de facto Director of Football who wants to get the high earner off the pay-roll?
An awful night for Neil Lennon, perhaps the defining moment in his time as Celtic manager. And before anyone says it, we did support him to get the job because NONE of the other candidates that were being touted around were ever realistic under Peter Lawwell's domination of all things Celtic.
Steve Clarke was interviewed for the manager's job when Neil Lennon left the first time. Ronny Deila was interviewed for the Assistant manager's job – Lawwell gave him the top job, brought in John Collins to assist him and knocked Steve Clarke back. Clarke was the only viable alternative this summer, under Lawwell and this previous situation, meant that that was always going to be unlikely.
Neil Lennon will struggle to survive last night long term but the real problem we have is clearly Peter Lawwell and the way he controls the footballing department.
But he looks after the money, is doing a great job etc. There was another tweet last night saying that Celtic spend £55million on player salaries which is more that the combined total of all 14 clubs in the Romania league combined. There's your value for money Lawwell-lovers right there.
Was just flicking through Twitter must of touched the button by accident.. Not my style to slag anyone off on Twitter. I am fully behind the manager and all the players are as well. If anyone should be getting a slagging or a abuse it's all on me tonight as didn't perform. Sorry

— Scott Brown (@ScottBrown8) August 13, 2019
Back to Scott Brown's bad night. He liked that tweet criticising Neil Lennon – as did plenty of other Celtic Supporters – but then took to Twitter to explain what had happened.
"Was just flicking through Twitter," The Celtic captain tweeted,'" must have touched the buttony accident," much in the same way he touched the ball to needlessly concede that penalty when we were winning 2-1.
"Not my style to slag anyone off on Twitter. I am fully behind the manager and all the players are as well.
"If anyone should be getting a slagging or abuse it's all about me tonight as didn't perform. Sorry," The Celtic captain wrote.
Celtic are OUT of the Champions League AGAIN. And we can blamed Ronny, Rodgers and now Lennon but the one constant is Peter Lawwell (the highest paid non playing employee in Celtic's history) and the way he dictates how Celtic is run.
It is now time for him to go…