As Celtic head into action tomorrow in a huge SWPL1 encounter at home to Motherwell they'll have a new signing to bolster the ranks for the title run in. And for the new girl, London's calling is Glasgow's East End.
🆕#CelticFC Women are delighted to secure the signing of exciting 16-year-old striker London Pollard from Forfar Farmington!

Welcome to Celtic, London!🍀 pic.twitter.com/VhpgZVQKHv

— Celtic FC Women (@CelticFCWomen) May 8, 2021
Celtic's head coach Fran Alonso has announced the signing for former Aberdeen and Cove Rangers forward London Pollard from top flight side Forfar Farmington. On the back of dishing out a hefty eight goal thumping to Pollard's former team it hardly seems fair to be pinching their best prospect, but Alonso has clearly seen something in the 16-year-old that indicates the player is not only one for the future she is one who can help the current squad as the league heads into the final round of fixtures after this weekend. Speaking to Celticfcwomen.com Alonso was fulsome in his praise for a player who has both scored and shone against her new club earlier in the season.
"She impressed us in the few games we saw her in before we played Forfar for the first time and we actually addressed her as their main threat, and she scored against us, but we have forgiven her," the Celtic manager joked. Here's that goal…
⚽️// GOAL E: LONDON POLLARD'S COUNTER STRIKE

🎥: Forfar Farmington FC pic.twitter.com/fkyru5WkWN

— Leading the Line (@LeadingtheLine) March 28, 2021
"She's really impressive and really young so I think coming into a setup where she can train everyday will really see her game improve and we are delighted she has come here and we'll work everyday to try and help her reach her potential.
"She'll definitely be able to help the team – she'll bring things that will be very useful.
"London is very young, so it's normal that she wasn't in a pro team last year because at 15 it's too early, but 16 is a very good age to work everyday. The quality of the players she is training with will also make her a better player. To beat our centrebacks and fullbacks you need to be good, so she's in a great environment for her and we're looking forward to seeing how far she can go."
And London herself seems very keen to get down to business but more than aware the Celtic first team and professional football is a big step up, but one Celtic's new attacker doesn't seem overwhelmed by:
"It was the competitiveness of everybody. The training sessions are tough and it'll be so hard to get into this team so I know I've got to work hard to get into it and I won't just be given a place, so that'll push me. Fran Alonso seems like a really good coach also, so I'm excited,"
"I think playing with these girls who have played at such high levels will be really good for my development and hopefully I can get better and better. It's a really high tempo, and much faster than what I'm used to, so it'll probably push me to get even better."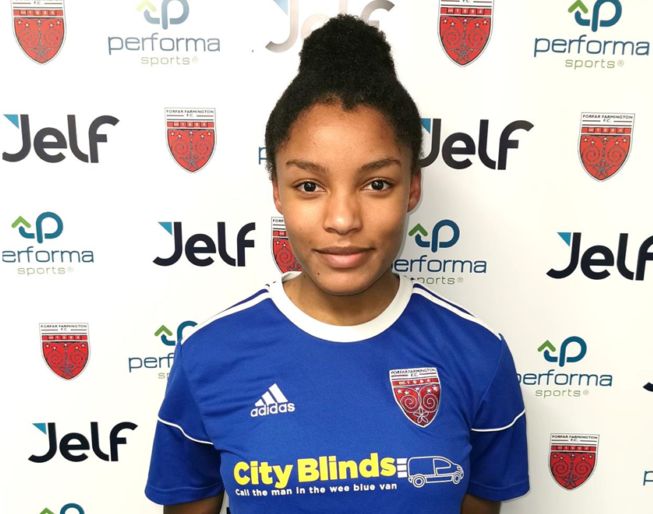 It would appear London Pollard is also the kind of player who thrives on attacking play and putting the ball in the net, as such with some time spent learning to adapt to the Fran Alonso approach to attacking football it would seem Pollard will settle into Alonso's version of the Celtic way just nicely:
"It's nice to slip in when a season is already going. Personally, I just want to score a lot of goals and try and work my way into the team."
"I like to take on players, get behind and make runs, and just try and score."
Celtic head into tomorrow's game with Motherwell – live on the BBC Scotland website at 12pm – with a chance to put the pressure on both Glasgow City who lie five points ahead of the Hoops and two points behind the Rangers who were recently defeated at Celtic Park thanks to a Mariah Lee goal late in the game.
If Celtic do manage to win against the 'Well they'll be able to sit back and watch their rivals go head-to-head later in the day live on BBC Alba with a 4.10pm kick off, with perhaps the hope a goalless draw in that encounter will draw the Hoops back into both Champions league qualification contention or indeed a real shot at the title.
If the Celts are to do either of those things some extra firepower never goes amiss – and it looks like young London's calling could be in time for a shot at silverware.
Niall J
WHERE YOU CAN WATCH THE ACTION…
LIVE @SWPL coming up… 🙌

⚽️ Celtic v Motherwell
⏰ Coverage starts 11.55am, Sunday 9th May
💻 BBC Sport Scotland website pic.twitter.com/ao5MkbMHKj

— BBC Sport Scotland (@BBCSportScot) May 8, 2021
🌍 International Celts can watch #CELMOT tomorrow live here⬇️💻https://t.co/PIfftiit2Z

— Celtic FC Women (@CelticFCWomen) May 8, 2021
DATES FOR THE DIARY…
🤩 Confirmation that our @_ScottishBS @SWPL 1 games against Glasgow City and Rangers will be live on @bbcalba! #everygamecounts pic.twitter.com/jkats9GYZd

— Celtic FC Women (@CelticFCWomen) May 7, 2021