CELTIC'S Europa League opponents Copenhagen scored just five goals in their six group stage matches and never managed more that one goal in any match.
Defensively they were strong, losing just four goals, keeping two clean sheets and never losing more than one goal in any of the six group games. And one of their goals was actually an own goal which earned the Danish side a draw in Malmo while things levelled themselves up in the return fixture, this time Malmo benefitting from an OG.
Copenhagen have made it to European competition proper in 13 of the last 14 seasons, making them by far the most consistent Scandinavian side in UEFA competitions. They certainly seem to have been able to negotiate a way through their group despite being cautious in their approach to the games. They seem to like to keep it tight and try to nick something at the other end. It's fair to say that they're likely to sit in in both games against Celtic.
They started with a narrow 1-0 home win over Swiss side FC Lugano on Matchday 1 on 19 September. They managed 9 shots on goal with 2 on target and enjoyed 59% possession. Here's the goal that got Copenhagen off to a winning start against
Matchday 2 saw Copenhagen earn a "Bridge Derby" 1-1 draw away to Malmo with Lasse Nielsen scoring an OG five minutes into first half stoppage time. The Swedes got an equaliser on 55 mins in a game that Copenhagen managed just one shot at goal in the entire game and just the one on target. They shared possession 50/50% and would have been well satisfied with an away point.
Nice cities but these are local rivals and there are casuals involved…
Next up for Copenhagen was a double header with Dynamo Kiev with both matches ending in 1-1 draws, leaving the Danes on 6 points after 4 matches.
Copenhagen got off to a flying start in Kiev with Pieros Sotiriou scoring after just 2 minutes. Artem Shabanov got a well deserved equaliser for Dynamo on 53 minutes with the home side having 62% possession. Copenhagen though managed 9 shots with 4 on target, much more than in the first two games.
It was a similar story in the return game on Matchday 4. Jens Stage gave Celtic's round of 32 opponents the lead after just 4 minutes and Kiev's Benjamin Verbic levelled things up on 70 minutes. The visitors enjoyed 62% possession and had four shot on target to Copenhagen's one – and that was their early goal.
Copenhagen travelled to Switzerland for Matchday 5 and completed a decisive double over Lugano with a 1-0 victory with Nicolaj Thomsen scoring the only goal of the night on 26 minutes. The home side had the bulk of possession (57%) with both sides having ten shots on goal with 2 each on target.
Copenhagen therefore went into Matchday 6 as group leaders on 9 points and they had to play local rivals Malmo needing to avoid defeat to win the group and earn a seeded spot in today's draw. The Swede's prevailed 1-0 in yet another closely fought game. It was actually an own goal on 77 minutes from Sotirios Papagiannapoulos that decided the game in Malmo's favour and allowed them to win the Group with eleven points to Copenhagen's 9.
Unusually Copenhagen had the bulk of possession in this game, 53% to Malmo's 47% but they managed only one shot on target to Malmo's 4.
So in the two games agains Celtic, Copenhagen will look to keep it tight at the back and are likely to sit in, even in their home game on Thursday night. Nicking an away goal at Celtic Park is probably their ideal scenario and one they'll be eyeing up so a goalless draw in Copenhagen would be a decent result for them.
Expect though that Celtic will get a few chances and Odsonne Edouard, with that late sitter on his mind from Pittodrie – a particularly painful one for those of us who this down as a 3-1 Celtic win – will be looking to find the back of the net on the European stage.
Three Celtic players are on a suspension tightrope on Thursday night.
ODSONNE EDOUARD ON A TIGHTROPE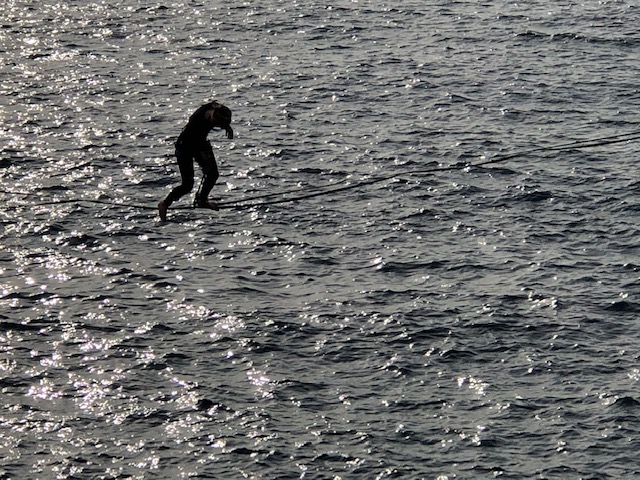 CHRISTOPHER JULLIEN ON A TIGHTROPE
RYAN CHRISTIE ON A TIGHTROPE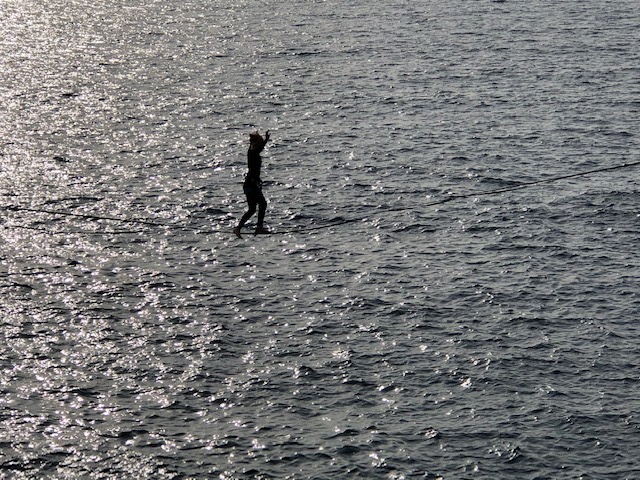 – Edouard, Jullien and Christie are one booking away from a suspension, something Neil Lennon will be concerned about. (I took those photos in early January while out for a coastal walk and this girl was quite amazing to watch on that tightrope across the sea).
Expect Celtic to come through this one with a narrow 1-0 victory in Copenhagen with the goal coming from you know who. That doesn't mean we're through tough and it will be a tense old night under the disco lights in the second leg.
Proud of this great travelling Celtic support | The Celtic Star https://t.co/nD2v58Kp4s

— The Celtic Star Editor (@CelticStarMag) February 18, 2020
Copenhagen Star – 'We are the underdogs. If we were to qualify it would be massive' | The Celtic Star https://t.co/ICAuiRbwtk

— The Celtic Star Editor (@CelticStarMag) February 18, 2020
'I got a fright,' says Frimpong, 'I've looked back at it and his legs were up' | The Celtic Star https://t.co/J1kNnxTMte

— The Celtic Star Editor (@CelticStarMag) February 18, 2020
Help raise money for Celtic Youth Development by joining the £1 weekly lottery and you could win up to £25,000 – just click on the photograph below to join. Lots of our readers have already done so and they're now doing their bit to help fund Celtic Youth Development that can deliver the stars of tomorrow and beyond. And you might even win a few bob too!