"I don't care whether it's CELTIC, Rangers, or any other club, it's not on, so please stop breaking the rules," the First Minister Nicola Sturgeon said at one of her recent daily Covid updates when asked about the latest batch of players from theRangers who have breached her Government's own restrictions that the rest of us in Scotland are having to follow.
Sturgeon had not mentioned theRangers when issuing Scottish football with a YELLOW CARD back in August after a group of Aberdeen players went for a post match drink and Boli Bolingoli decided to use his few days off from Celtic for an illicit trip to Spain to meet up with a female friend of his. She was apparently warning the game and speaking in language that football would understand when issuing a YELLOW card and warning what follows next. Celtic and Aberdeen both had their next two matches called off by the furious First Minister.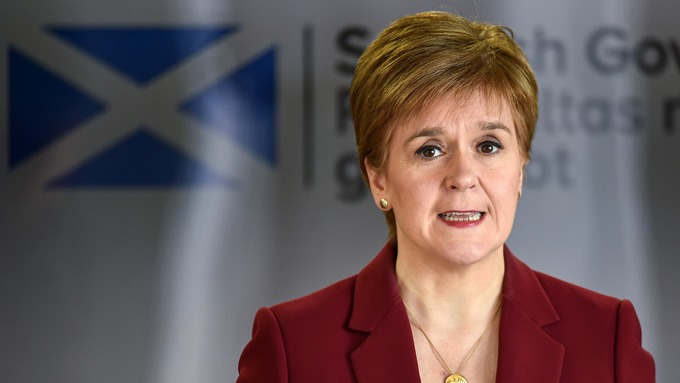 However Sturgeon have gone on to prove herself not to be much different from the match officials, mostly from Lanarkshire who have this season failed to send off any player from theRangers – THREE times the judicial panel has found red card offences 'missed' by these referees who have yet to award a penalty kick against the Ibrox club. Meanwhile James Tavernier has taken more penalties this season than any other player in world football.
While we expect that from the Hugh Dallas 'Band of Brothers' we really did expect better from a First Minister who perhaps is guilty of taking our votes for granted.
After the first Covid breach from theRangers players – apparently just two – the Scottish Government issued a statement COMMENDING theRangers for their quick action. As a result of that I contacted both my MP Alyn Smith and my MSP Bruce Crawford, chasing both up to get replied. Smith decided that it was a matter for the MSP to deal with and Crawford, who I found out when he called me is a Dunfermline supporter who understood the inconsistency and promised to speak to the Government Minister responsible for the statement that COMMENDED theRangers for an explanation.
Nothing further came of that but since Dubai followed the matter ended there, until the 5 Covid rule breakers from theRangers emerged last week and Nicola Sturgeon was asked if she was now planning on issuing a second yellow card to the game, only for the First Minister to avoid the question but drag CELTIC into her response, mentioning our club before theRangers!
"I don't care whether it's CELTIC, Rangers, or any other club, it's not on, so please stop breaking the rules," the First Minister Nicola Sturgeon said.
Incredible really. Did she mention theRangers when hammering Celtic back in August? Celtic's swift action in dealing with Bolingoli wasn't COMMENDED by the Scottish Government as the First Minister called off two of our league matches against St Mirren and Aberdeen.
Did she drag theRangers into her Government's post Dubai rants after Celtic's (Scottish Government approved) went horribly wrong after some photographs were conveniently spread across the internet by sources 'unknown"? The less said about those photos the better, but you can guess which club's supporters are 'suspected' of being the culprits in that one.
Peter Lawwell bowed to pressure and issued an apology via his interview with Celtic TV but Neil Lennon in a remarkable Media Conference the next week after he was allowed out of self isolation had a remarkable rant about the Dubai trip and the Scottish Government. Celtic never did post that Media Conference to on their various social media channels and tried to move on but the post Dubai damage to our season was HUGE with so many players and the management team being forced to sit out the next few matches as SIX POINTS were dropped needlessly, effectively ending any chance of getting back into contention for the title.
Things calmed down after that but when news broke of another Covid breach last week by a group of at least FIVE players from theRangers, all eyes were on Nicola Sturgeon and credit to the journalist who asked the Yellow Card…Red Card question.
"I don't care whether it's CELTIC, Rangers, or any other club, it's not on, so please stop breaking the rules," the First Minister Nicola Sturgeon said.
Yesterday Celtic continued to block out the Celtic Fan Media from these Media Conferences with our Manager. So when the club released their You Tube video of the conference I listened wanting to hear if any of the hacks would ask about the First Minister's response this week to theRangers latest Covid Breach, her failure to issue any kind of punishment to the Ibrox club despite this being their second breach and the fact that she dragged CELTIC into the narrative…
"I don't care whether it's CELTIC, Rangers, or any other club, it's not on, so please stop breaking the rules," the First Minister Nicola Sturgeon said.
…But there was nothing at all on this Media Conference posted by Celtic FC on their twitter handle and on You Tube, see below.
By this time I'd been back in touch with my MSP Bruce Crawford and he promised to formally write to the Scottish Government on the matter, promising that he'd once again contact a Minister on my behalf. I once again reminded him that it is a dangerous game, taking the Celtic support for mugs and for granted.
This morning tough it turns out that the Mainstream Media did indeed ask Neil Lennon about all of this yesterday, with the papers full of this this morning. Let's look at what Daily Record are reporting on what the Celtic manager said, shall we?
"There just seemed to be a different tack to when she (Nicola Sturgeon) was speaking about us.
"The fact she brought us into the answer sort of baffled me as well. I think we as a club have been treated differently from other clubs and other parts of society as well. I said all I needed to say after Dubai. I said it smacked of hypocrisy and I am not changing from that.That is all I am going to say about it."
See that "NEIL LENNON OUT" banner that The Green Brigade displayed outside of Lennoxtown last week? Maybe they could amend and make the last word a little longer by adding STANDING to it.
The hacks also asked if it was odd that the First Minister called off two Celtic and Aberdeen games and issued a yellow card but in the two breaches relating to theRangers the Scottish Government did nothing and even COMMENDED theRangers.
"Odd? Hypocritical. I could use a lot of words," Neil Lennon replied. "But I'm not going to because I don't want the story to be about me. I have come out and called it as I saw it. And people have thrown all sorts back at me. But my conscience was clear at the time and still is. And I don't want to take the government on again, but you can tell there is a bit of discontent there."
Sturgeon's remarks about football being in a privileged position was also mentioned by the Celtic manager yesterday.
"I think the talk of privilege is overplayed. I think 95 per cent in football have adhered to the rules and protocols. The tests have been carried out at great expense by a lot of the clubs all season.
"It costs a lot of money to set up the stadiums, particularly ours. Now we take four or five coaches to games, which has changed since Dubai for some reason."
Celtic play Ross County tomorrow evening – the game kicks off at 7.30pm to suit Sky Sports – and Neil Lennon reckons that there will be up to six coaches (good business for the Rangers Chairman and his Parks of Hamilton bus company) required.
"We got tested on Friday and then we travel up on five or six buses to stay at a hotel, which will probably be opened just for us."
Why does Celtic need to have more coaches to take our players to games than other clubs?
Condescending Nicola Sturgeon singled out Celtic and Aberdeen but Rangers treatment highlights her inconsistency | @chris_sutton73 https://t.co/lWUnWzPDk0

— Daily Record Sport (@Record_Sport) February 20, 2021