The Celtic Star spoke to Fran Alonso yesterday afternoon and looked back on last weekend's gutsy performance in the goalless draw at Broadwood against theRangers, got an injury update from the Celtic manager on Lucy Ashworth-Clifford who was carried off on a stretcher, talked about the harsh booking that Celtic players received in that match, with Fran admitted that he had to substitute two key players rather than risk red cards.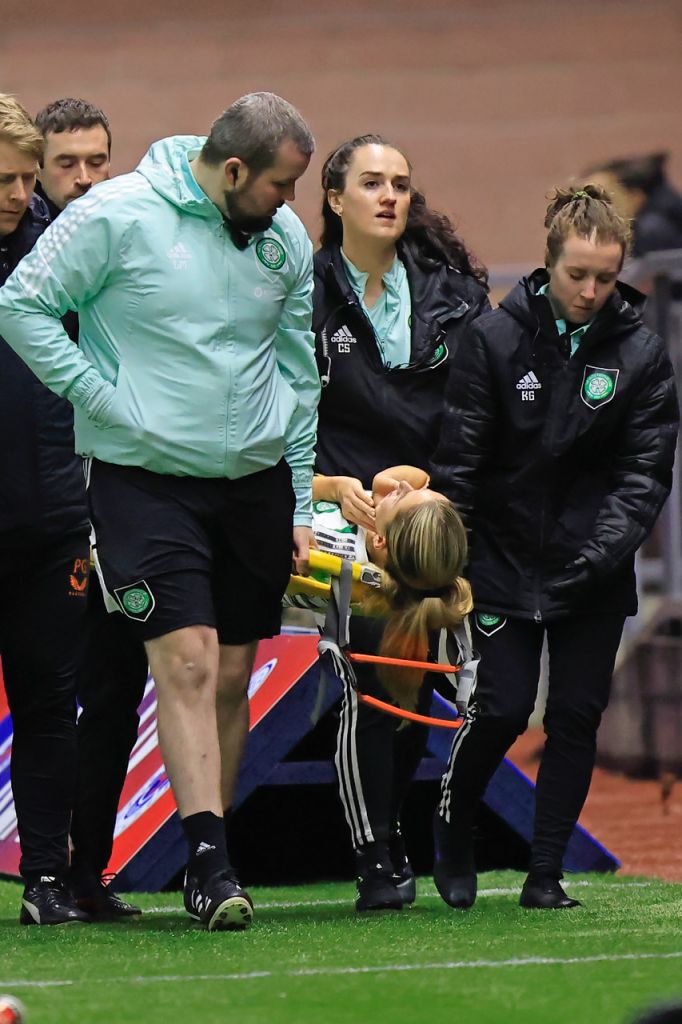 Looking forward we discussed with Fran Alonso the impact that an increase in the numbers of supporters getting along to support the team can have on the title challenge with the club starting the ball rolling on Sunday afternoon with a special family day in the match against Dundee United the week after Hibs v Hearts broke the SWPL1 record attendance with a crowd of 8,066 beating the previous record of 5,512.
Celtic would love to break this new record on Sunday against Dundee United and will your support, as Lisbon Lion Tommy Gemmell once told me, "anything is possible!"
Reflections on draw away to theRangers

last weekend…
Fran Alonso: "We knew it was an extremely difficult game. The Rangers hasn't lost a league game in this country for a year and a half and nobody has kept a clean sheet this year against them so they are a super team.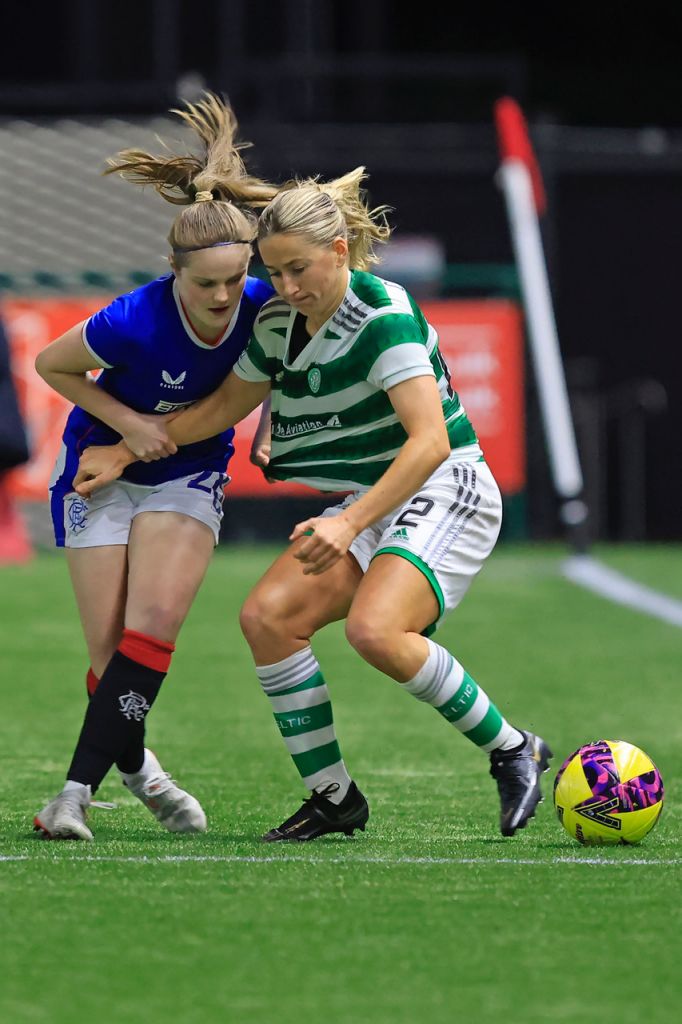 "For us the most important thing was to stay in the game, we thought we could have been a little bit braver at the end to try to nick the the three points but the most important thing was to stay solid defensively, and defensively I thought we were a ten out of ten, from the goalkeeper to the front players.
"Offensively, I don't think we had a great game. The game-plan didn't really work as we thought but it is a very important point against an outstanding team so I am delighted. Especially after the effort and the passion, with the players putting bodies on the line, so defensively it was an outstanding performance, so I was happy with the point."
The noisy Celtic Support at last Saturday's Glasgow Derby…
Fran Alonso: "I did hear and actually we mentioned in the changing room – we were sure we we going to score but we were wrong – and they were going to go and celebrate with the fans. For us the fans are everything and we want to please them, we want them to feel proud of us and yeas, we feel their presence, every time they are there. It's a fact that the more fans we have at the game the better we play. There's an outstanding game this weekend and hopefully that means a full crowd against Dundee United."
That Lucy Ashworth-Clifford injury – "It was diagnosed as ACL"…
Fran Alonso: "I just talked to her. She is trying to keep calm. We sent her for a scan straight away and it was diagnosed as ACL so she is going to be out for the next few months but she will got all the support from the club, she felt looked after and hopefully she will come back stronger.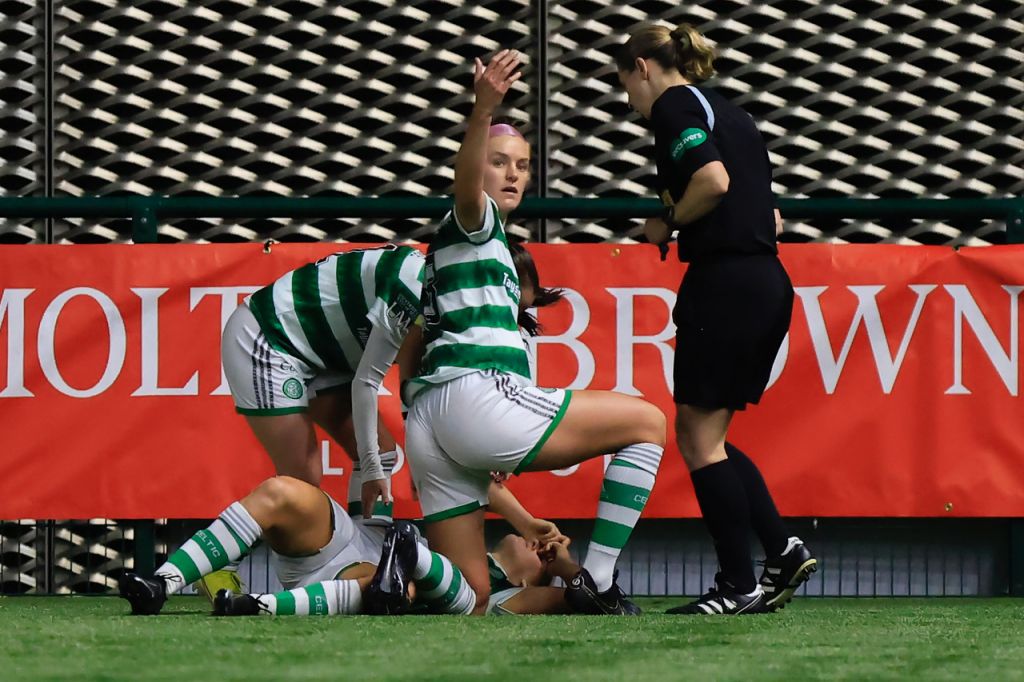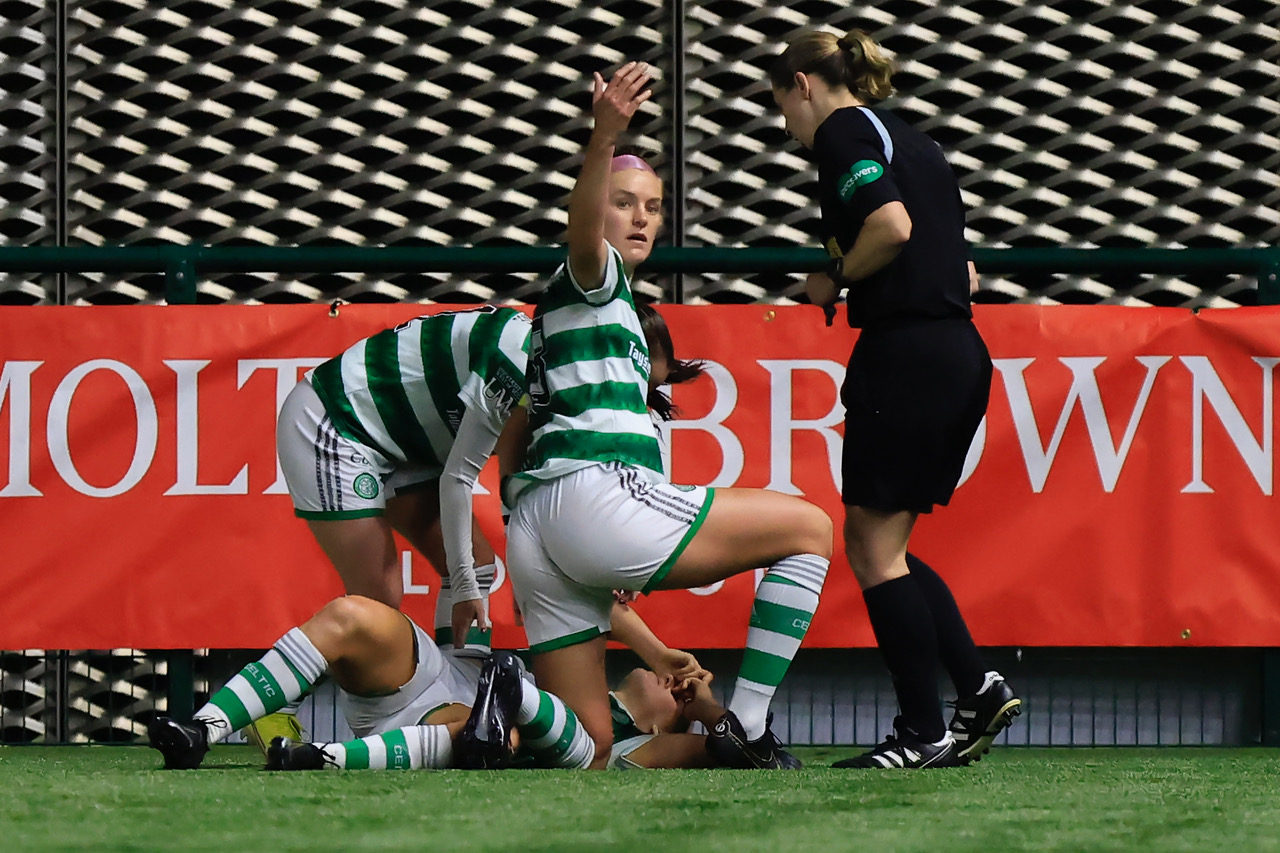 "It's a real shame because she was having a massive impact, she's a very important player for us but it is part of football, there is nothing that you can do, it is a contact injury, it can happen and now we have to support her, for her individually but also making her proud of good performances and good results. She will come back stronger, we are all 100% sure of that."
On

referee Lorraine Watson

booking Jacynta for nothing really…
Fran Alonso: "I would have to agree, especially Jacynta and Natalie Ross, the yellow cards for me were harsh. In my opinion, if I was the ref, I wouldn't show those yellow cards and that's the reason why both players came off (concern over a second yellow), we couldn't take the risk in a game that is very intense, any late challenge and the player would have been sent off and we couldn't take that risk.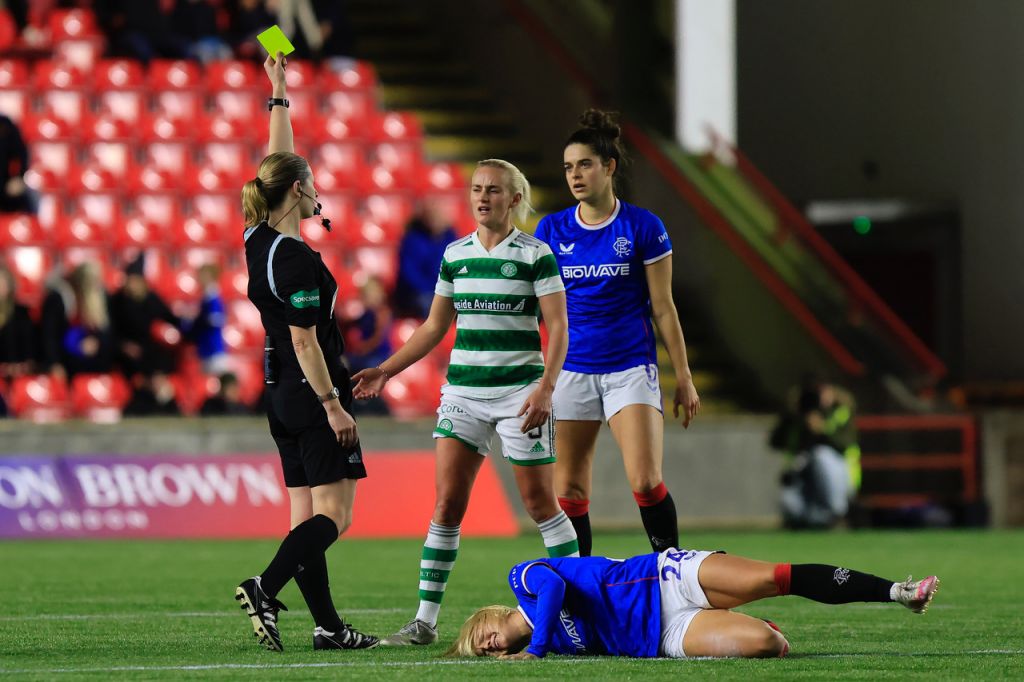 "I think, specially losing Natalie Ross had in impact in the game but it happened, everyone has different interpretations and that's not the reason why we don't win and that's not reason why we didn't play better. But I think it was harsh."
On outstanding home form, already having scored 30 goals this season at Airdrie, and with

Glasgow City and theRangers

having to come to play Celtic twice at home, this sets Celtic up for a real title challenge…
Fran Alonso: "The goal this year was to try to be in the last month of competition with options of winning the title. For us to say we are title favourites is not realistic, we've never won it in the past, but we know we are good enough to go game by game and be there at the end. Last year we weren't there and I think that wasn't good enough. So this season we have a stronger team and we playing better against teams below us in the table and also teams ahead of us at the moment.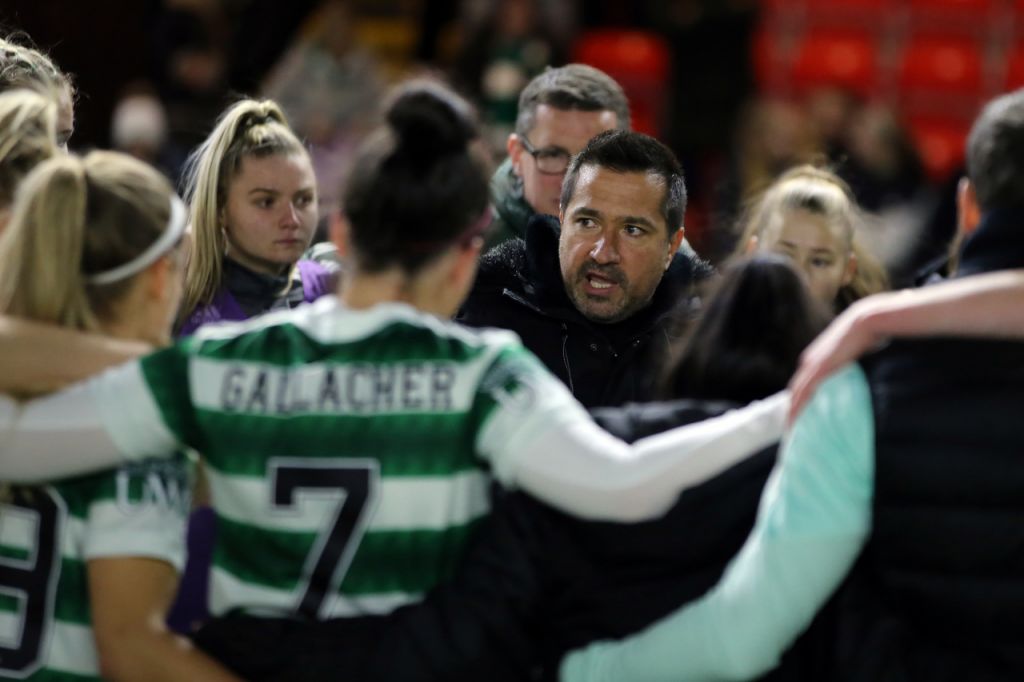 "So hopefully we'll be there, but as you say playing away from home is a disadvantage. We know at home, we know the dimensions, we always play better at home, especially when you go to play Glasgow City at Petershill, the dimensions are very different and it doesn't suit us. So I am looking forward to in the New Year to welcoming both of the teams that are currently ahead of us to our home hopefully we will have better games and better results than we've had so far."
On Celtic captain Kelly Clark's comments this week about the difference the large Celtic support made in the Scottish Cup Final win over

Glasgow City at Tynecastle

at the end of May and the difference a bigger home crowd can make to Celtic's title challenge this season…
Fran Alonso: "100%, you saw that game, again probably a very harsh decision, a red card that in my opinion should not have been given. A penalty that….okay, maybe (FYI, it was a DIVE)…but that made the neutrals be a little more in the Celtic side. The noise was incredible. Still today, I've been 15 years in football and that day was still the most special day I've had in football. It was incredible and it was the Celtic fans that were the highlight of that day for me. It was fantastic. I am talking now and almost getting goosebumps.
"If we can get those type of numbers, you always get this type of performance. With big crowds, big support the Ghirls don't feel scared, they don't feel nervous, they just feel passionate, they feel brave and it's why we not only won both those cup finals but performance in both finals was a 10 out of 10. Very good performances against a team that had been winning for 14 years in a row, so for me the key is the crowd. Big crowd normally equals a great performance so we hope that for every game we have a huge crowd.
"It's great the engagement after the game, you have a great game then you go there and see the little girls asking for photographs with the players. We always go there and we spent a lot of time with the young supporters.
"It's fantastic, it's like a family and we're all being successful together. So yes, hopefully we'll get this big crowd on Sunday and after that at every home game. We want to see you guys there at every game."
WATCH THE FULL MEDIA CONFERENCE WITH FRAN ALONSO BELOW…
MATCH DETAILS – CELTIC FC WOMEN

v DUNDEE UNITED 
Celtic take on Dundee United in the SWPL1 on Sunday afternoon (4 December) at the Excelsior Stadium in Airdrie. Kick-off is at 4.10 pm (Celtic Park Time) and the club are laying on free transport to and from Airdrie Train Station to the stadium plus are having a family day with loads of extra activities going on. Ticket prices are £8 for adults and FREE for children (Under 16). For U16 tickets, proof of age may be required and tickets must be selected when purchasing an adult ticket (up to a maximum of two child tickets per adult ticket) via the official ticket LINK WHICH YOU WILL FIND HERE.
While I'm enjoying the World Cup – with the four teams we're all supporting all qualifying – it's really no substitute for watching Celtic and it was great to get along to Broadwood last weekend to cheer on Fran Alonso's Celtic team against theRangers.  If Hibs can get her 8,000 fans at their games then so can Celtic. Bring the family along and afterwards the kids will all get their chance to meet the players.  They'll love it.
Let's do this Celtic.
Join us for a day full of festive fun as the Ghirls face Dundee United at the Excelsior Stadium! 🏟

🐶 Hailey the mascot
🎨 Face paint
🚍 Free shuttle bus
🎄 Christmas goodies & more!

The countdown is on! Have you got your tickets yet? 🎟#CELUTD | #SWPL | #COYGIG🍀

— Celtic FC Women (@CelticFCWomen) November 30, 2022
🚨 ICYMI

Captain, Kelly Clark wants fans to help make the Excelsior Stadium their own fortress 🏟️

📺 Watch Kelly's full 'Walk On' feature on YouTube ⤵️#CelticFC 🍀 #COYGIG

— Celtic FC Women (@CelticFCWomen) December 2, 2022
"It's special when you see the kids enjoying the game with their kits on, face painted and the engagement they have with the team and club itself."#CELUTD | #SWPL | #COYGIG🍀

— Celtic FC Women (@CelticFCWomen) December 2, 2022