Scott Brown has said that Kieran Tierney left Celtic at the 'right time' for him, despite being sad to see his friend and teammate leave.
Speaking to TalkSport, the Celtic captain has heaped praise on Tierney and backed him to come good at Arsenal despite his slow start in the red of Arsenal.
"He showed his qualities at Celtic and that is why Arsenal wanted him.
"For me, it was sad to see him go, he was a great player and a great friend as well.
"But it was the right time as well.
"He will kick-on and he'll show everyone what a top quality player he is over the next six months."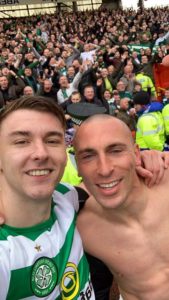 Tierney has endured a slow start to life in London as Arsenal struggle to put a run of form together under Unai Emery. Yet Brown was keen to pick out some of Tierney's attributes that will see him excel in the Premier League.
"He is a fantastic full-back.
"He's got pace, he's got strength and he's got that willingness to win as well."
Tierney, 22, has made just seven appearances since moving to the Emirates; however, after his debut, KT gained the plaudits of the Gunners fans in a League Cup win at home versus Nottingham Forest.