TWENTY YEARS AGO TODAY Celtic appointed Martin O'Neill as 'manager of the football club', and what an impact he was to have! David Potter looks back at Martin's time in charge at Celtic below and there's some footage added from Twitter this morning as the Celtic support recognises just how special O'Neill was and what he gave us as a club and a support…
On this day in 2000, Martin O'Neill is appointed Celtic manager. Seven domestic trophies won under Martin O'Neill. First Celtic manager to take the club to a UEFA Cup final. First Celtic manager since Jock Stein to win a domestic treble. Won 25 league games in a row in 2003-04. pic.twitter.com/VBuP98nxZS

— CelticLisboa (@CelticLisboaa) May 31, 2020
For the fourth summer in a row, Celtic appointed a new Manager. Wim Jansen had done the needful in 1997/98 but had then abruptly departed, Jo Venglos and John Barnes had, frankly, failed, but now in June 2000, the Board made the right decision when they appointed a proven winner in Martin O'Neill.
He was a deep character, not immediately likeable or genial in his interviews with the media, but there was a grim determination there, and there was an ability to deal with the awesome demands of the Celtic job.
There was a sleeping giant needing to be awakened.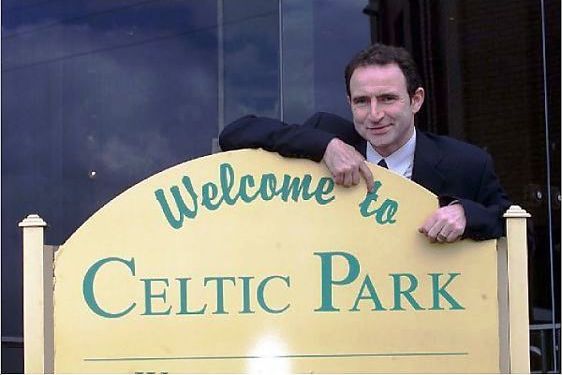 He was also backed with money.
Crucially, the decision was taken to break the Celtic transfer record and to bring in Chris Sutton, not only a proven goalscorer but an intelligent football player to boot with the ability to defend if necessary. A few others joined us as well, not necessarily household names at the time, but destined to become so, the best example of this being Neil Lennon, a feisty aggressive character already known to O'Neill from his dealings at Leicester City.
Didier Agathe would also join the club in the autumn, and Neil Lennon a little later, as well as a strange man called Ramon Vega – a brilliant centre half who was with us for half a season, won all three domestic honours and then opted to leave us for …Watford!
Aye, there are indeed things that "a fella just can't understand".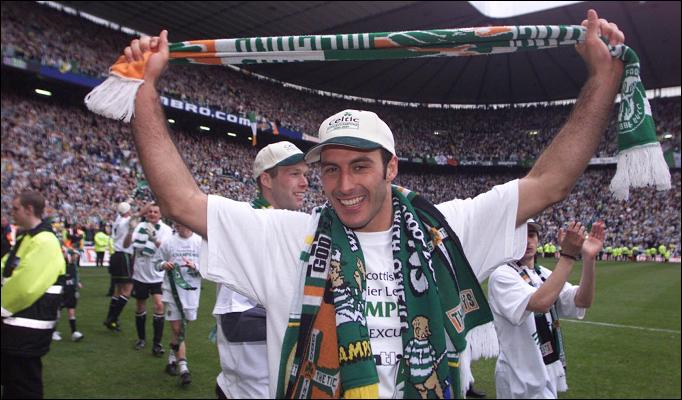 These transfers however would not happen until the middle of the season. There was already talent at Celtic Park for O'Neill to work on. Henrik Larsson, for example, had been with us since 1997. Having suffered a horrendous fracture of the leg the previous November, he was now back fully fit. It would be his teamwork with the new Englishman Chris Sutton which would put Celtic on the right track for this vintage season.
20 years ago today, Martin O'Neill is appointed manager of Celtic. 👏

Legend. The greatest in my lifetime and for me, he set the foundations for the domination we have now. pic.twitter.com/fPVMSBhpjM

— Li'l Ze (@LilZe85) May 31, 2020
There was also Stilian Petrov, a young man who had yet to reach his potential under the previous dysfunctional managers, but who would now show O'Neill and his doubters what he could do, until he sustained a bad injury at St Johnstone in March.
There were, of course, one or two who would not make it under O'Neill. Berkovic, Burchill, Tebily, Mahe, Riseth and a few others would fall by the wayside, but their departures were hardly noticed as the new Celtic team at long last took a hold of things by the scruff of the neck and gave the supporters (and there were now more or less 60,000 of them every week in the new and fully developed Celtic Park) the football that they craved.
Hard to believe it was 20yrs ago today we welcomed Martin ONeill, he went on to be best manager I've seen at Celtic…loved those years 🍀🍀 pic.twitter.com/XnpEkrm4cN

— Steviebhoy (@stevie75bhoy) June 1, 2020
Rangers, like all bullies, when someone stands up to them, withered and disappeared.
The early games were unimpressive sorts of wins over teams like Motherwell, Kilmarnock and a poor Hearts side, but the marker was laid down in the game on 27 August  which became known as "the demolition derby" or "the cry was no defenders" game. Celtic beat Rangers 6-2, being 3-0 up in the first 15 minutes and playing football that was deservedly described as "scintillating".
Everyone now sat up and took notice of the new Celtic, who from now on went from strength to strength.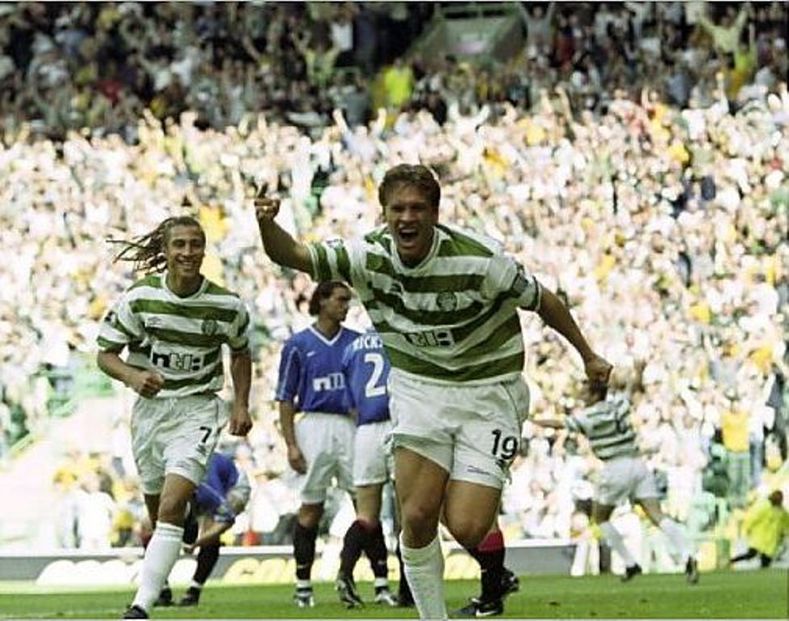 There was one serious wobble, and it was a 1-5 defeat at Ibrox, a result totally incomprehensible in the context of what had gone before in the season. No real excuse was possible in the context of injuries or anything like that and it could only be put down to complacency and a collective off-day.
A couple of weeks previously, the team had been desperately unlucky to go out of Europe to Bordeaux in extra time (in retrospect a blessing in disguise, perhaps), and after this Ibrox result we began to worry with the Press using phrases like "bubbles being burst" etc. There then followed on the Wednesday night a lacklustre 0-0 draw at Easter Road, and Celtic's season now began to teeter. It could go one way or the other.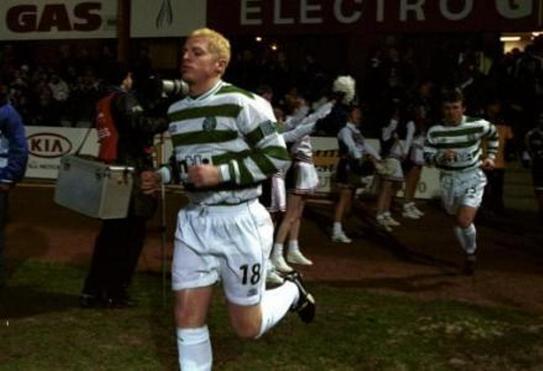 In early December, there followed a none too impressive 3-1 win over Dunfermline, and the following week, a victory at Dens Park, Dundee which would really have to be described as "lucky". It was Neil Lennon's debut, but it was Didier Agathe who scored the crucial late goal to give Celtic a victory, when frankly a draw would have been a fairer result.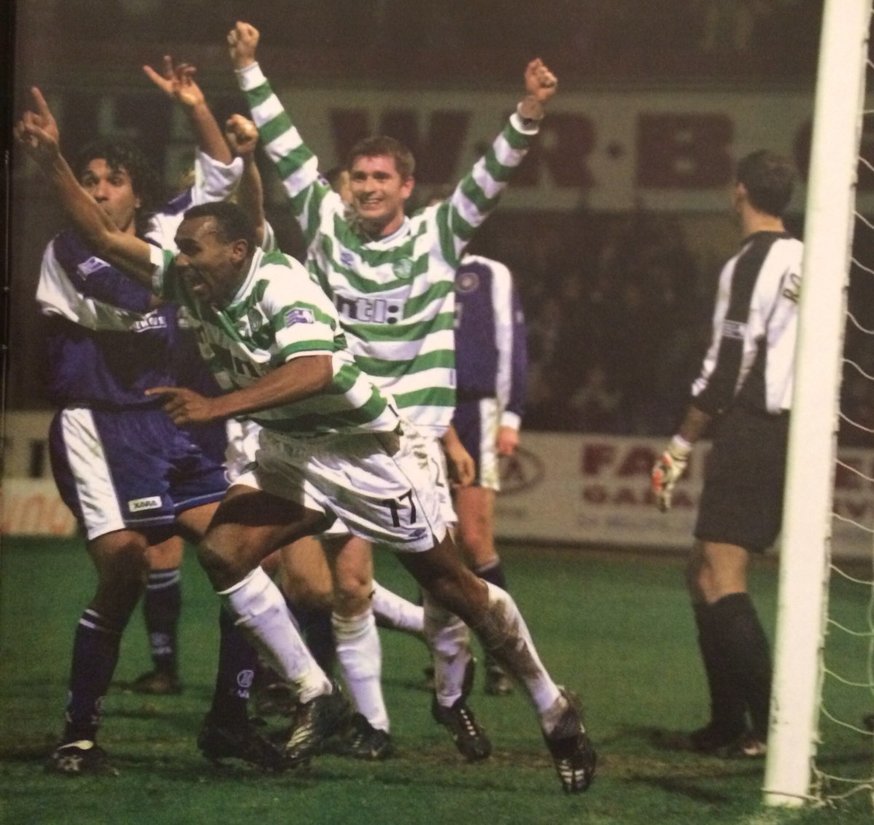 But then suddenly, things changed. Two 6-0 wins over Aberdeen and Kilmarnock (Larsson scoring a hat-trick in each with another goal for good measure against Kilmarnock) and two good away wins at St Mirren and Dundee United meant that the winter shutdown was reached with Celtic well on top in the Scottish League.
A remarkable week in early February decided the season. First there was a Larsson hat-trick in a snowstorm at Tynecastle, then Celtic beat Rangers 3-1 in the League Cup semi-final at Hampden in a game refereed eccentrically by Willie Young who, strictly impartial, gave a bogus penalty to each side and managed to send off Lubo Moravcik and Michael Mols, the two mildest men on the field for their comparatively innocent part in a "handbags" moment when everyone joined in a general pushing and shoving jamboree!
Celtic however won the game through two early goals, and confirmed their superiority with a win over Rangers at Parkhead in the League the following Sunday. The 1-0 win was in fact scant reward for their superiority. Fernando Ricksen managed to get two yellow cards before half time, and Rangers now knew that their League challenge was over.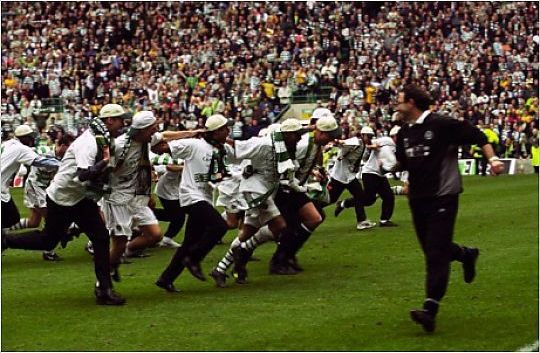 Spring 2001 brought one great success after another. 11 March saw Celtic beat Hearts in the quarter final of the Scottish Cup with the added bonus that Dundee United did the needful as well over Rangers that night; 18 March saw Celtic retain the League Cup by beating Kilmarnock 3-1 in a remarkable game; 7 April brought home the League Championship; 15 April at Hampden was characterised by a brilliant Larsson bullet header as Celtic beat Dundee United in the Scottish Cup semi-final and finally, the first treble since 1969 was achieved on 26 May as Celtic beat Hibs 3-1 in the Scottish Cup final.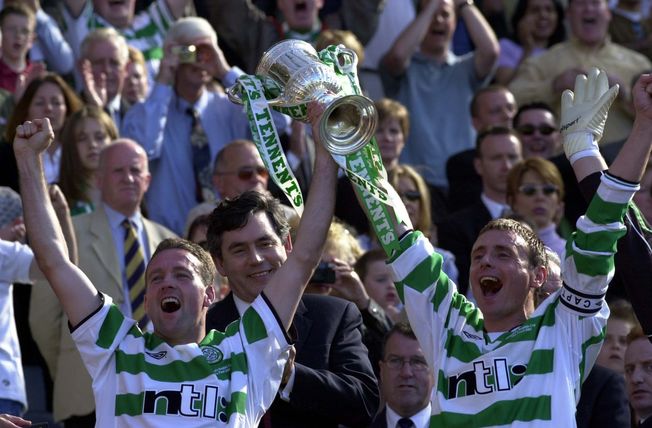 The Scottish League Cup final was remarkable because of the weakened team that Celtic were compelled to field thanks to injuries and players being Cup-tied with their previous clubs. Not only that, but they played most of the second half with only ten men after Chris Sutton was harshly sent off by referee Hugh Dallas, a man who was never the darling of Parkhead.
But fortunately, one of the 10 remaining men was Henrik Larsson, and his third goal was an absolute collector's item. Fouled several times on the half way line, he nevertheless kept running, and his way of beating goalkeeper Gordon Marshall was simply a delight as he transferred the ball from one foot to another before scoring. One is always wary of "the best goal I have ever seen" sort of statement, but this one is definitely on my short leet!
We all wanted the loveable Swede to score a hat-trick in the Scottish Cup final as well, for that would have put him in the same bracket as Jimmy Quinn and Dixie Deans. His 53 goals that season already compared him with Jimmy McGrory in 1936. But we had to be content with only two. Jackie McNamara scored the other in a 3-0 victory as Celtic beat Hibs with a degree of ease in a rather one-side Scottish Cup final.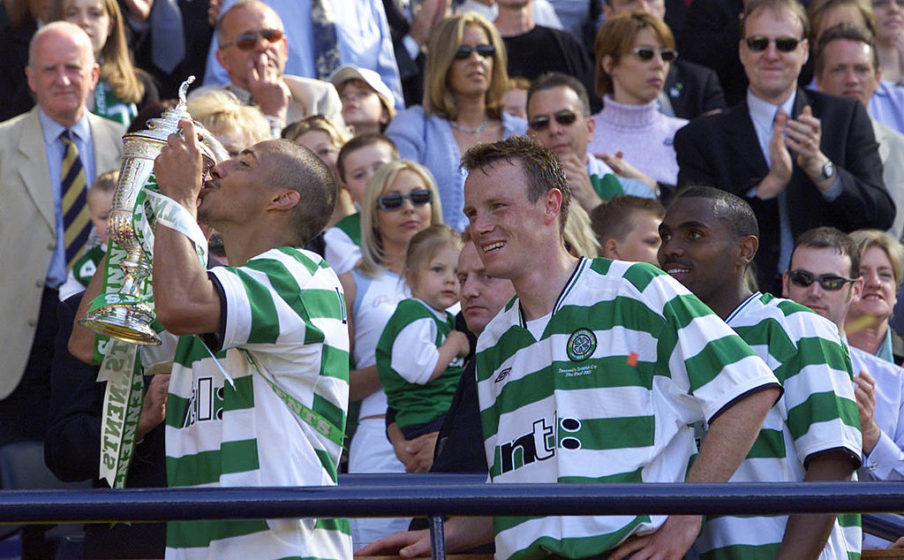 If there was anything that caused unhappiness that spring, it was that both domestic Cups were won by a Celtic team NOT wearing the green and white hoops. The "colour clash" argument did not convince me. Kilmarnock wore blue and white, and Hibs' green and white is quite different from that of Celtic! But that was really about all we had to complain about that season, which has to go down as one of the best. And it was the start of a sustained run of success.
David Potter
VOTE NOW FOR THE CELTIC STAR'S PLAYER OF THE YEAR
 Loading ...