Alistair Johnston was pitched in at the deep end if ever there was such an end, when Ange Postecoglou started the Canadian World Cup star in the powderkeg Glasgow Derby match at Ibrox on 2 January this year. Not only was it Johnston's first taste of the extremely intensified fixture on the Scottish footballing calendar, it was his very first match for Celtic too!
A baptism of fire would ensure that if the athletic North American recruit didn't know what the fixture was all about, he certainly did afterwards. The right-back stepped in for Josip Juranovic who Ange was resting after a pretty gruesome World Cup schedule that saw him play in the Semi-final for Croatia just a few weeks beforehand.
So Postecoglou turned to his new £3 million signing to help the team overcome a very tricky obstacle in the grand scheme of this current season. If the home side had won that day, it would have cut the gap in the title race and ensured life would be considerably more uncomfortable at this moment in time as we head for the League Split in a few weeks time.
Ally was talking to Drive Time about the cauldron that is the Glasgow Derby, having experienced it twice now after winning a Legaue Cup Final against the Ibrox club too. That was another absolute fizzer of a match up at Hampden Park, which saw the Hoops triumph 2-1 thanks to another cup final brace from man of the moment, Kyogo Furuhashi. On the two giants sharing the same space in a small city and country more generally, he revealed to The FAN Drive Time: "It is something you need to experience. I have tried to put it into words for people and even when I was over there, people were trying to explain it to me and said 'just wait.'
Ally says that the magnitude of these contests is so significant that the fear of losing puts a different edge on it than any other derby match. He said: "Going out there and feeling the intensity, even the week leading up to it, it's one of the craziest things sharing a city with your biggest rival. It's something that's a bit ominous to be honest. You lose that match and you can't leave your flat or house for the next week. So it is one of those one that is so deep rooted and taken on a life of its own, it's a special match.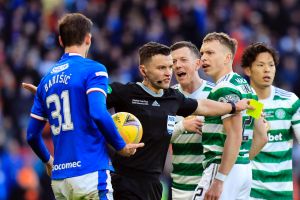 The full-back also added that nothing back home compares to this one and that he has urged everyone he knows to come and witness the game first hand. He added: "In terms of comparing it to a North American rivalry, I don't think anything compares. I would welcome anyone if they want to experience something out of body, try and get a ticket for one of those matches. I played once in the league at Ibrox and got thrown in the fire a bit there, then I played for a trophy at Hampden. It was a 50-50 split of fans and the emotion going through the entire match was something to behold."