SALZBURG manager Marco Rose has told Celtic that the point that they need to ensure qualification for the knock-out stages of the Europa League will have to be earned the hard way this evening.
Rose is aware that his side can create Europa League history this evening with a win, which would be their sixth successive success in the group stages and would be a first for the competition.
It would also end Celtic's participation in European football this season, barring the possibility that Rosenborg can win in Germany against RB Leipzig, and also bring to an end Celtic's impressive home form this season that has seen them win every single game, except one, the fateful 1-1 draw with AEK Athens.
Talking of our Greek conquerors, as we predicted on The Celtic Star, they ended their participation in the Champions League group stages last night with a sixth successive defeat – this time in Lisbon. We said they get zero points and so it turned out. So frustrating!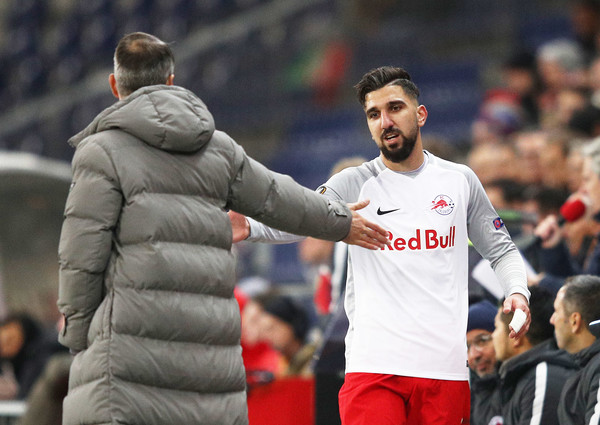 "Obviously, Celtic will have more supporters than the last game in Salzburg, but we are looking forward to the atmosphere," the Salzburg boss noted.
"It is clear that Celtic need a point, but we want to play a good game, so Celtic have to earn that point because we will give everything.
"We have reached our most important goal already, we have advanced to the knock-out stages.
'We are in first place, but it is not all about winning six games, we want to be part of a great game.
"I think everyone who comes here have earned that right to experience a great game. It is a very cool stadium, you can feel the atmosphere even without the supporters. Even in the locker rooms you can breathe in the atmosphere.
"The supporters are notorious, amazing. We are happy to be here, but we also want to show that we are rightfully here."
Also on The Celtic Star today…
Celtic v Salzburg: "Our focus, and that of the supporters, is on the football," Brendan…See HERE.
Jim Craig – Former Celtic star John Colrain and Ol' Blue Eyes, Frank Sinatra…See HERE.