First up in February 1983 was a third visit to Tannadice, scene of an earlier defeat for Celtic in the League Cup Semi-final and the classic '2-2' encounter in the League.
Nicholas notched his 35th goal of an incredible season in the fourth minute to fire the Bhoys ahead. However, rather than build on this lead, Celts found themselves up against it for the remainder of the game.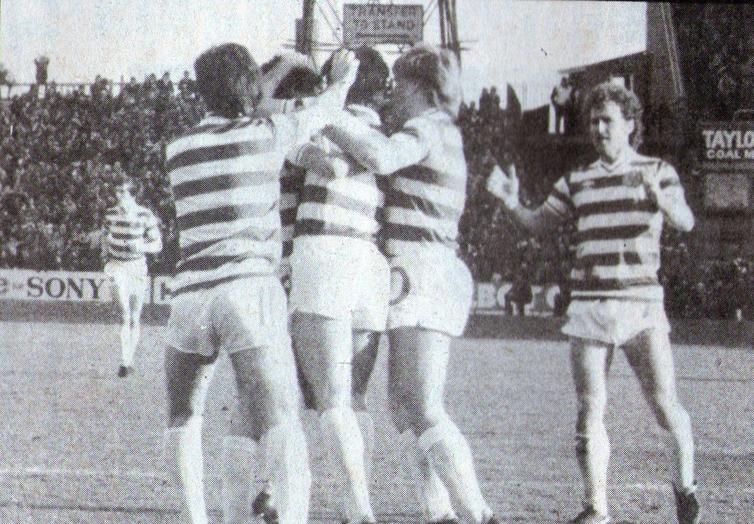 Dodds scored his traditional goal just before half-time, Bannon then having a glorious chance to add a second, two minutes later. Fortunately for the Bhoys, Bonner produced a fabulous save from his spot kick and despite relentless second-half pressure from United, Celtic held on for the draw, grateful for what was considered at the time to be a valuable point won.
The title tide started to change the following Saturday, when Alex Ferguson's Dons visited Celtic Park.
A crowd of 43,000 turned up for the most important game of the season to date, Aberdeen's impressive winning run enabling them to get within touching distance of the Champions, following Celtic's recent spate of dropped points.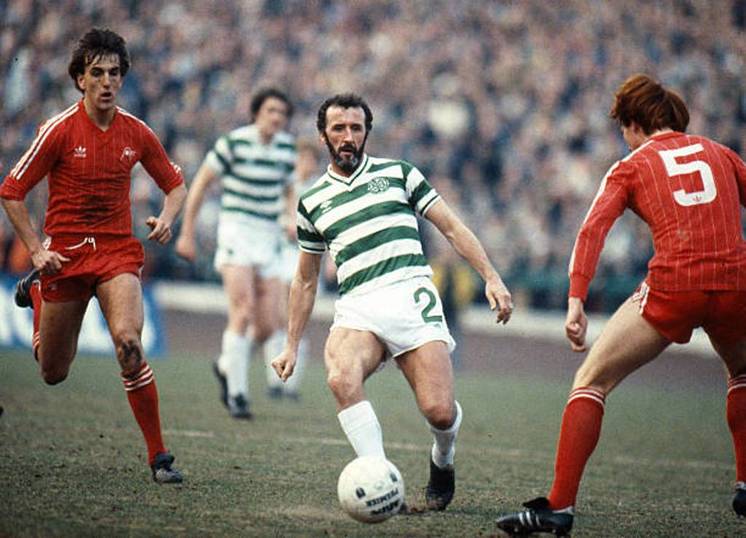 Things looked promising for Celts as the interval approached, a brilliantly-worked free-kick involving McStay and McGarvey setting up Nicholas for yet another fine goal.
But it was a young striker at the other end of the pitch who would prove decisive on this day, teenager Eric Black netting twice within a minute on the stroke of half-time, then completing a classic hat-trick of left foot, right foot and header with twenty minutes to play.
Black became the first opposing player to score three against Celtic at Parkhead since Willie Johnston of Rangers, in a 4-3 Glasgow Cup Semi-final win back in April 1969. In one of those strange twists of fate, so beloved by the football gods, the fourth Ibrox marksman that night was Alex Ferguson.
Two weeks later, the same Ferguson lost his marker at a second-minute corner at Hampden in the Scottish Cup Final, the unmarked Billy McNeill then heading in the first Celtic goal in a magnificent 4-0 victory, a result which sealed both a second treble for Jock's Hoops and the end of Ferguson's Rangers career.
Now Ferguson the manager was proving to be a problem for Billy, particularly at home. This latest setback rendered his Celtic Park record against Aberdeen as a miserable two wins and two draws from twelve games in all competitions, since returning to Paradise in 1978.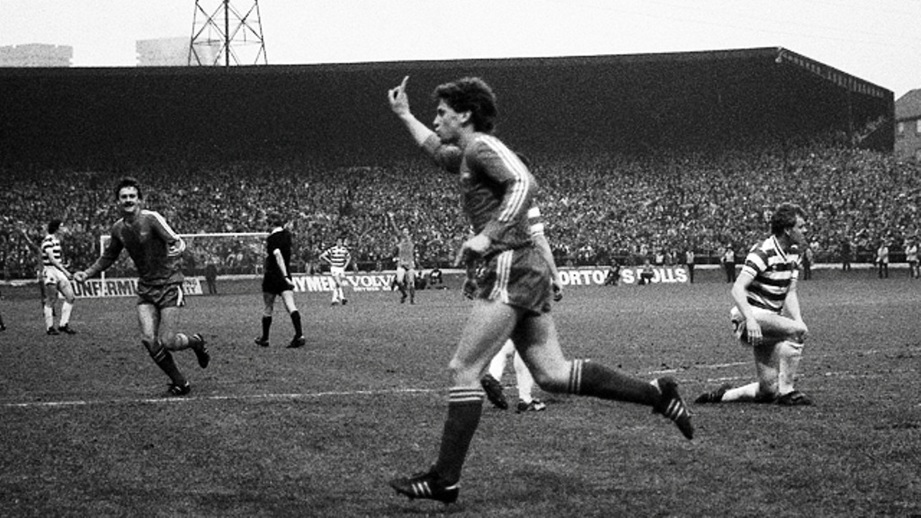 More worryingly, the 3-1 victory saw the Dons leapfrog Celtic at the top of the table, the first time in over two years this had happened. With Dundee United also hitting top form at just the right time, there was now a real dogfight developing for the title.
There was a welcome break for Scottish Cup business the following week, 12,000 supporters in the ground to see Celts dispatch Dunfermline 3-0 at home rather more nervously than the scoreline would suggest, in a game which saw the debut of young left-back Jim McInally.
Having missed numerous chances to score, McGarvey finally broke the deadlock midway through the second half, then striking a second on 80 minutes before McCluskey completed the scoring just before the final whistle.
It was much more comfortable the next weekend, where struggling Kilmarnock were the visitors on the end of a 4-0 hammering, in front of less than 11,000.
Murdo MacLeod was fouled by his brother Alistair after 20 minutes, allowing Nicholas to convert his tenth penalty goal of the season. Charlie's day did not end well though, carried off on the hour after a challenge by Paul Clarke, brother of the current Rugby Park manager.
Clarke was then send off for a second booking within ten minutes, having repeated the treatment on substitute McCluskey. A second half double by McGarvey either side of a fantastic MacLeod strike earned a very welcome two points for the Bhoys.
Hail Hail!
Matt Corr
Follow Matt on Twitter @Boola_vogue
Catch up with Matt Corr's review on Celtic's 1982-83 season on our home page for the earlier posts on the first half of the season, taking us through to the end of 1982.
For Matt's account of Celtic in January 1983…'There were Celtic fans in three sides of Ibrox within a 42,000 crowd,' Matt Corr…see HERE.
Matt's account of Celtic in season 1982-83 will continue today on The Celtic Star, so check back later for the next instalment.