WHILE it was exciting to see Timothy Weah come on from the bench in the second half against Airdrie – and what a start he made to his Celtic career – it was also lovely to welcome Nir Bitton back after an horrendous 11 months on the sidelines with a knee injury.
And the Israeli midfielder was delighted to have finally achieved his goal of getting fit enough to play for Celtic again.
"It's great to be back after almost a year," Bitton told the Match Day Programme for tonight's sub-zero Premiership match against St Mirren. Wrap up and get the layers, gloves and tommies on folks!
"It was a very exciting moment for me, for my family, and I'm just happy to get some minutes. Hopefully I can keep going and get some more.
"I didn't know if I was going to be involved on Saturday or not.
'Of course, you want to be involved in every game, but getting the last 10 minutes agaisnt Airdrie, a home tie in the Scottish Cup, was a good opportunity for me to get some game-time on the pitch.
"That is always a great feeling, and while it's been great to get back on to training after so long recently, nothing compares to getting on the pitch.
"That's why we train, and that's why we're here. Honestly, I'm just buzzing."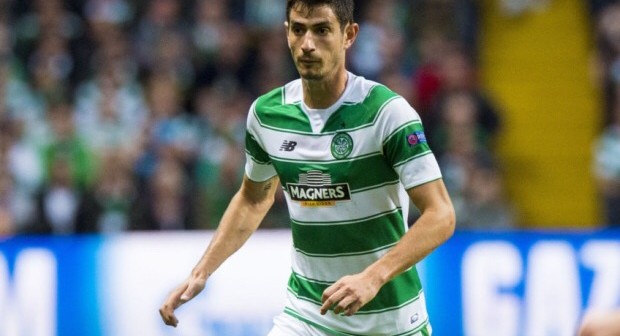 "Playing at home, in front of the Celtic fans is great and I missed it a lot.
"I missed the feeling of playing in front of the fans. There's a big crowd here every week, and I'm very happy to be back.
"Winning more silverware in the second half of the season is absolutely my main target," Bitton revealed.
"I just want to play as many games as I can between now and the end of the season, be part of the winning mentality and atmosphere at the club, the squad and the dressing room, and be part of winning trophies.
"When you play for Celtic, you're expected to win every game you play, and every one of the players in the dressing room knows that.
"This is, of course, what we try to do. We have three home games now in the league in January. We need to make the most out of it, and we aim to get nine points out of nine."
Read the full interview with Nir Bitton in tonight's match programme. On sale at the game against St Mirren.
FAREWELL JOHNNY – YNWA – TG CSC
On a personal note, tonight will be a chance for everyone on our supporters bus – the Tommy Gemmell CSC Dunblane – to gather together for the second time today.
This morning we all attended one of the busiest funerals the chapel in Dunblane has ever seen to pay our final respects to Johnny Farrell, a very popular member of our CSC and the local community in Dunblane.
The Church of the Holy Family was packed out the door and there were loads of mourners outside too in the the cold, determined to pay their respects. Johnny was a window cleaner in Dunblane and was known and liked by just about everyone in the community.
He was the life and soul of our bus and would make his way towards the driver, CD in hand, ready to sort out the entertainment on the way to the game. Here's how we'll all remember Johnny – this was taken on the bus on Scottish Cup Final day 2018…he will be missed by every one of us.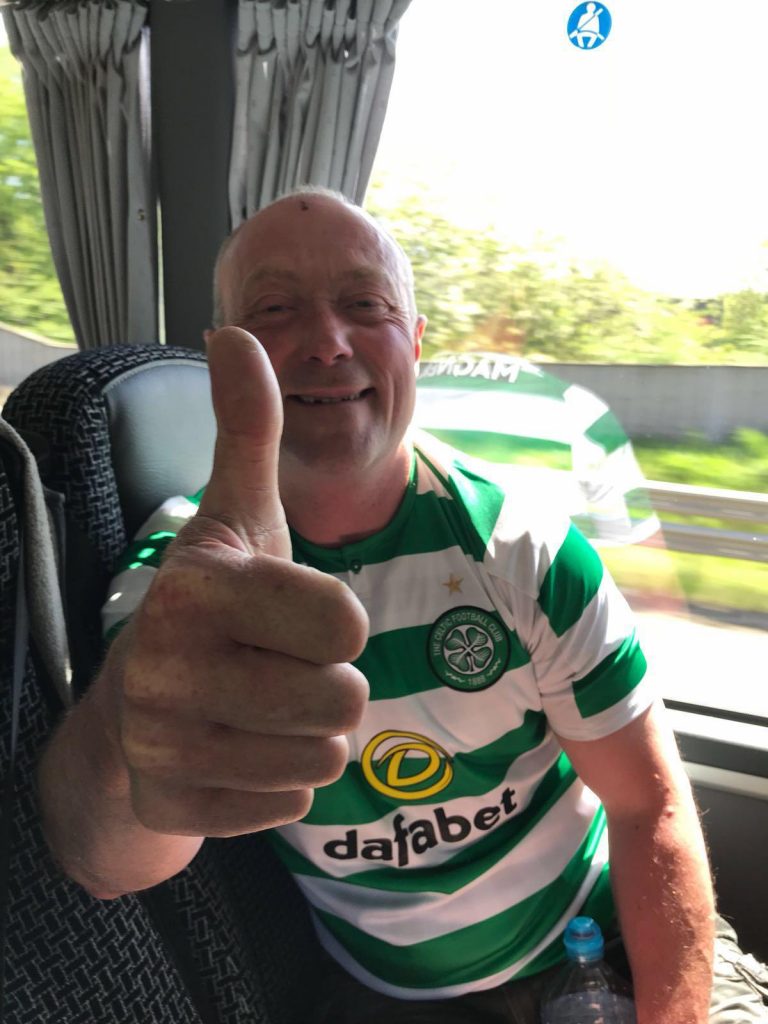 Our wreath today simply said YNMA – TG CSC.
Sleep well Johnny.
Also on The Celtic Star on today…