Bertie – From Paradise to Paradise…
It was 10pm on a Friday night here in Brisbane, Australia. I tuned into Celtic TV for the funeral mass of Lisbon Lion, Bertie Auld. I knew what was coming-sort of. At the ripe old age of 62 and privileged to watch the Lions play on numerous occasions, I had fond memories of the great man, and then some.
Canon Tom White led the celebration of the mass and was joined by luminaries, sporting and otherwise, men and women who packed the iconic St Mary's in the Calton to the rafters.
The Celtic directors took front seats and were flanked by the team members and of course, Ange Postecoglou and John Kennedy. Bertie's family were placed on the other side fronted by that magnificent trophy, the European Cup which Bertie played no little part in bringing home to Celtic Park-Paradise if you will.
The glittering prize in the place where the Celtic story began.
A stunning and emotional day.
God rest you Bertie, you'll never be equalled 💚 pic.twitter.com/xQtPXZw7gP

— Matthew (@23MatthewC) November 26, 2021
Ian Cairns, Bertie's nephew was first up and spoke with the wit and humour you would expect from 'that' family. It's always good to mix humour with poignancy on a day such as this, and Ian delivered with a story of how Bertie once told him he was 'so ugly they had to install Venetian blinds on his pram!' Yes, that kind of humour which had me in stitches. That was not to last.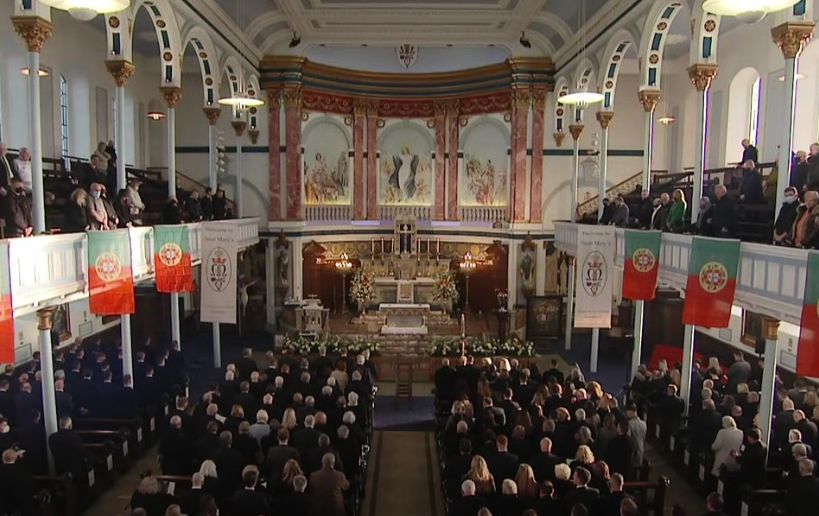 Between eulogies, there was a lady who sang so beautifully a hymn which alluded to being taken into Paradise. I managed to keep it together, just, despite her poetic request for Bertie's transition into Heaven, and her Irish lilt which soothed the soul.
Willie Haughey spoke wonderfully, reminding us of the influence Bertie had on, not just the Celtic players and staff, but of the whole community, of how he mingled with fans in the Vegas convention and travelled globally to be with the fans. Indeed, I once did a jig with him at the Brisbane Celtic Supporters Club having disposed of Rangers.
Willie revealed how Bertie visited Jinky Johnstone every day for the last 18 months of his life, and did similarly with Tommy Gemmell. Making them laugh. Telling them stories. Bringing quality to their last days.
Willie thanked the Green Brigade for the magnificent tifo they produced at Hampden in Bertie's honour. He finished by stating that Brother Walfrid would be so proud of Bertie, but choked as the words came out. So did I but still kept it together.
When Jim Craig, the man who set up the equaliser for Tommy Gemmell in Lisbon took to the pulpit, it was a little more solemn, but still hearty. I really felt for the man who was chosen to speak on behalf of the remaining Lions, a rapidly diminishing number. How tough it must be to attend the funerals of your best pals and lifelong friends.
Having poked fun at Bertie's humorous outlook, 'Cairney' closed with the words, "Bertie was always up for a laugh and the twinkle in his eye was never far away. He was a great Celt and, equally importantly, a very nice man. May he rest in peace." He choked. I choked, but still kept it together.
The mass which followed was beautifully presented, and I was moved to hear Canon White reflect on how Bertie was not a catholic, but still chose to have his farewell service in St Mary's, a place synonymous with Celtic being the birthplace of our beloved club in 1887.
It was lovely to see Bertie and Jinky's great pal, Willie Henderson attend with directors of Rangers. Canon White's words that, although not a catholic, the word catholic means 'Universal'. Bertie was a universal character and is reflective of Celtic Football Club, a club in which we take great pride in being non-exclusive. The inclusion of the Rangers boys only served to highlight this and will hopefully be a reminder of how we should include those of a different persuasion. It's what we stand for after all.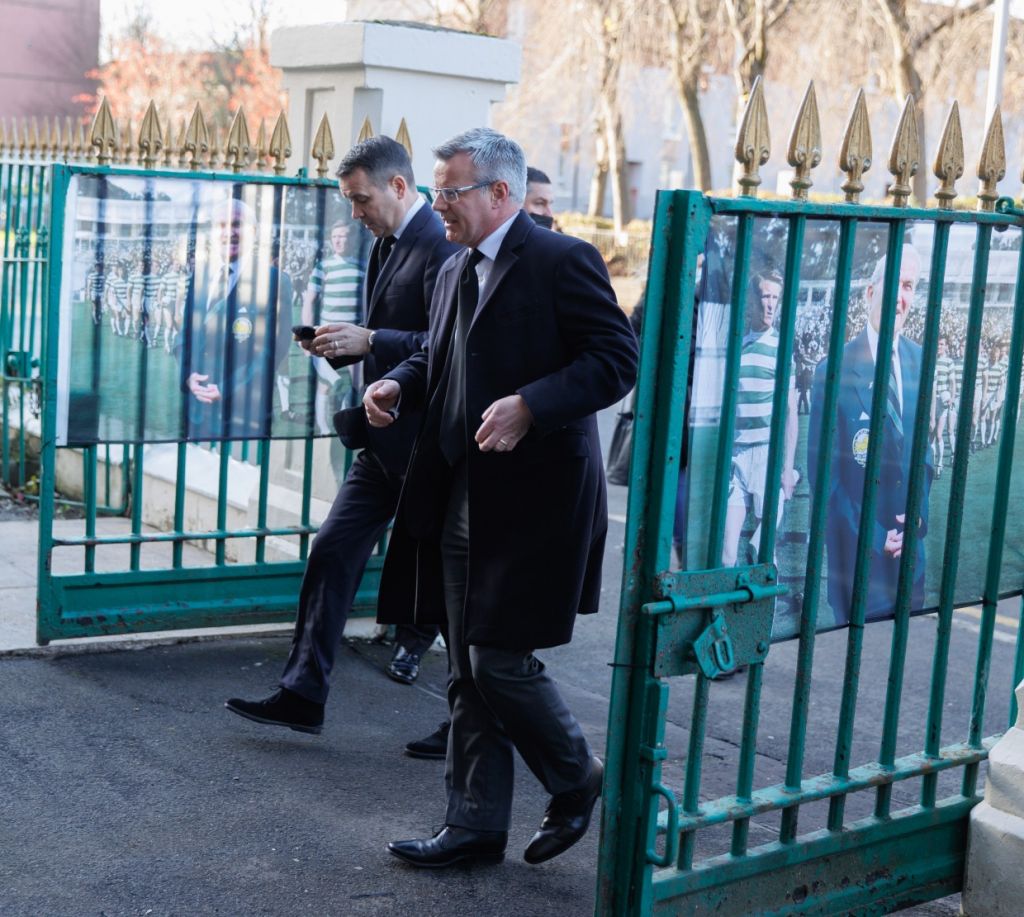 As the mass ended, there was a beautiful rendition of 'The Prayer'. I struggled to keep it together during this lilt but as it concluded with a soft and beautifully melodic version of 'You'll Never Walk Alone', the camera panned round the congregation. The sight of Celtic greats, past and present and relatives of Bertie with their hands wiping their cheeks, I broke. I wept uncontrollably, and unashamedly.
Perhaps it was the song, or the moment. It could have been the memories of Bertie, standing in Paradise with his hands on his hips, laughing with that famous jawline and toothy grin.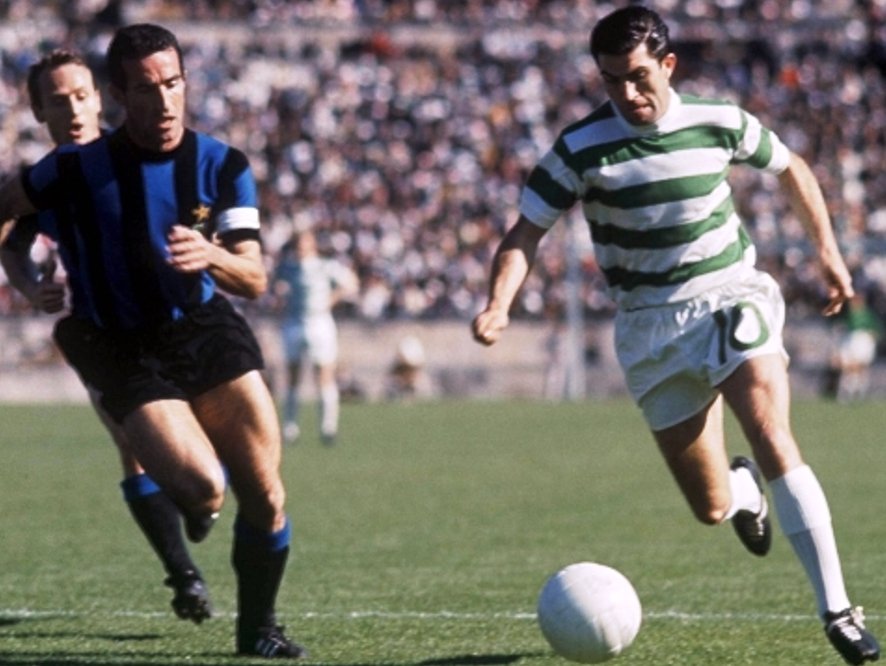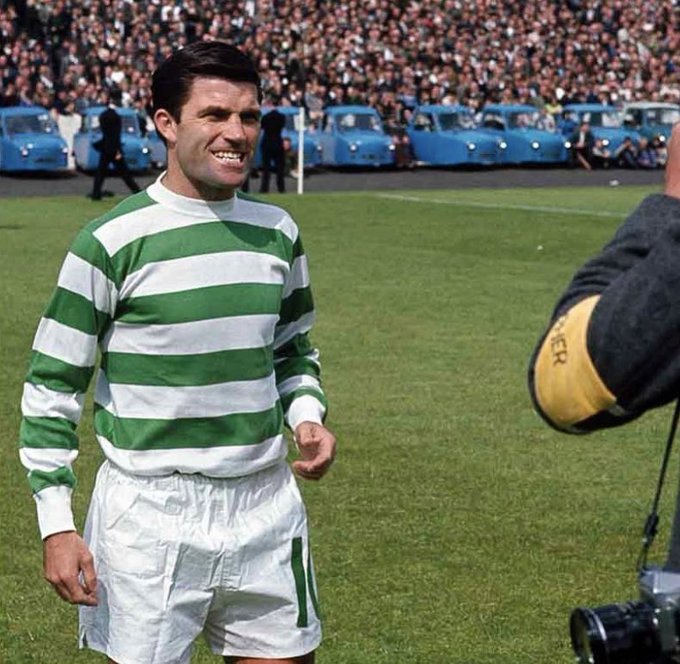 Perhaps, as I did, I remembered walking towards Celtic Park or Hampden as a boy on European nights, the huge floodlights beckoning throngs of green and white clad supporters, my dad grasping my hand tightly boasting of how 'Bertie is playing' so it would be "all right son" no matter how tough the opposition.
It could have been all of these but in truth, I was so sad to see Bertie leave us and pass on. I had to speak with my family back home in Glasgow. They were all in bits, just like me. My sister Stella said, "I think we have so many memories of our family life with him and the Lisbon Lions and it's hard to see them go." Kathleen hit the mark- "It's hard to let go of what defines us." Truly.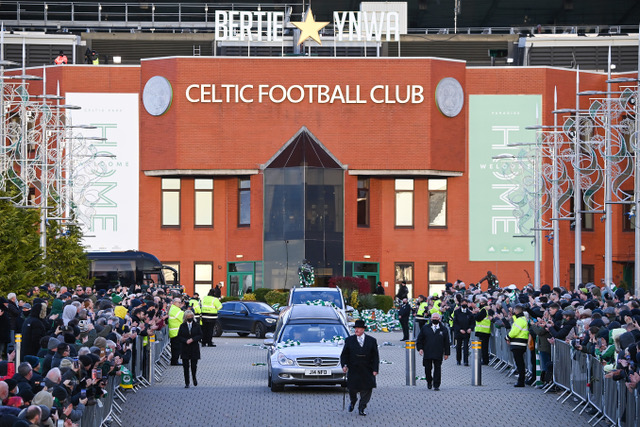 We've loved them and now we weep with them because they are part of us. The chorister sang "May the choirs of angels come to greet you, may they speed you to Paradise." I can think of no finer prayer for our Bhoy.
Thanks for the incredible memories. May God keep you safe Bertie, until we meet again.
Eddie Murray