It's more than just a song that ties these two wonderful football clubs together. Much more than that…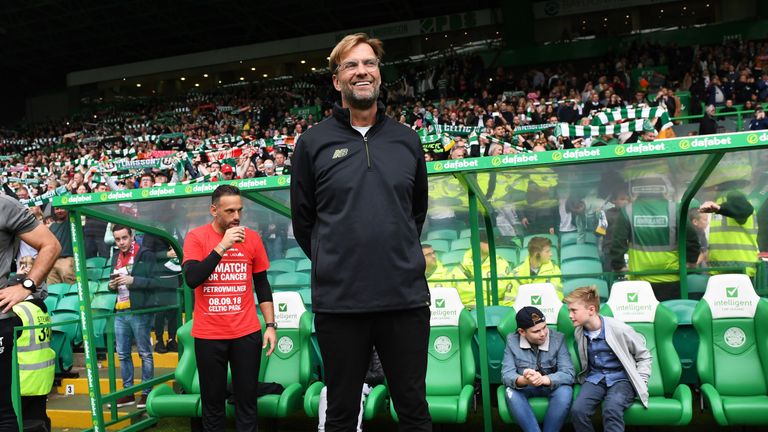 International breaks are usually tedious, but this Saturday for thousands of Celtic supporters it will be anything but as they travel to Anfield to watch a Celtic legends side take on their Liverpool counterparts in a game which will benefit charities both in Liverpool and Glasgow.
Celtic and Liverpool have had an emotional tie going back many years, admittedly not an ultra strong one but one that's there all the same.
Both of course sing the beautiful and spiritual famous you'll never walk alone, one of the most uplifting and emotional songs in football. Yip, Liverpool sung it first, but we do it better! It's no contest. But it's more than just a song that ties these two famous football clubs together. Much more than that.
Most likely because of their beliefs and working class backgrounds. Something that reflects in The clubs two greatest managers who also happened to be two working class men from a mining community in Scotland. Both of whom who were also equally proud of their roots.
One of those men is of course Bill Shankly who whispered those four famous words to the great Jock Stein "John, you're immortal now" after the greatest ever achievement in our history, the European cup win in Lisbon. Shankly incidentally was the only manager in British football to attend the historic event.
Liverpool like Glasgow was also a once thriving dockside industry with a strong Irish heritage. Both are working class cities who are passionate about football. To this day both sets of supporters are proud of their Irish roots.
Both clubs have also played against each other in competitive action on six occasions, the first being in the 1966 cup winners cup semi final. Liverpool pipped Celtic as Bill Shankly emerged victorious over his friend Jock Stein after two legs. The last time we faced off in competitive action being that superb night in 2003 at Anfield when John Hartson scored that screamer to secure our place in the UEFA cup semi finals on our famous run to Seville. The majority of the games against Liverpool have been fabulous occasions with a ferocious but friendly atmosphere.
One for the statisticians out there, Celtic have the upper hand in those six games winning two to Liverpool's one, with the other three of course ending in a stalemate.
The two clubs have also played each other on many occasions in friendlies and testimonials. Non more so emotional than the one in 1989 just days after the Hillsborough disaster, with Celtic being the first club to play Liverpool after the tragedy. Anyone who was there would tell you how emotional it was. This wasn't about football, it was about coming together and helping those in a time of need and giving them spiritual comfort. Helping tie a stronger bond than before between both clubs.
Stars of the past and present have also had the good fortune to play for both clubs. Liverpool's best ever player the one and only King Kenny Dalglish was of course a legendary figure in Celtic's famous history. Numerous other players have played for both clubs during the years including Virgil Van Djik, Robbie Keane, Craig Bellamy, Kolo Toure, Gary Gillespie and Frank McGarvey, some names that wouldn't roll of the tongue either such as Stephane Henchoz and Tony Warner, not to forget John Barnes, who was a superb player for Liverpool and of course managed Celtic, but the least said about that the better!
On Saturday past stars of both clubs will face off in a game aimed at helping those who are most vulnerable in society. Exactly what both football clubs are about. It should be a marvellous occasion and one I'm sure we are all looking forward too. There will only be one winner and that will be those who are most in need. Shankley and Stein would throughly approve.
JustAnOrdinaryBhoy – follow on Twitter @ordinarybhoy
Liverpool away!!! 🍀🍀 pic.twitter.com/JnLiUrj61E

— Paul McStayNo.1 CSC (@PMSNo1CSC) March 25, 2023
Shammy rule🇮🇪 pic.twitter.com/Nq8JYyogP4

— Swinton Shamrock CSC (@SwintonShamrock) March 25, 2023
Today's 3 pm kick-off at Anfield @FoundationCFC @CelticFC legends against @LFC legends I'm hearing over 45 thousand are coming to Anfield wow 😮…wow and thank you 🙏.. 🍀🍀🍀 pic.twitter.com/vgxeQcTuzn

— Ramon Vega (@Ramon_Vega71) March 25, 2023
Mersey Paradise 🍀 🍋 #earlymorningstroll #albertdocks #celticfc pic.twitter.com/8IEX535bZJ

— Simon Donnelly (@SimonDonnelly13) March 25, 2023
On route to Liverpool for the legends game. A wee change do our bit for charity. HH comonyoubhoysingreen pic.twitter.com/AYTZblPUEA

— Jim Forrest (@jims_a_tim) March 25, 2023