Okay I'm going to admit it the recent joint statement by supporter's groups including The Celtic Trust, The Green Brigade, Bhoys and other associated groups brought a smile to my face. As they outlined their complaints, demands and course of plan of action when it comes to holding the Celtic board to account, the inclusion of a January review period was comedy genius. Other than that inspired addition however the rest appeared to be lacking in substance.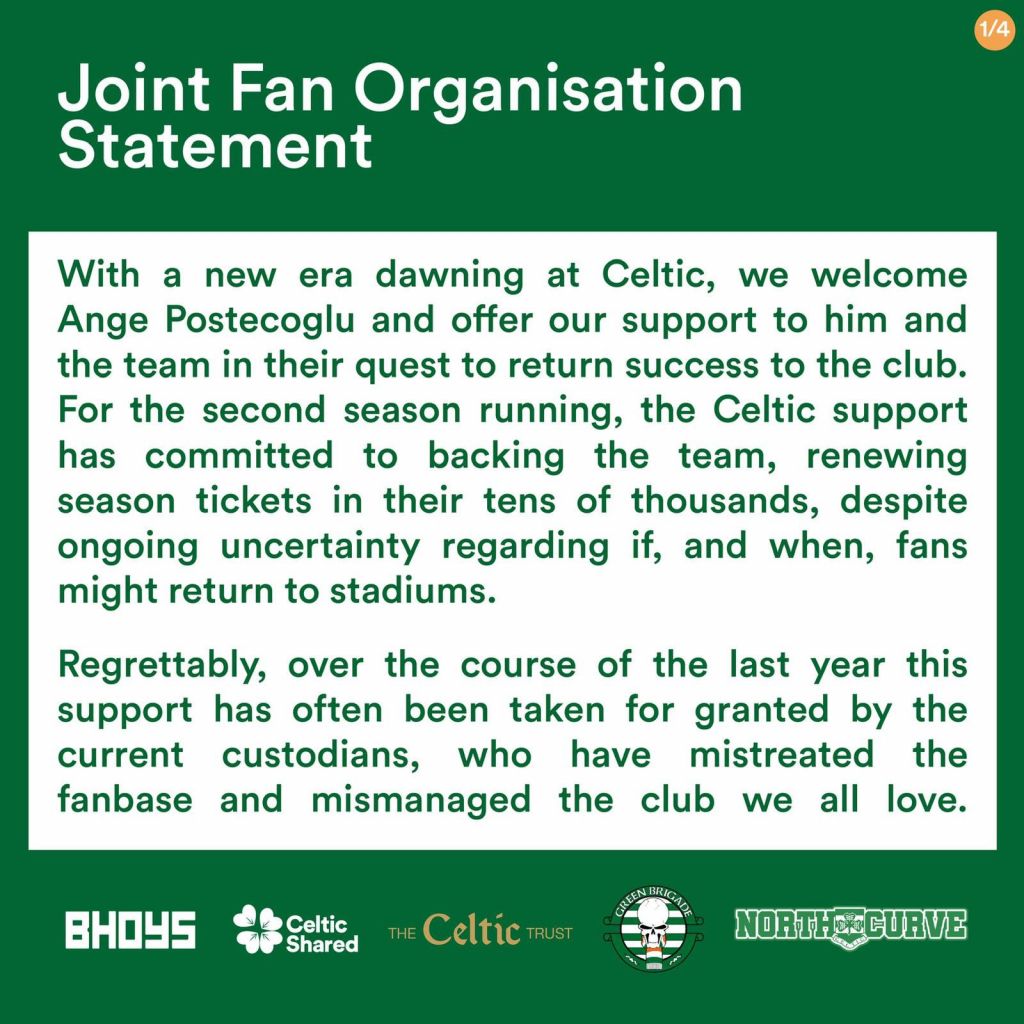 I'm sure David Low's reasons for leaving the Celtic Trust were indeed down to work commitments, however his timing also appears to be impeccable when it comes from distancing himself from this. Timing not mirrored by the content of these group's statement yesterday.
Throughout last season many of these supporter organisations took a mixture of direct and indirect action to encourage change at the club, and whilst not all of the tactics used met with universal approval there was often method behind it. The best of the lot being trying to reconnect dormant shares to shareholders and bringing them under the banner of the Celtic Trust was a clever way to effect change and have a longstanding influence over the club, one that could grow further with time.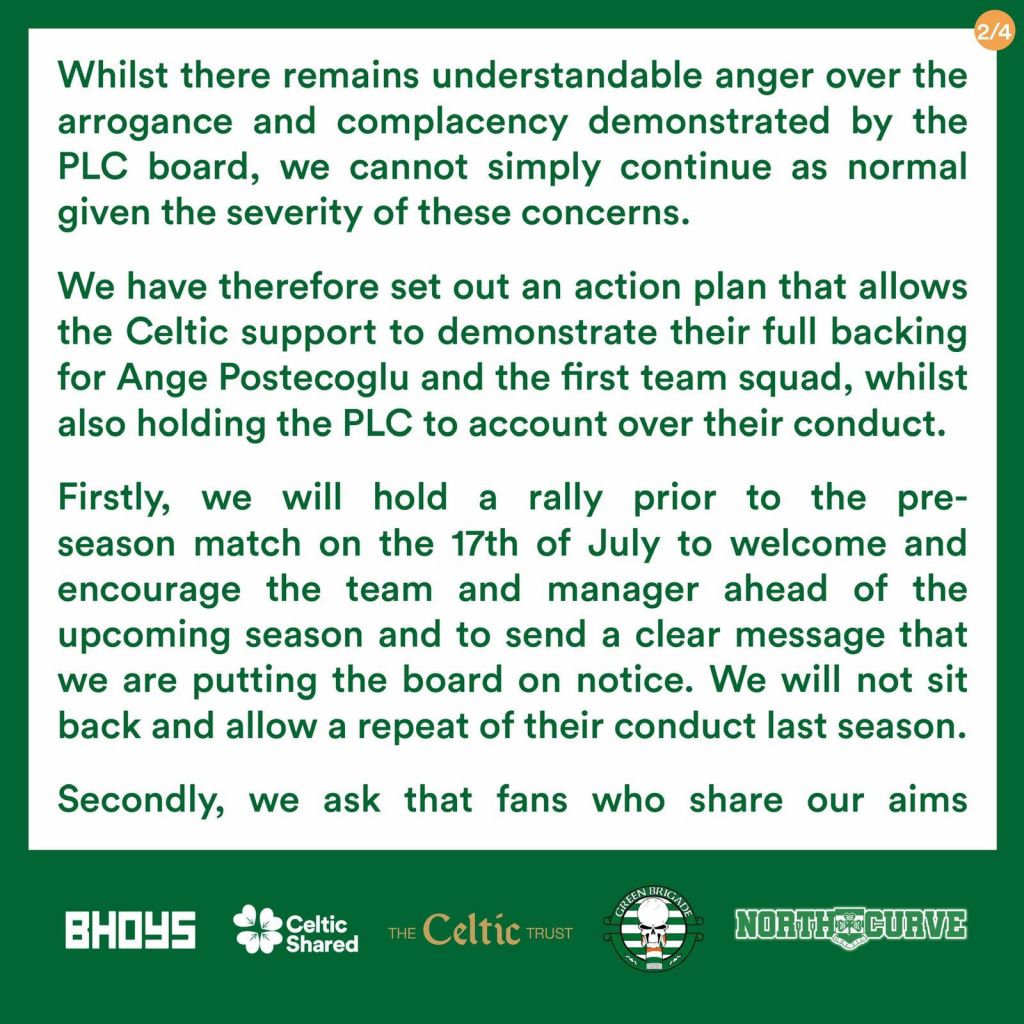 With this statement however it is difficult to see what the objectives are. It can be summarised as the group are asking for backing for the manager, improvement in the communication with the support and the introduction structural change. Previously they'd ask for the previous CEO to be removed and a new manager to replace Neil Lennon. And to focus the mind it appears a boycott on the sale of merchandise is being mooted as a suitable tactic to bring about change.
Regarding the recent requests, Dominic McKay to be fair has actually touched on these very subjects and intimated change is afoot when communicating with fan media and a later supporter's forum last Friday. Indeed, the new man's employment is a sign enough that fans are now being listened to, as is Ange Postecoglou's appointment.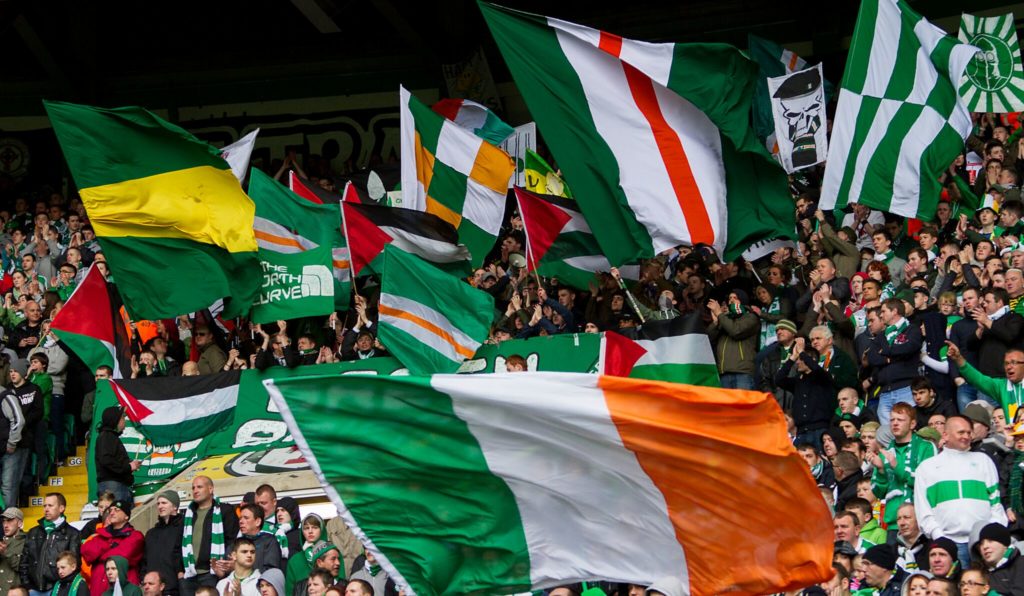 A large portion of the Celtic support felt for instance that Peter Lawwell's micromanaging of the club in a tight fist had led to a slow even managed decline at the club which had shown signs of happening for years in substandard European preparations, far too much involvement at player recruitment level and had now seeped into adversely damaging a domestic stranglehold.
It was also the case his business model appeared to be reliant on a vibrant Glasgow rival and that too was unpalatable for many, and when it came to communication, we were mushrooms kept in the dark and well you know the rest. By the time this statement came out Peter Lawwell officially left his position and his replacement Dominic McKay was now in post.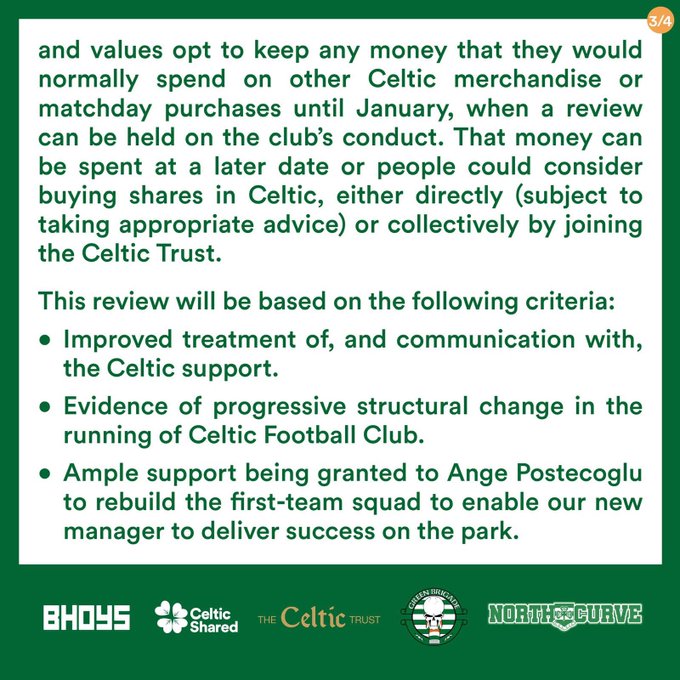 Now, we know how influence in one set of hands has led to a malaise at the club, a structure not fit for purpose and as such if we know that then we all know there is a big job ahead, so big that even at a conservative estimate you'd say a new CEO has a 12-18 month job on his hands just to get the foundations in place, men and women in post he can trust to work independently, never mind have the club fully modernised and operational.
As such Dominic McKay has indicated benchmarking will be beyond the confines of Scotland, a parochial outlook discarded and the likes of Sevilla and Brentford put forward as examples of where the new man has been looking for inspiration. Rome wasn't built in a day and when it was it probably needed it's funding maximised otherwise it may have looked a little less spectacular than it did. Denying the new CEO we all asked for funds at this stage can only limit his plans, and as such ambition and vision for Celtic could be curtailed by a lack of income when we could be building something impressive.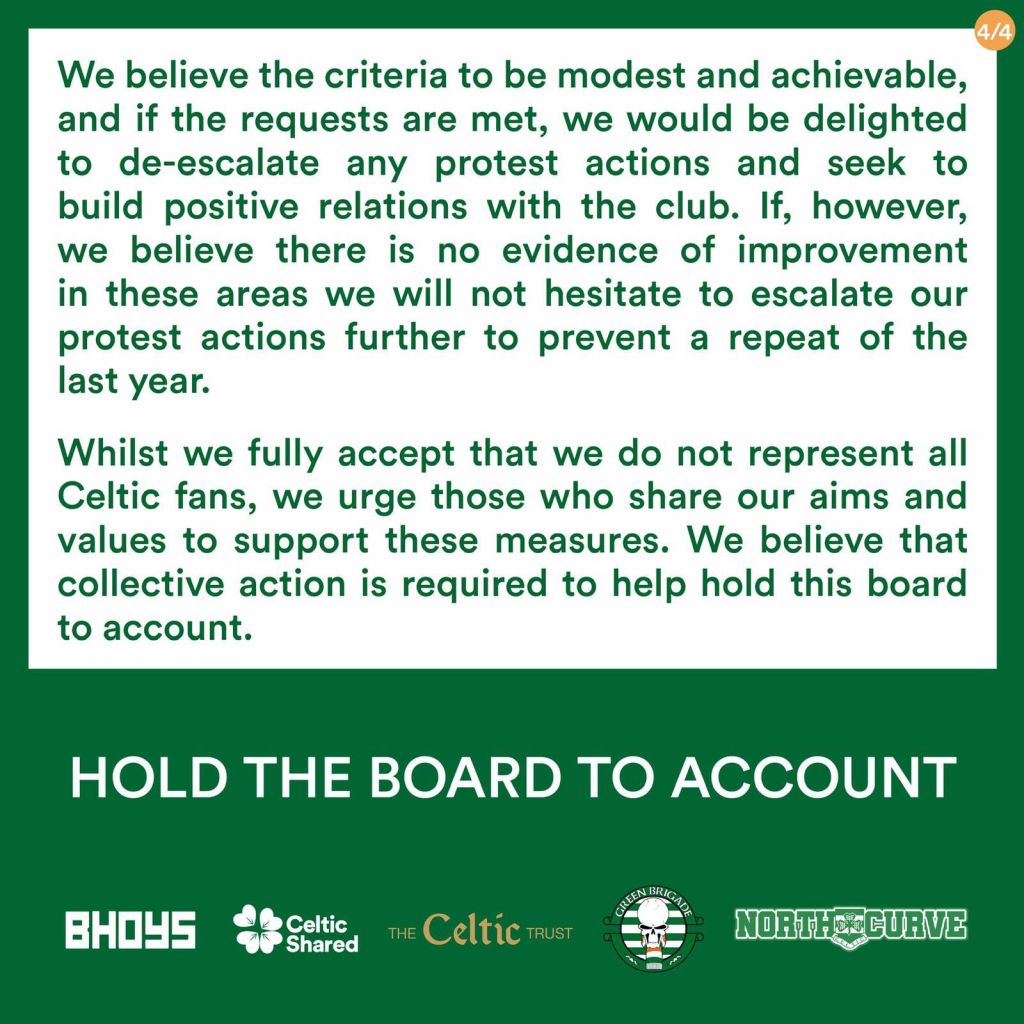 A similar argument could be made for the backing of the new manager. It has been made clear Postecoglou will have full say on his backroom team, he advised the support of that and McKay backed his man. He's also been told funds will be available for a rebuild. Yet again you'd assume the maximisation of available income streams would have an important bearing on what targets can be achieved, yet limiting those funds seems counterproductive especially right at the beginning of a rebuild.
And in terms of communication or lack thereof, something that up to late has been disappointing to say the least, it all seems in early stages but fan media access is surely a positive. The improvement in information coming from the club and an ability for the support to challenge could very well come from this and the early signs appear positive. These podcasts and bloggers are not being asked their questions in advance, selected groups are not being given privileged access in exchange for a positive press and the signing of non-disclosure agreements. Both sides are entering in freely, transparently and now we know a lot about our managers plans, and although we don't know the detail on structural change at this stage some open dialogue has at least allowed McKay's initial ideas to be communicated.
However, from these supporters' groups we don't know what they want, there is little detail in their demands, they have brought the problems of last season that every supporter can see but brought no solutions or examples of progression of their own in the statement. It seems a rushed response to the perceived lack of respect shown to the Celtic Trust in recent communications over added value for season ticket holders via a share issue and as such seems rather reactionary.
As with David Low's exit from the Trust timing was impeccable, it could therefore be said these supporters' groups have acted prematurely when it comes to their own.
As much as the January review line was amusing, it may have worth considering for these groups to keep their powder dry and review their own position regarding protests and direct action until at least -the very least – that month. You know, give the change they asked for enough time and money to start to take effect rather than starve the rebuild, cause distraction and make life harder for those they asked for in the first to implement change they demanded.
Perhaps the revolution being asked for is already happening but it's difficult to know if the pace is acceptable or the changes pass muster for these groups involved when they don't outline their needs, but surely starving it of money in its embryonic stages seems folly.
As the saying goes the past is history, the future a mystery but this moment right now is a gift and that's why they call it the present. Perhaps now is a time to put what went before behind us for now and give all charged with making effective change the breathing space to implement it fully. Perhaps for now we could then actually enjoy watching these changes happen and be positive about the possibilities they may bring.
Niall J