For the first – and only – time in the 1970s, Celtic won the League Cup in 1974 when Dixie Deans scored a hat-trick as Celtic overcame Hibs 6-3.
For the first – and only – time in the 1980s, Celtic won the League Cup in 1982, when goals by Charlie Nicholas and Murdo MacLeod gave the Hoops a 2-1 win over Rangers.
So, there was a lot of pressure on the side on this day in 1997, as the players ran out at Ibrox to face Dundee Utd for what everyone hoped would be the first league cup win of the 1990s.
By that time, Wim Jansen was in the managerial chair…Jonathan Gould was the goalkeeper…Stefan Mahe at left-back…Alan Stubbs at centre-half…and Andy Thom in midfield.
Marc Reiper was the first on target for Celtic in 20 minutes, heading home a cross from Morten Wieghorst.
Only three minutes later, relative newcomer Henrik Larsson let fly from 25 yards, the ball striking Utd defender Maurice Malpas and deflecting into the net.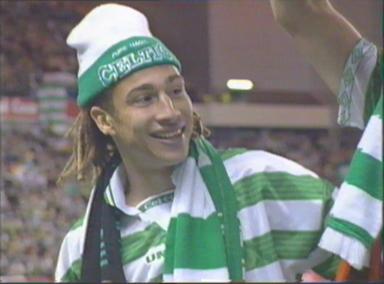 And 15 minutes after the interval, a nice move between Wieghorst, Larsson and Reggie Blinker saw the Dutch winger take the ball wide before crossing along the six-yard line, where Craig Burley raced in to head home a third.
3-0 to Celtic and the fans went wild with delight…probably also wondering how long they might have to wait for another League Cup triumph?
Two players with fairly short Celtic careers were born on this day. Inside-right Bill Boland (1919) scored 2 goals in his 4 appearances in season 1944-45; while centre-forward Morris Jones, scored once in his 3 matches in 1940.
Jim Craig