If some neutral stumbled across these offerings by chance, I would not be surprised if they came to the conclusion that Celtic won all the time and that every match in the Parkhead list of fixtures ended happily.
Unfortunately, as we regulars all know, there have quite a number of days when things did not work out exactly as planned and one of these bad moments occurred on this day in 1976.
At that point in the league campaign, Celtic were leading the way, with Rangers, Motherwell, Hibs and Hearts just behind. So, when the Hoops were paired with the Steelmen in the third round of the Scottish Cup, every Celtic fan realised that it would not be easy, especially with the match being played at Fir Park.
However, they had some reason to be fairly confident, as in the two league matches already played that season, there had been a draw in the first, at Parkhead, and a 3-1 win for Celtic in the second, at Fir Park.
The teams that afternoon of the 24th January 1976 were;-
Motherwell; Rennie, W Watson, McVie, Stevens, Wark, R Watson, Davidson, McLaren, Pettigrew, Graham, Marinello.
Celtic; Latchford, McGrain, McNamara, McCluskey, McDonald, Glavin, Edvaldsson, Lynch, Dalglish, Deans, Lennox.
Celtic got off to a wonderful start, going two-up thanks to first-half strikes goals by Kenny Dalglish and Andy Lynch but in the second half, Motherwell took control and came back with goals by Graham (52), Taylor (61) and Pettigrew (70) to knock the Hoops out of the competition.
For two players on the field, the afternoon would have brought conflicting emotions. Dixie Deans, in the striker role for Celtic, had spent the years between 1966 and 1971 with Motherwell; while Vic Davidson, on the winning side, had been a Celt from 1968 to 1975.
Some of the goals here from this match and also how a refereeing decision turned things against Motherwell at Hampden against Rangers when the Fir Park men were 2-0 up.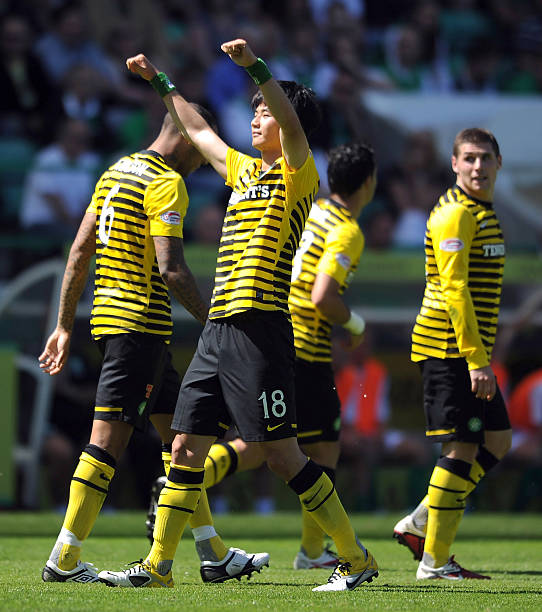 Many Happy Returns to Ki Sung-yeung, born at Gwangju, South Korea on this day in 1989.
Jim Craig