Rather surprisingly, Celtic were not top of the table in the middle of January 1971.
The club was attempting to win the League Championship for the sixth consecutive season but with just over half the requisite number of games played, Aberdeen were in pole position, followed closely by Celtic, with St Johnstone, Rangers, Falkirk and Dundee somewhat detached.
On this day in 1971, only a fortnight after the 2nd Ibrox Disaster, 20,000 were at Dens Park in Dundee for the visit of Celtic. Both teams were at full strength;-
Dundee; Donaldson, Wilson, Soutar, Steele, Philip, Houston, Duncan, Gilroy, Wallace, Scott, Kinninmonth.
Celtic; Williams, Craig, Gemmell, Murdoch, McNeill, Brogan, Johnstone, Wallace, Hood, Callaghan, Auld.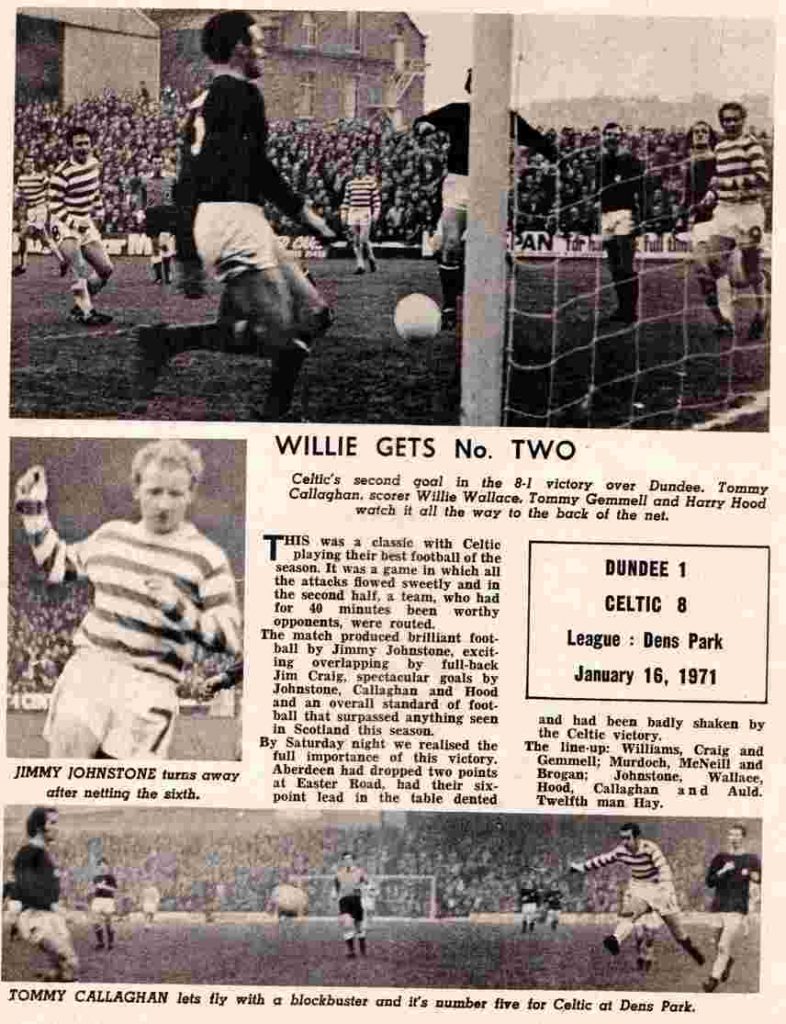 It was expected to be a close encounter but Celtic took control right from the beginning and spread the ball around. As often happens, though, while the side had plenty of possession, the goals took a while to arrive.
Celtic had got an early one from Harry Hood in 18 minutes but it was nearly half-time before Willie Wallace got the second.
Once the second half got underway, the deluge started – in terms of goals.
Wallace again in 57 minutes; an own goal by wing-half Doug Houston ten minutes later. In the 75th minute, Tommy Callaghan hit the target for number five; Jimmy Johnstone made it six two minutes later, then got number seven five minutes from time, with Hood scoring the eighth just before the final whistle.
Dundee had scored in the 80th minute, so it was an impressive 8-1 win for Celtic and the fans who had made the journey from Glasgow left the ground in happy mood.
Unfortunately, their good feeling was slightly tempered by the news that Aberdeen had also won that day, leaving them still one point ahead in the race for the title.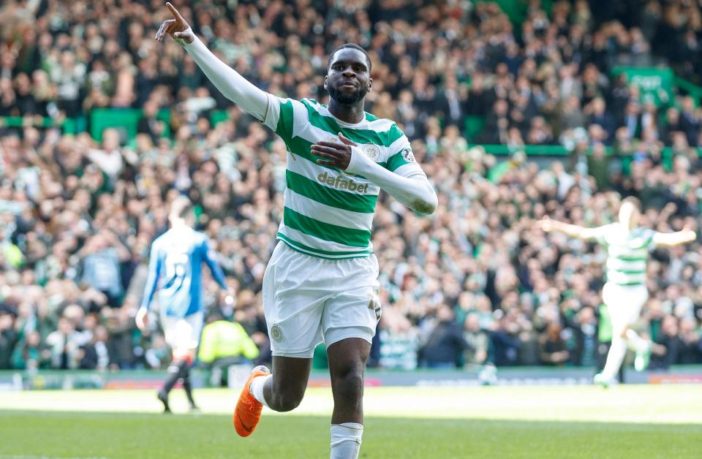 Many Happy Returns to Odsonne Edouard, born on this day in 1998 at Kourou, French Guiana.
Jim Craig