When Celtic won the league title six years-in-a-row from 1905-1910, the half back line in the match programme invariably read Young, Loney and Hay.
Jim Hay had cost Ayr Utd only £2 when he joined them in January 1902. He had played so well down at Somerset Park, though, that his value had risen to £50 by the time Celtic took him on in March 1903.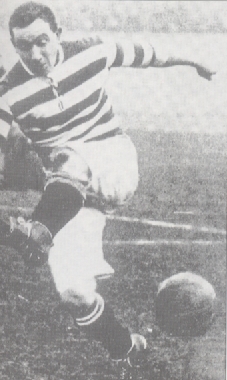 For the following 7 seasons, Jim Hay was seldom out of the side. Apart from the six consecutive championships between 1905 and 1910, Jim Hay picked up Scottish Cup winners medals in 1904, 1907, 1908 and 1911.
He also captained Scotland against Wales in March 1910 and versus England in April 1911.
After 255 appearances and 17 goals, Jim was awarded a benefit match in April 1911 but days later, he warned Celtic that he wanted better terms or he would move clubs. Celtic refused to agree to improved terms and on this day in 1911, Jim Hay was transferred to Newcastle United for a fee of £1250.

Richard (Dick) Madden, born on this day in 1944, only played one match for the first team but what an amazing game it turned out to be.
Due to injuries, several players were unavailable to face Kilmarnock at Rugby Park on the evening of 27 March 1963 and three replacements came in, all about to make their first appearance in the first team, Dick Madden in goal, John Cushley at centre-half and Jimmy Johnstone at outside-right.
A first-team debut is always a big moment in any player's life and no doubt that was the three guys mentioned would have been feeling as they ran down the tunnel at Rugby Park.
Unfortunately, though, that was as good as the evening got. Kilmarnock won 6-0 and for the next match, Dick Madden, John Cushley and Jimmy Johnstone were replaced by Frank Haffey, Billy McNeill and Stevie Chalmers.
Jim Craig