In the years between 1905 and 1910, when Celtic won six consecutive league championships, very few players were used. In fact, in the early part of that period, the forward line invariably read Alec Bennett, Jimmy McMenemy, Jimmy Quinn, Peter Somers and Davie Hamilton.
Towards the end, names like Willie Kivlichan, Peter Johnstone and Bobby Templeton were also used.
On this day in 1910, as Celtic were on a roll towards a sixth title, they travelled east to face the Diamonds of Airdrie at Broomfield Park. Willie Maley put out a team of Adams, McIntosh, Weir, Young, Loney, Mitchell, Kivlichan, Somers, Quinn, Johnstone and Hamilton, an eleven which proved too strong for the hosts, Celtic winning two-nil, both goals coming from outside-right Willie Kilvichan, who served the club not only as a player but also as club doctor in future years.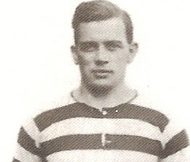 For another Celtic player, the match marked the end of his club career. Peter Somers had joined Celtic from Hamilton in 1897, had been let out on loan to both Clyde and Blackburn over the following years but from 1902 was a regular in the side, eventually finishing with a record of 219 appearances and 62 goals.
Jim Craig