After a comfortable 3-0 victory over Portuguese champions Benfica at Celtic Park on the 12 November, on this day in 1969, the chosen Hoops side for the evening – Fallon, Craig, Gemmell, Murdoch, McNeill, Brogan, Johnstone, Callaghan, Wallace, Auld, Hughes – ran out at the Stadium of Light for the return.
It proved to be an uncomfortable evening.
Right from the start, Benfica came at us and we spent a lot of time in our own half, only the occasional break-away easing the pressure.
Just before the interval, though, they really upped the tempo and got a reward, two of them in fact, in the 36th and 40th minutes through Eusebio and Graca.
It was not a happy dressing room at the interval.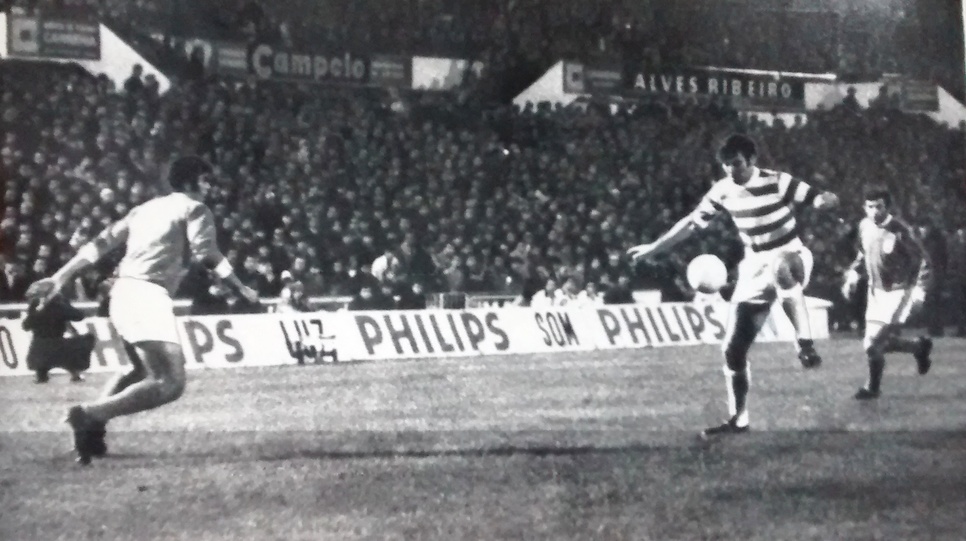 The Boss was annoyed that – in his words – 'we had allowed Benfica to control the play' but in all honesty, they were quite superb on the night and we had done well to keep the score down to two.
It was pretty even in the first part of the second half but they raised their game once again near the end and just when we thought that we had held them at bay, up popped substitute Diamentino to head home the equaliser.
Extra-time seemed to last forever but eventually the referee blew the whistle and the officials got ready to decide the winner by that most ridiculous of methods, the toss of a coin.
A very select group crowded into the referee's room – the two captains, both managers, the referee and linesman, officials from UEFA etc – and the toss was made.
While all this was going on, the players of both teams had to stay in their respective dressing-rooms; ours was like a graveyard, the players seated on the benches still in their strips, with no one talking.
Suddenly, though, we heard noises coming from the corridor outside the dressing room… people were talking loudly….they were getting louder… the door flew open ….and Billy McNeill raced in…"We won!"…"We're through"…and then the celebrations began!
Many Happy Returns to Willie McStay Jnr, born on this day at Hamilton in 1961.
Jim Craig