Goalkeeper Charlie Shaw was by no means a big goalkeeper in terms of size – at 5'6" and 12 stone – but what a huge figure he was as regards achievement.
Charlie joined Celtic from QPR in May 1913 and immediately stamped his authority at the back of that great defensive set-up, the names of Shaw, McNair and Dodds readily tripping off the fans' tongues.
He was there for all the great moments of the following 12 years; the League and Scottish Cup double of 1913/1914 and the tour of Europe just before war started in late 1914; the League championship successes of 1914/1915; 1915/1916; 1916/1917; 1918/19; and 1921/1922; the various Charity and Glasgow Cup wins of that period; plus another Scottish Cup victory in 1923.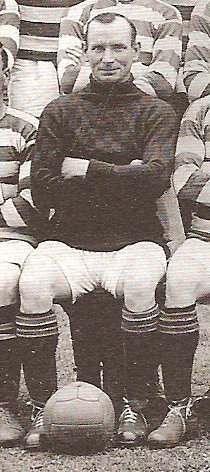 On this day in 1925, Charlie played his final match for Celtic, unfortunately a 0-1 loss to Motherwell.
It was his 436th appearances for the club, 240 of which were shut-outs, a 55% record, one of the best in Celtic's history. When he left Celtic, he moved to the USA, where he died in 1938, at New York City, at the age of 53.
Outside-right John Hill – born on this day in 1884 – joined Celtic from Dumbarton Harp on 7 May 1913 and made his debut seven days later, in the Charity Cup final against Rangers, when the Hoops won 3-2.
Johnny was such a success that day he was awarded the match ball. Unfortunately, John made only one more appearance for Celtic before moving on to Vale of Leven on 23 October 1913.
Jim Craig