On this day in 1997, Celtic travelled to Dublin to play a friendly against St Patrick's Athletic, the game ending in a 1-1 draw.
It was an interesting time at Celtic Park.
Wim Jansen had just taken over as manager, the 10th in Celtic's history, replacing Tommy Burns and he had brought in Murdo MacLeod as his assistant, the latter having already some experience in that role at Hibs.
Behind the scenes, all was not well.
Paulo di Canio had asked for a considerable rise in his salary, an amount that Celtic were refusing to match while general manager Jock Brown, insistent that the club would pay nothing extra, was also involved in discussions to bring Craig Burley to Parkhead, as well as dealing with the unhappiness of Jorge Cadete.
Anyway, in the midst of all this, the squad travelled to Dublin for the friendly, took the lead in 15 minutes when a shot by Jackie McNamara rebounded from the keeper into the path of Simon Donnelly who scored the opener.
Celtic then allowed St Pats' an equaliser in the 48th minute. There was a brief report of the match in the following day's sporting press but the action behind the scenes took most of the headlines, like this one from one of the evening papers –
"DI CANIO WILL STAY PUT BUT CADETE WILL LEAVE"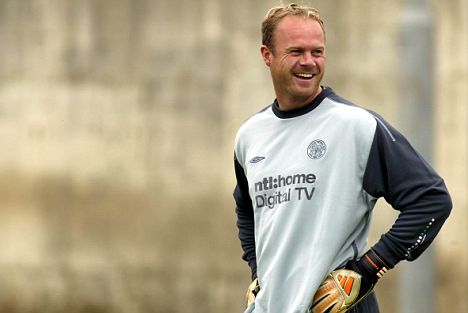 Many Happy Returns to goalkeeper Jonathan Gould, born on this day in 1968.
Jim Craig