After a fairly successful decade of the 1890s, the years from 1900 to 1903 proved disappointing for Celtic, with only a Charity Cup win in 1903 to show for all their efforts. Manager Wille Maley was chopping and changing the side, trying out various combinations of players in an attempt to create a successful one.
At the start of season 1903/04, the fans probably felt that a league title win might be too much to expect but they were hoping for better fortune in the Scottish Cup, the first time in that competition that they would wear the Hoops as opposed to the vertical stripes.
The opening rounds went well, although Dundee proved sticky opposition, with Celtic winning the toss to get the second replay at Parkhead; and the home match against Third Lanark in the semi-final was particularly well-attended;
23/1/04 Stanley (Perthshire) Scratched Celtic W/O
13/2/04 St Bernard's (A) 4-0 5,000
QF 20/2/04 Dundee (H) 1-1 18,000
1st Replay 27/2/04 Dundee (A) 0-0 20,000
2nd replay 05/3/04 Dundee (H) 5-0 30,000
SF 19/3/04 Third Lanark (H) 2-1 36,000
In the other semi-final, Rangers had beaten Morton 3-0, so the scene was set for an Old F*rm final, the third time up to that point that the Glasgow sides had met at that stage, with each team winning once. On this day in 1904, the biggest crowd thus far for a Scottish Cup final – 64,472 – were at Hampden on a fine afternoon to witness an enthralling contest. Rangers had the wind behind them in the first half and after fifteen minutes of almost constant Celtic pressure, they broke away twice and scored twice!
By half-time, Celtic had pulled level, thanks to goals by Jimmy Quinn, only in the side because regular Alex Bennett was indisposed. The second half was equally fast and furious, play swinging from end to end. Celtic were the younger and fresher team and their fine teamwork eventually began to tell, Quinn scoring the winner near the end and failing to get more through bad luck. This was the first-ever hat-trick in a Scottish Cup final, a feat replicated 68 years later by another Celt, John 'Dixie' Deans.
NB Soon after the Scottish Cup final of 1904, Celtic set off for their first-ever tour of the Continent, playing matches in Vienna and Prague. While they were away, a fire broke out at Celtic Park which damaged the North Stand and most of the Pavilion.
The former, which had seating for 3,500, made of wood with a galvanised iron roof, was completely destroyed but the damage to the Pavilion was reparable. To replace the stand, a covered enclosure was built, 300 feet in length, 36 feet deep and 40 feet high, terraced to accommodate a few thousand spectators. In later years, this was to become immortalised as 'The Jungle'.
WOULD YOU LIKE TO WRITE FOR THE CELTIC STAR?
We'd love to hear from you! You can write about any Celtic related subject of your choice, just send your contribution to editor@thecelticstar.co.uk and we will do the rest…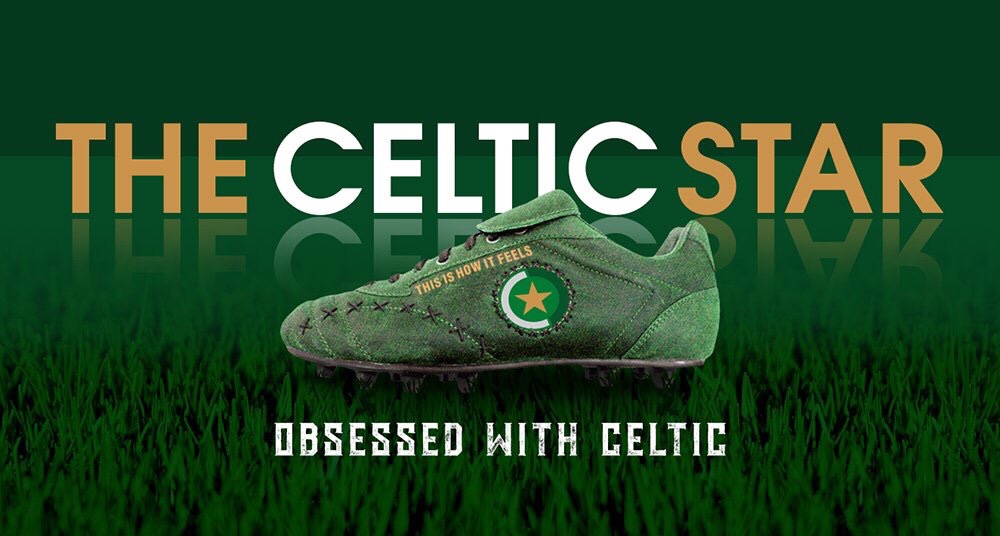 Have you enjoyed The Celtic Star and The Celtic Star Podcast this year? We are entering The Football Blogging Awards for TWO categories – The Best New Blog and Best Podcast – and we need your support.
Can we ask you to vote for both the site and the podcast in The Football Blogging Awards.   We are asking you to take one minute of your time to vote for The Celtic Star as Best New Football Blog and A Celtic State Of Mind as Best Football Podcast.
Voting is easy. Click the graphic below, then in the Best New Football Blog Category enter @celticstarmag and in the Best Football Blog Category enter @celticstarpod
Vote for both at the same time. 
Or vote via twitter by copy and pasting the following into a tweet:
I am voting in @theFBAs for @celticstarpod in the category #FBApodcast #FBAs
and
I am voting in @theFBAs for @celticstarmag in the category #FBAnewblog #FBAs
Please send individual tweets for both categories otherwise your vote won't count.
Thanks for your support!