INVINCIBLE is Matt Corr's stunning debut as a published Celtic author.
INVINCIBLE has 288 pages plus a bumper 32 pages of colour courtesy of the wonderful Vagelis Georgariou at Big Lens, capturing all the action from that magical Celtic year – surely the best since season 1966-67 when Celtic also won the Treble and added the European Cup!
Our Father's Day offer is as follows. When you order INVINCIBLE from The Celtic Star Bookstore you will receive a signed copy of Matt's book plus a copy of That Season in Paradise, so Celtic's best two seasons in your dad's lifetime are covered brilliantly.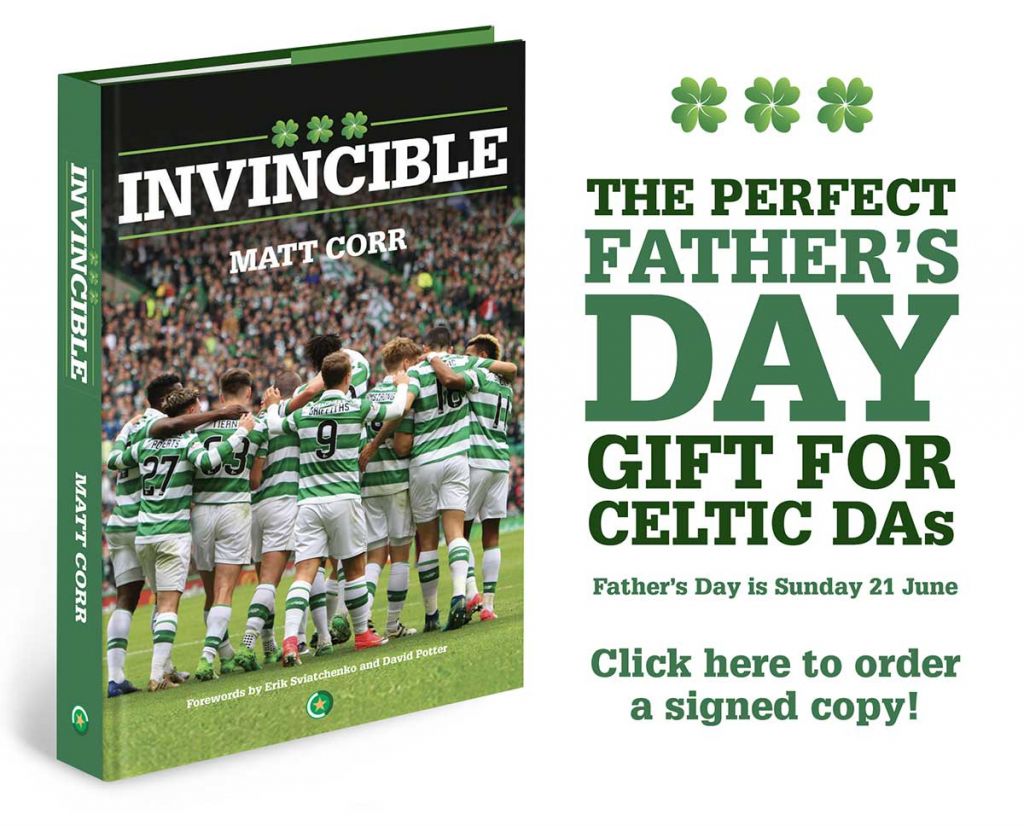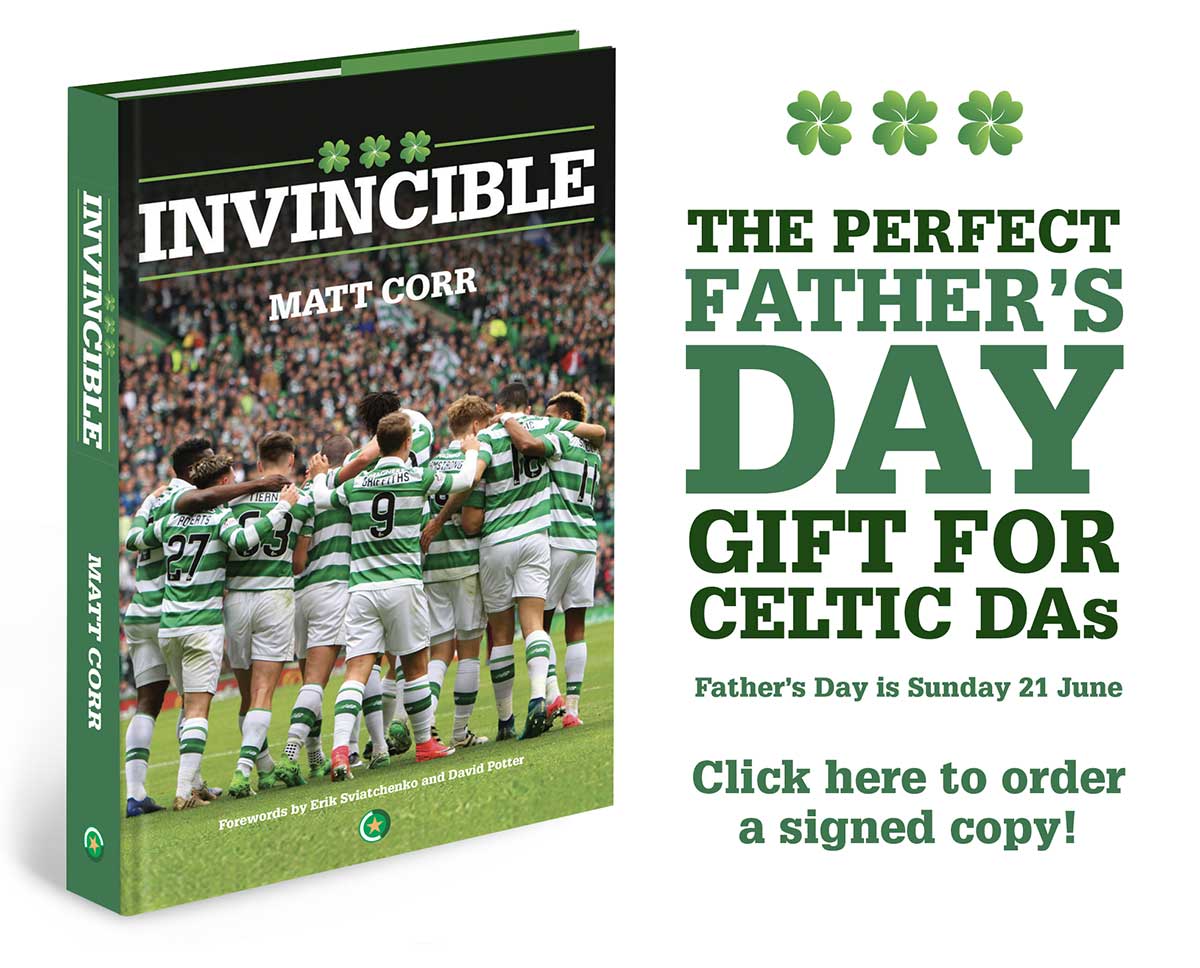 With forewords from renowned Celtic author and historian, David Potter and a star of the Invincible season ERIK SVIATCHENKO , INVINCIBLE tells the story of the grand old Glasgow club's record-breaking 2016/17 season through the perspective of a lifelong Hoops supporter, who follows the Bhoys as events unfold which could not possibly have been envisaged by the worldwide Celtic diaspora just twelve months earlier.
New heroes emerge and memories are created, to be recalled and retold by those with Celtic in their hearts long after those privileged to witness history have passed through Parkhead's gates for the last time. You will laugh and you will cry, as memories from the author's five decades of following his beloved team are woven into his record of this incredible campaign.
INVINCIBLE. That was how it felt to be Celtic.
Invincible author Matt Corr is a stadium tour guide at Celtic Park, writes for the match day programme and is a popular contributor to The Celtic Star, where he covers Celtic players from the past in great detail as well as writing about the club's European trips from the perspective of the travelling Hoops support.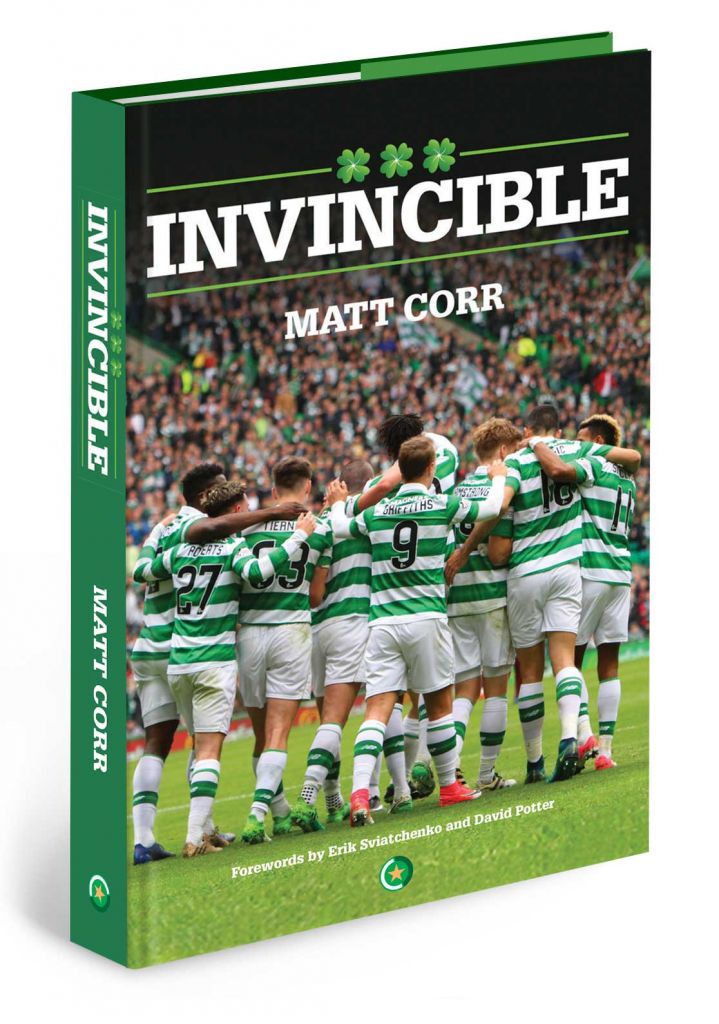 "I am in a training camp in Poland and they are there. They stand up and cheer, then start to sing. "He's magic, you know, Erik Sviatchenko." I turn to my teammates. "Listen guys. They are everywhere!" That love that you show to every player makes you unique. If I were still in Glasgow, I would walk around with a sign on my back. 'I am Invincible! Have you ever tried that?'
ERIK SVIATCHENKO, Celtic Invincible Star
"The 2016/17 INVINCIBLE season will be talked about by Celtic supporters for a long time in the same way as people still talk about 1907/08 and 1966/67. It was a tremendous season. Tremendous events need tremendous recording and recounting. Matt Corr has done just that. This is a worthy addition to the impressive panoply of writing about our great club.'
DAVID POTTER, Celtic FC author & historian
"The story of Celtic's Wonderful, Magical and INVINCIBLE season is quite brilliantly told by Matt Corr. The quality of his writing and attention to detail is astounding. He manages to take the reader with him at every step on an emotional roller-coaster of a journey through an incredible, thrilling season, which gets to the very essence of what it means to support Celtic. INVINCIBLE raises the bar and sets the standard for others to follow. It is right up there with the very best Celtic books I have ever read."
DAVID FAULDS, Editor, The Celtic Star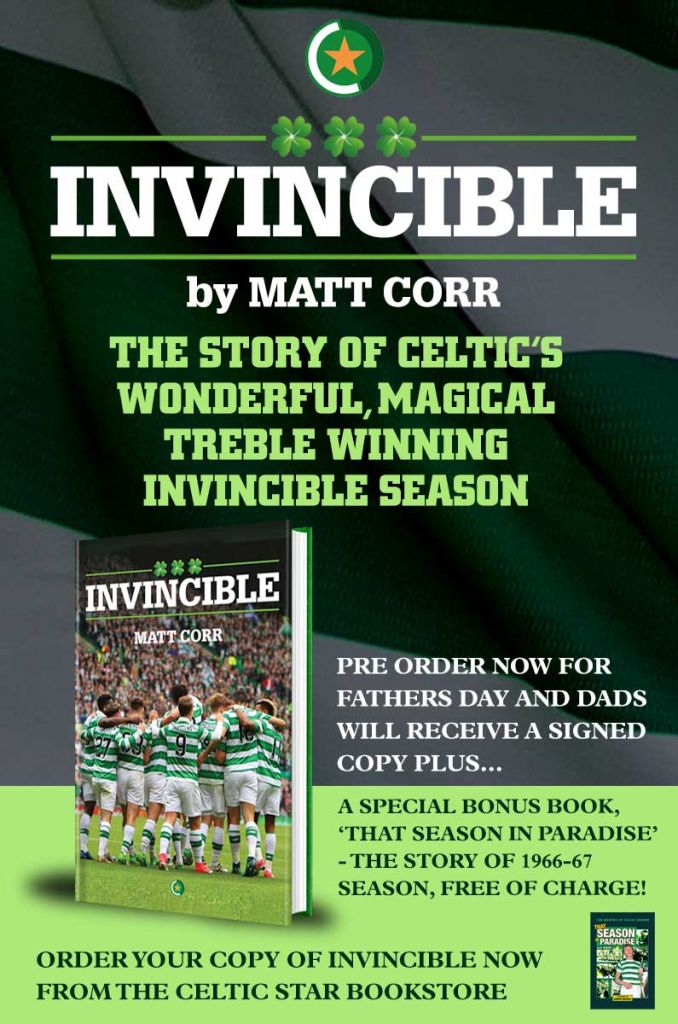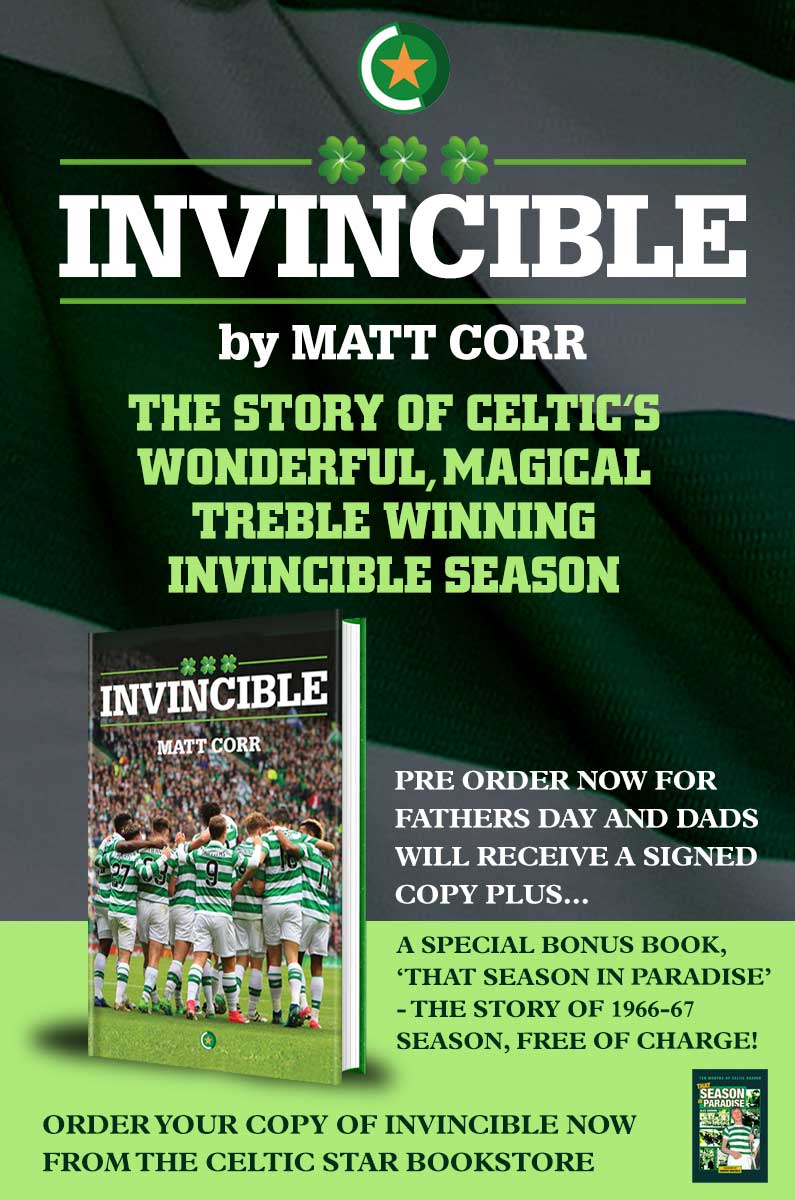 Thank you for reading TheCelticStar.com
David Faulds
Editor