McGRORY'S LAST DAY IN CHARGE AT CELTIC PARK…
There is seldom any doubt about the contention that Jimmy McGrory was one of Celtic's best ever players, if not THE best. His record speaks for itself. As a Manager over the 20 years from 1945 until 1965, however, his record, although not without some spectacular successes, was disappointing, and season 1964/65 would prove to be his last as Manager.
His fate was probably sealed at the League Cup Final on 24 October 1964 when Celtic were the better team against Rangers but failed to take their chance in the first half then a clinical Rangers team took their chances in the second half. The depression that followed this disastrous disappointment saw many more defeats over midwinter 1964/65. The form was so poor and supporters were departing in such large numbers that a change at the top was inevitable. Jock Stein was appointed at the end of January, but had to work his notice with Hibs and was due to take over on Monday 8 March.
Before then, however, Celtic had a Scottish Cup quarter final on Saturday 6 March. The opponents were Kilmarnock, possibly appropriate because Kilmarnock were the only other team that Jimmy McGrory had been Manager of in the few seasons before the Second World War. But there was more to this game than that. Kilmarnock and Celtic had some recent history. In a meaningless game after the League Cup section had been decided, Kilmarnock and Celtic had "shared a rough house" (as the newspapers had tactfully put it) at Rugby Park in which McNeill and Murdoch had been carried off injured, seriously in McNeill's case.
Managed by Willie Waddell, ex-Rangers, Kilmarnock did not enjoy a happy relationship with Celtic in 1965.
The other three Scottish Cup quarter finals that day were all interesting – Hibs v Rangers, Motherwell v Hearts and Dunfermline v Stirling Albion. All four games survived the weather, a thaw having arrived just in time overnight to dispel the frost which had enveloped Scotland for a few days and which cause the postponement of a few League games.
The Scottish League was this year a very open one. Celtic were out of it, of course, but so too were Rangers who had a very poor January and February, and at the moment both Edinburgh teams, Dunfermline Athletic and Kilmarnock were in with a chance. Very few, however, of the 47,000 crowd who turned up at Celtic Park that day would have predicted that they were about to see a game between the Scottish League winners and the Scottish Cup winners of 1965. A great deal of water was to flow under the bridge before that happened.
Celtic appeared in their "Hibs reverse" strip of white jerseys and green sleeves. It was not a bad strip (although inferior to the green and white horizontal stripes) and it was a shame that this handsome combination of colours would turn out to be the last ever time that Celtic would wear this strip. Already a few weeks previously, they had appeared in an all-green strip against Queen's Park at Hampden, and the all green strip would now become the "second" strip.
The teams for the last game of Jimmy McGrory were;

Celtic: Fallon, Young and Gemmell; Clark, McNeill and Brogan; Chalmers, Murdoch, Hughes, Lennox and Auld

Kilmarnock: Forsyth, King and Watson; Murray, McGrory, Beattie; Brown, McInally, Hamilton, McFadzean and McIlroy.
The referee was Hugh Phillips of Wishaw, not a popular man with some Celtic supporters but generally regarded as one of the best referees in Scotland. He would have a good game that day, keeping the lid on a pot that could have on many occasions boiled over.
The sun was out, and there was more than a hint of spring in the air, but it was still cold and the pitch was a little on the hard side. Kilmarnock came out in all blue jerseys and many people in the crowd and the Press Box wondered whether Killie had changed from their normal vertical stripes in order to make a point to Celtic.
Often referred to as the "poor man's Rangers" in Ayrshire, this change of strip did little to dispel that impression.
Parkhead was more busy than normal with the "Celtic Cha! Cha! Cha!" much in evidence. The was a "Cel-Tic" chant followed by three handclaps varying with "Sure its's a grand old team" and "It was on a dreary New Year's eve" reverberating round the ground as Celtic started playing towards the Rangers end of the ground and soon asserted some sort of command. Half-time saw Celtic one ahead and the goal came in the 16th minute as a result of a ploy which Celtic had developed recently, the brainchild, one assumes of Bertie Auld who had re-joined the club in January.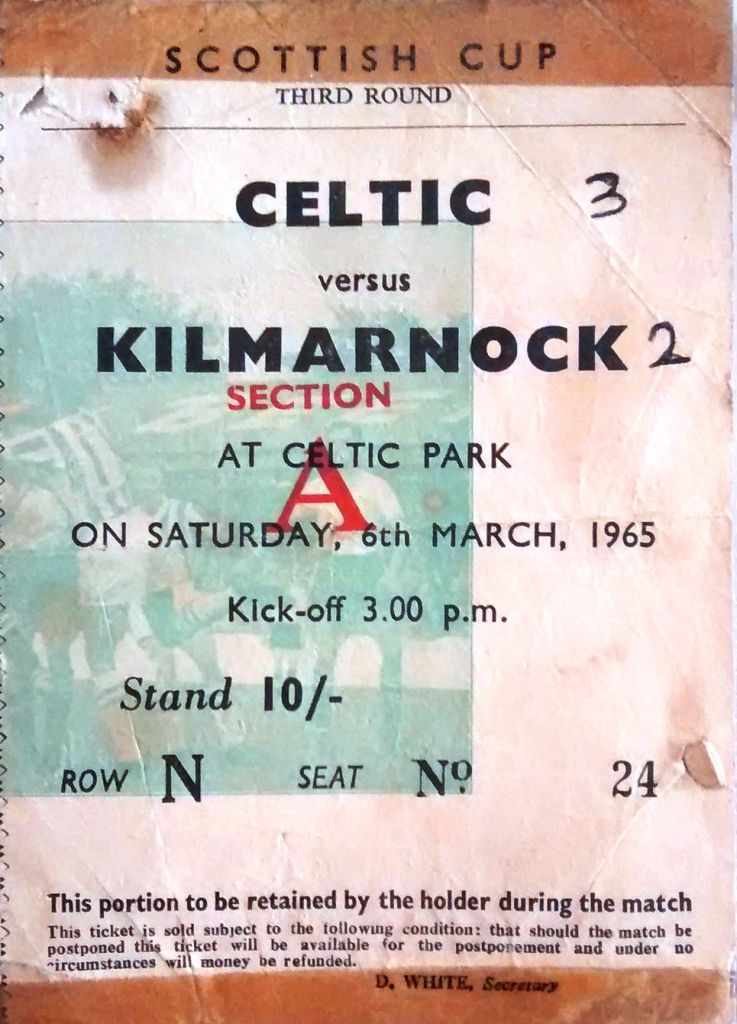 It consisted of Bertie Auld standing on the other side of the goal when a corner kick was taken on the right, and Steve Chalmers doing likewise when it was on the left. The corner kick would then be floated over the heads of everyone, and as the defence momentarily relaxed, the ball would then come back in immediately from the other side. It did not always work, but it did this time. Chalmers took the kick, the ball soared over the heads of everyone until it came to the lurking Auld who immediately hammered it back in to find the head of Lennox, who was not always famous for scoring goals with his head.
Celtic had a few more chances before half time but 1-0 it was when the players retired. Half time was spent with the crowd in rare good humour and everyone talking in upbeat fashion of Jock Stein's imminent arrival and the changes he was going to make, the players he was going to buy etc. But everyone knew that there was still a job to do here, for Kilmarnock were not going to give in easily. However with Celtic now attacking the Railway End where most supporters congregated, optimism was in the air.
Murdoch brought out a great save from Scotland goalkeeper Campbell Forsyth, Kilmarnock counter-attacked and the play raged back and forward until almost the hour mark when both sides scored within a minute – Jacky McInally (the man with the fine Celtic name and the father of future Celtic player Alan McInally) scored first when he had been left unmarked, and then Bertie Auld for Celtic when a free kick on the right taken by John Clark found Bobby Lennox who prodded it on to Bertie Auld who got there just before Forsyth did, and the banners and scarves went up again to scatter the despondency of losing an equaliser and to signal that Celtic were back in the lead.
This being Jimmy McGrory's last day, it was fitting that John Hughes would score a goal that was so like the ones that Jimmy scored thirty years previously. John Hughes was a big man, and on this occasion he soared like a bird to connect a cross from the ubiquitously diligent Bertie Auld. Funnily enough John's direct opponent that day was called McGrory as well – this was Jackie, a great centre half for Killie for many years but no relation to the mighty Jimmy now sitting in the stand, smiling, puffing on his pipe and delighted to see his team now 3-1 ahead.
But Killie were not finished yet, and within the last 15 minutes McInally scored again in a goalmouth scramble and the latter stages of the game saw both teams unlucky not to score. But McNeill was superb for Celtic, and Mr Phillips' whistle sounded with Celtic 3-2 winners. Jimmy McGrory thus finished his tenure as Manager with a win.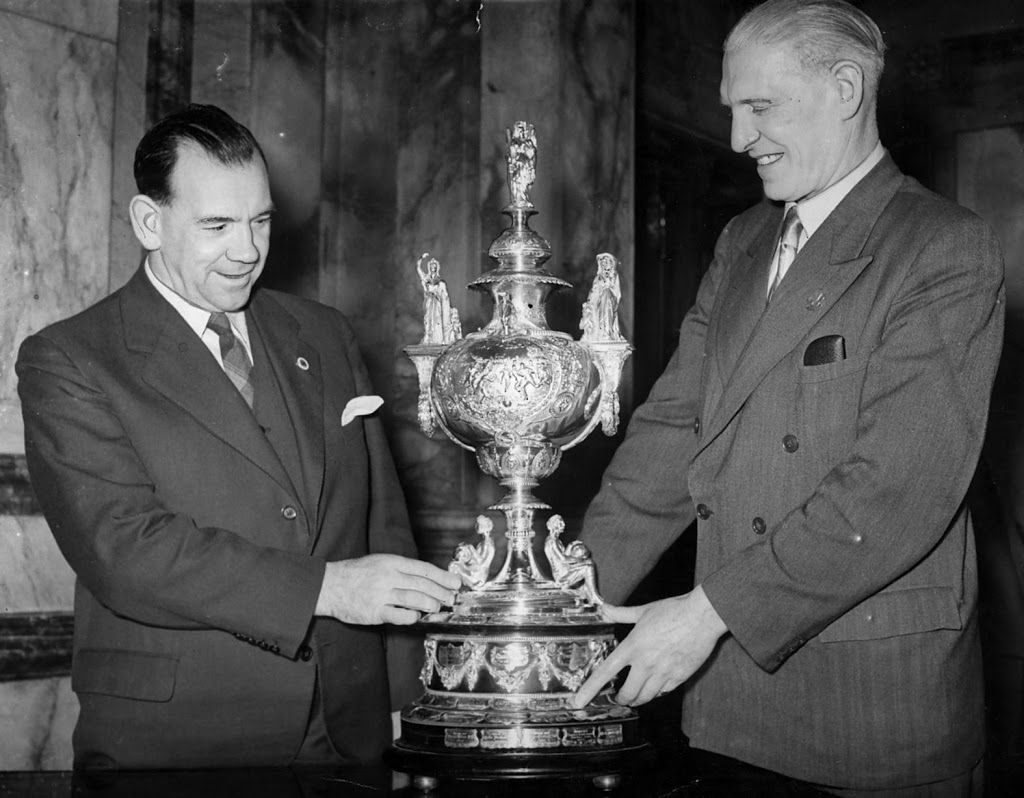 He would hand over the team to incoming Manager Jock Stein in good nick and feeling confident about themselves.
McGrory permitted himself a smile. His 20 year tenure had not been without its successes but really only one League title (1954) in 20 years is indefensible for a team of Celtic's size and status. But it was all about today for Jimmy as he accepted the congratulations of his Kilmarnock counterparts, and it got even better. Across in Edinburgh, Rangers and Hibs had been drawing 1-1 but a rumour spread that Hibs had scored a late winner – but then again, there always are such rumours! However the TV in the Boardroom confirmed that Hamilton had scored a late goal for Hibs – a lucky, scrambling goal, but a winner nevertheless, and Rangers were now out of the Scottish Cup.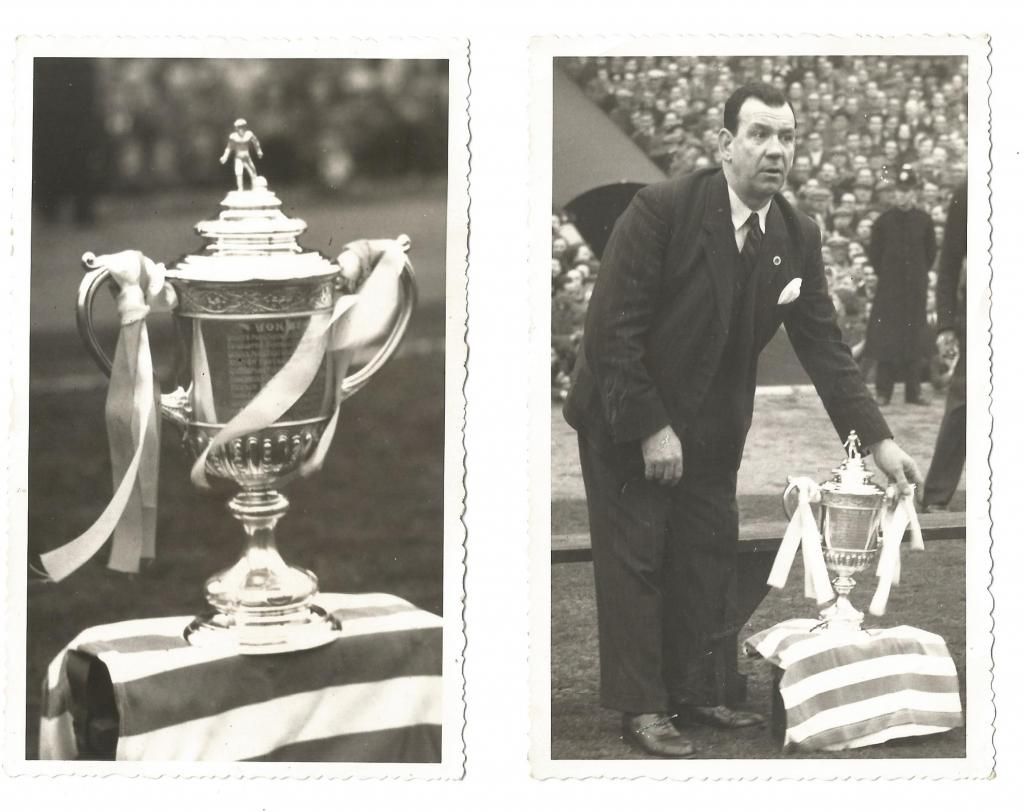 It was often said that Jock Stein won the 1965 Scottish Cup for Celtic with his last act for Hibs. This is of course a rather simplistic way of putting it, but there is little doubt that the removal of Rangers did help matters for Celtic. That day also saw the downfall of the strong going Hearts to Motherwell, so all in all, Jimmy McGrory's last day was not a bad one!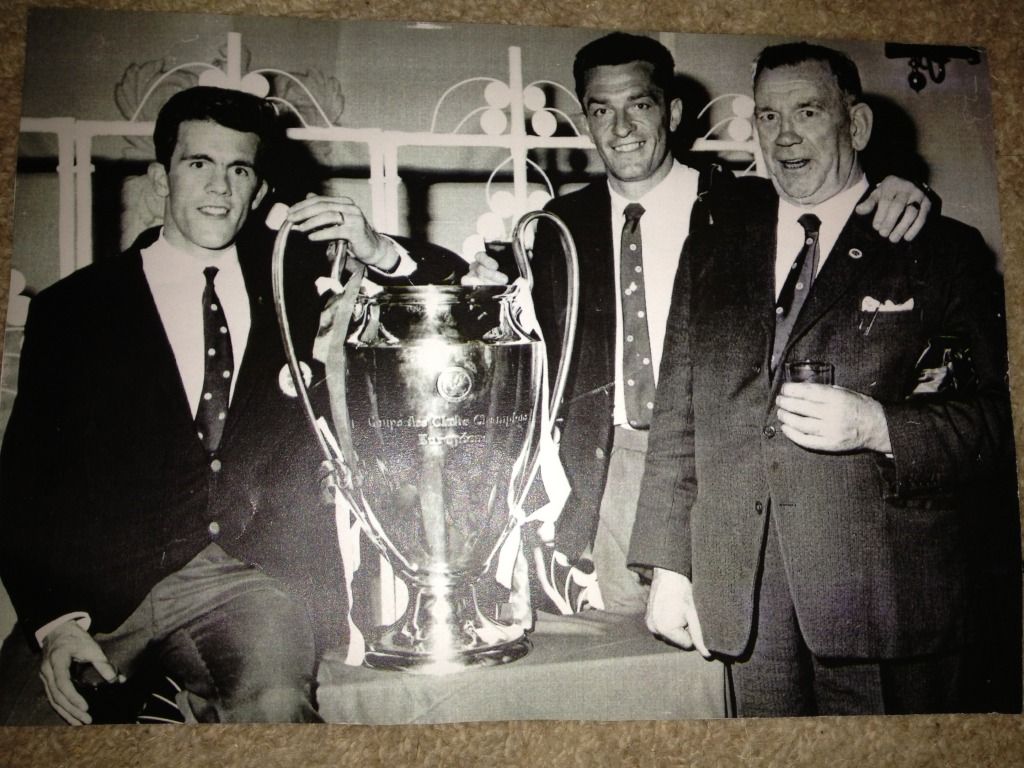 It was not, of course, Jimmy's last day at Celtic Park. Nothing like it! He was kept on as Public Relations Officer. This role involved issuing Press Releases, welcoming guests and opposition Directors to the Boardroom, visiting supporters clubs and generally acting in the role now fulfilled by an Ambassador. It was a job to which the gentlemanly Jimmy was clearly suited and he performed these duties well in spite of failing health until he finally retired in 1979. He died in 1982.
David Potter
SIXTY YEARS AGO THE CELTIC SONG BY GLEN DALY WAS PLAYED FOR THE FIRST TIME EVER AT CELTIC PARK. HOWEVER A MYSTERY SURROUNDING THIS SONG HAS NEVER BEEN EXPLAINED, UNTIL THIS MORNING ON THE CELTIC STAR…