ON 18 April 1908, in a very one-sided Scottish Cup final, Celtic beat St.Mirren 5-1 before 58,000 at Hampden to lift the trophy for the sixth time. Alec Bennet scores two, and Jimmy Quinn, Peter Somers and Davie Hamilton one each, but the best man on the field is Jimmy McMenemy, now called "Napoleon", the one member of the forward line who did not score a goal!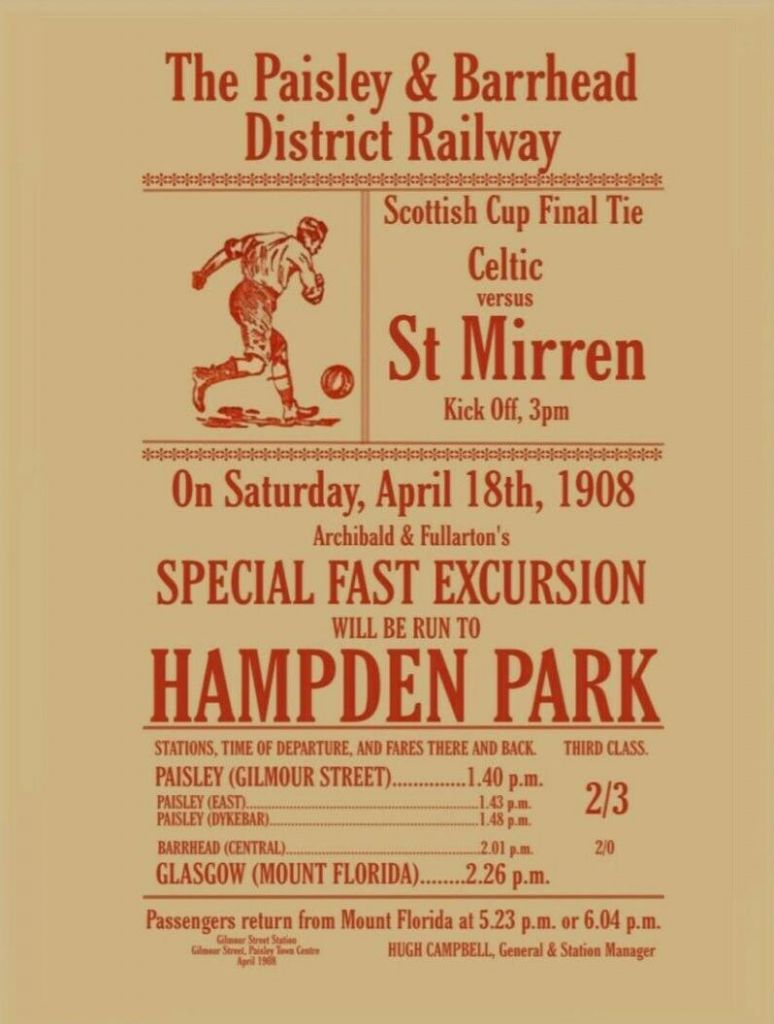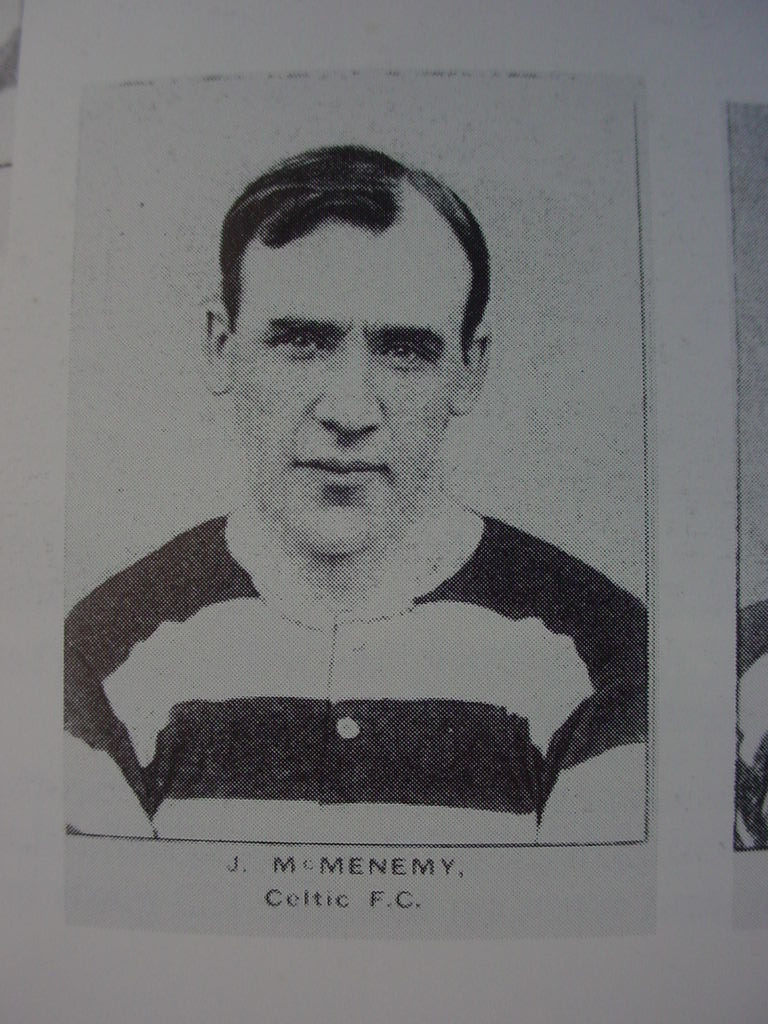 JIMMY McMENEMY – CELTIC'S NAPOLEON
Jimmy McMenemy was one of the really great Celtic players. He was born in 1880 and played from 1902 until 1920 at a time when Celtic had two really great teams, 1905-1910 and 1914 – 1917, and when the managerial powers of Willie Maley were at their height. In some ways, McMenemy typified the Celtic of that era – a tricky dribbler, a brilliant passer, a cannonball shot (unusual in such a small and slightly built man) and a great team player with loyalty and level-headedness his hallmarks.
His nickname was Napoleon. It is a curious one when one considers that the original Bonaparte had been the Britain's greatest enemy until the grizzly horrors of the Kaiser and Hitler came along later in the 20th century.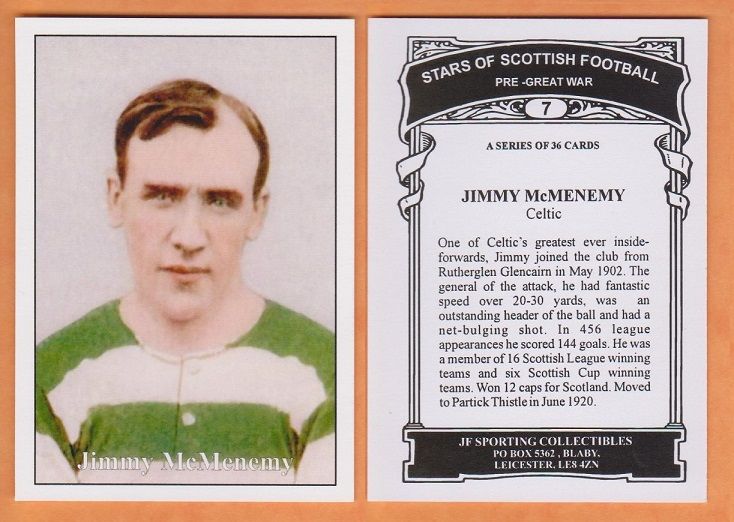 Why would a footballer be named Napoleon? In fact, Jimmy had a certain resemblance to old Boney. He was about the same height and build, but the real answer must lie in his brainpower and his ability to transfer his considerable intellectual capacity to a football field. Napoleon was respected even by his opponents for that. So was Jimmy McMenemy.
He joined Celtic from Rutherglen Glencairn, signing, legend has it, "up a close in Union Street", as Maley began his ingathering of talent. His first season was no great success, but by the end of 1904, the first great Celtic team had taken off, and the forward line of Bennett, McMenemy, Quinn, Somers and Hamilton had no equal in world football. For six years they won the Championship with the crafty McMenemy holding the ball, slowing things down, reading Quinn perfectly for the incisive pass and performing a vital link in the right wing triangle with Sunny Jim and Alec Bennett which exuded excellence.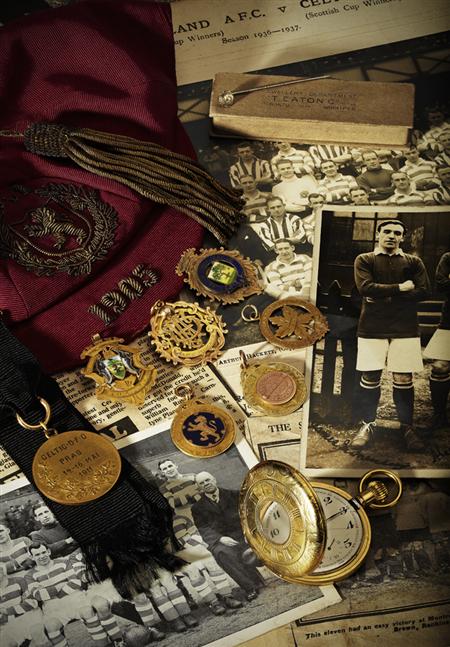 Even when that great team broke up after 1910, with McMenemy now 30 and entitled to consider that his best years were behind him, Maley had other plans for Napoleon. In December 1911, McMenemy was being challenged for his place by a prodigiously talented Irishman called Patsy Gallacher. Rather than try to bully the spindle shanked, emaciated looking youngster out of the team, McMenemy approached Maley with the suggestion that Gallacher should indeed take his place at inside right while he (McMenemy) would play at inside left. This was a total success and by 1914 another great Celtic team was in place – arguably as good as the one of ten years before, but destined to be denied by the Kaiser of the chance to prove it.
By this time, McMenemy had played 11 times for Scotland (he would earn another cap after the Great War) and had never been on a losing side. Along with Jimmy Quinn, he played a glorious part in the 1910 2-0 win over England at Hampden, and in 1914 it was he and Willie Reid of Rangers who won the day for Scotland. A week after that game, with McMenemy the hero of the hour, Celtic played Hibs at Ibrox in the Scottish Cup Final and after an ineffective first game, McMenemy and Gallacher destroyed Hibs in the Replay to land the League and Cup double for the third time in his career.
115 years ago today, Celtic beat St Mirren 5:1 in the Scottish Cup final.https://t.co/ql2yhS8XU4 pic.twitter.com/Nhvs1eWdoO

— Li'l Ze (@LilZe_7) April 17, 2023
The forward line of McAtee, Gallacher, McColl, McMenemy and Browning would be chanted and repeated frequently in the trenches of Flanders (and possibly even the Post Office of Dublin) in future years. It might even have been the last words that some soldiers said. Some cried for their wives, some their mothers, others for Jimmy McMenemy!
Jimmy himself continued to play during the war years, working in the munitions industry as well, as circumstances demanded. League titles were won in 1915, 1916 and 1917, but there was no Scottish Cup, nor Scotland Internationals. In 1918, he may well have thought about retirement at the age of 38 after the effects of an injury. In addition conscription looked like catching up with him. For some reason, however, his papers never came, and then in November Germany surrendered, thus allowing Napoleon to return to Celtic Park. The crowd rose to welcome him back, and by the end of the 1918-19 season he had won his 11th League Championship for Celtic, although it must be said that three of them were war-time ones. Although unofficial, they are by necessity demeaned by the unreal circumstances obtaining at the time.
In summer 1920, with his 40th birthday fast approaching, Maley let Jimmy go, paying full praise to one of his greatest and longest serving players. He was snatched up immediately by Partick Thistle, and astounded the world in April 1921 by helping the Thistle to their one and only Scottish Cup victory. Indeed it was McMenemy's pass which fed Blair to score the winning goal in the Final. Appropriately, the opponents were Rangers and even more appropriately the venue was Parkhead!
Thus Jimmy won a record seven Scottish Cup medals – 1904, 1907, 1908,1911, 1912, 1914 and now 1921. It could have been more, but he was prevented by the Hampden Riot of 1909 and the five years of the Great War. Billy McNeill would, in later years, equal that record and Bobby Lennox, technically, would beat it, although some of Bobby's Cup Final medals came via the substitutes' bench.
Yet Napoleon's contribution to Celtic was, even then, not finished. In 1934, he was invited back to Parkhead as trainer and de facto Assistant Manager to his old mentor, the ageing and increasingly prickly Willie Maley. Such a move was almost akin to the return of Jock Stein in 1965, in that it really should have happened earlier, but when it did, the results were startling. It was due to McMenemy in no small measure that the great sides of 1936, 1937 and 1938 appeared, with Napoleoen nurturing the precocious young talent of Delaney, Buchan, Murphy and Crum to the glory year of the Empire Exhibition Trophy.
He was dismissed in 1940, but did not take umbrage. He remained a faithful Celt, talking to newspapers and everyone else about their prospects. People would recognise him on a train or in the street, nudge one another and say, "That's McMenemy!"
He supported Celtic through the awful years of the 1940s and lived long enough to see the Hoops win the Scottish Cup of 1965 when Jock Stein returned. Sadly he died in the summer that year at the age of 85, one of the greatest Celts of all time.
His family kept up the football tradition. His son John won a Scottish Cup medal for Celtic in 1927, Harry played for Newcastle United and of course Laurie McMenemy, the former Manager of Southampton and many other teams, is the great-nephew of Napoleon.
Unlike the French Emperor, there was no Waterloo, no Elba, no St.Helena, no humiliation. His legacy continued and he remains one of the great characters of Celtic history. It is a shame that Rod Steiger could not play Jimmy McMenemy in a film!
David Potter