RESPECTS are being paid this morning to Celtic's greatest ever manager Jock Stein who sadly passed away on this day while in the process of guiding Scotland to the World Cup finals, securing the necessary draw against Wales.
Here are just some of the tributes to Jock, led of course by the club's official account…
Jim Craig recalled the dreadful story in his diary piece on The Celtic Star.
"More than 12,000 Scots were in the crowd on this day in 1985 at Ninian Park in Cardiff for the vital World Cup tie between Wales and Scotland.
"Scotland needed a draw to get into a play-off for a place in the Mexico World Cup Finals of 1986 and they got the match off to a bad start by allowing Mark Hughes to open the scoring in the 13th minute.
"Scotland fought back but in spite of all their efforts, with 9 minutes to go, the Welsh were still in front. Then, a shot by David Speedie hit a defender's arm and, to the astonishment of the home fans, referee Keizer of Holland blew for a penalty.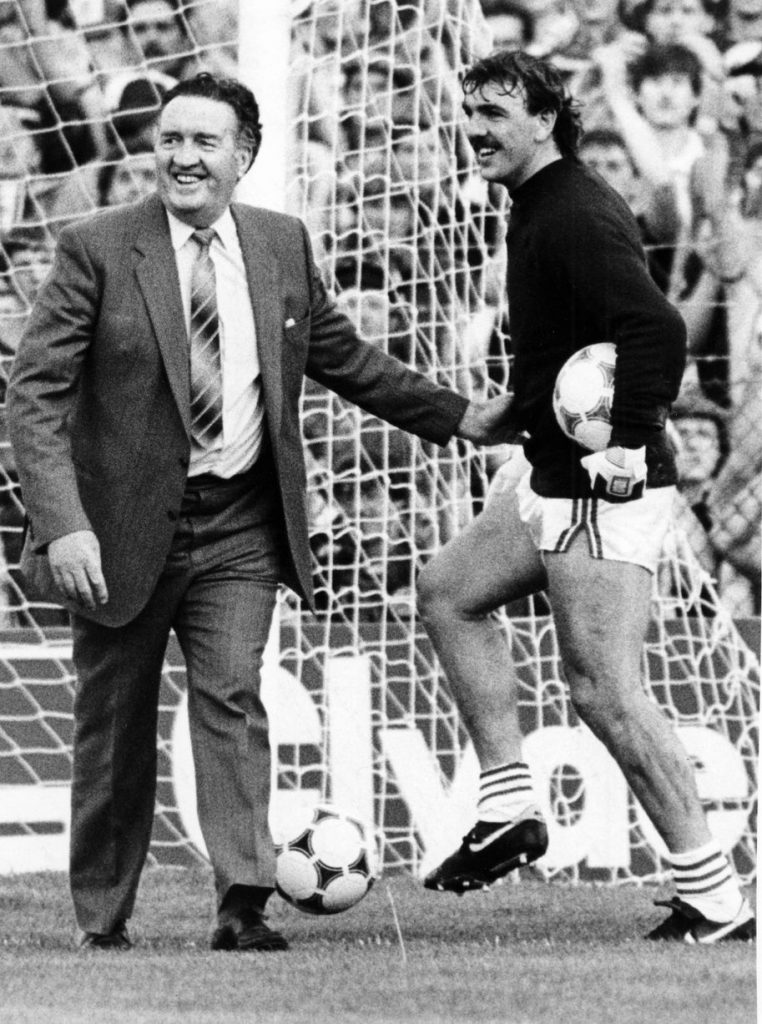 "Davie Cooper stepped forward and slammed the ball low down past the left hand of keeper Neville Southall.
"The photographers rushed towards the Scots dug-out, keen to get a shot of the manager and his staff just when it looked as though Scotland were through.
"Jock Stein waved them away and after one snapper had been particularly difficult, brusquely man-handled him away. A few seconds later, he collapsed and was rushed to the dressing-room.
"In spite of attention from the Scottish medical staff, Jock Stein could not be resuscitated and died shortly afterwards. The tragic story made the headlines in the papers of the following day –
Manager Stein Dies at Match
Sacrifice of a Football Manager
With a Midas touch
Jim Craig wrote on this site.
Jock Stein, #CelticFC's greatest ever manager, sadly passed away
RIP, Jock ???? pic.twitter.com/ylXFtkDorH
— Celtic Football Club (@CelticFC) September 10, 2019
34 years today, we lost the man who put Celtic on the world map in the 60s & 70s, producing the best team on the planet and in our long history. Like Walfrid & Maley, and later McCann & O'Neill, a real game-changer for Celtic but only Jock won the Big Cup. God bless you Jock ????☘️ pic.twitter.com/9HLNrTOiyu

— Matt Corr (@Boola_vogue) September 10, 2019
On Sept 10th 1985 the light went out in the world of football.. ???? "We must play as if there are no more games, no more tomorrow".. Remembering the legend Jock Stein… never forgotten.. ????⚽???? xxx pic.twitter.com/F8zTL30PVw

— Babs McMahon ???????????????? (@BarbaraMcMahon8) September 10, 2019
RIP The Big Man. God Bless Jock Stein ???? pic.twitter.com/niIPHKuObl

— Jack Maguire (@JackDMagi) September 10, 2019
34 years ago today, quite tragically, Scotland manager Jock Stein died after guiding his team to a World Cup play-off after a tense draw with Wales. A truly great manager. I remember vividly waking to the news, so terribly sad. #rip pic.twitter.com/OR451sVulA

— ally begg ⭐️⭐️ (@ally_begg) September 10, 2019
"Unlike many other Celts, I cannot claim that Celtic was my first love … but I can say that it will be my last love."….RIP Jock Stein pic.twitter.com/CJQDLaniVo

— Steviebhoy (@stevie75bhoy) September 10, 2019
10 September 1985. The legendary Celtic and Scotland manager Jock Stein died (aged 62). He was the first British manager to win the European Cup in 1967 with Celtic. pic.twitter.com/6cPM3DJr9w

— Professor Frank McDonough (@FXMC1957) September 10, 2019
The boss Jock Stein September 10th 1985 only 62 years old the coal miner who won the biggest cup of them all pic.twitter.com/e9NlixAjIc

— Eton O'Rifle ???? (@etonrifle_) September 10, 2019
On this day in 1985, #CelticFC legend Jock Stein passed away. Here's my piece for @thesefootytimes on the time he went to head to head with one of football's greatest minds and won. #HailHail ????https://t.co/PY7PIG5HTw

— Matt Evans (@Matt_The_Met) September 10, 2019
Remembering Jock Stein…
"Football is nothing without Fans," Jock Stein said. Here are some other quotes from Celtic's most successful manager, who died on this day in 1985.
"I enjoy being manager here, because I like the people who support us," Jock Stein.
"Celtic jerseys are not for second best, they don't shrink to fit inferior players," Jock Stein
"I'd far rather talk about players, they are the people who make things happen," Jock Stein.
"There is no substitute for experience," Jock Stein.
"If they were interested in what I had to say they would get here in time. The door stays shut!" (Jock Stein on barring late coming journos to his press talks)
"I think we could win everything in front of us. I think this could be a season to remember," Jock Stein, to various players at the start of the 1966/67 season, quoted by Archie Macpherson.
Jock on the sectarian signing policy at Ibrox…
"Jock, if there were two players, one Catholic and one Protestant. Who would you sign?"
"The Protestant"
"Why?"
"Because I know that Rangers would never sign the Catholic"
And on predicting the score against Rangers…
TV Presenter: "Scott Symon, Rangers manager, what do you think the score will be in the Old F*rm match?"
Symon: "I think 2-0 to Rangers"
TV Presenter: "And you Mr Stein what will the Old F*rm score be?"
Jock: "Only a fool would try to predict the score in an Old F*rm game."
On the songs debate…
"Surely there are enough Celtic songs without introducing religion or politics or anything else." Jock, after the 1972 game against Stirling when he jumped into the Celtic crowd to stand up to individuals singing political songs. This has to be put into context with the Troubles in the north of Ireland at this time.
On losing friends…
"I lost some friends when I made the move, but if that's what matters to them, then they're not really friends at all." Jock, on his move to Celtic which led to him being shunned and dismissed by his old 'friends'.
On legends…
"It is up to us, to everyone at Celtic Park, to build up our own legends. We don't want to live with history, to be compared with legends from the past. We must make new legends."
On the realities of life in football…
"We all end up yesterday's men in this business. Your're very quickly forgotten."
Jock Stein in Archie Macpherson's book "The Great Derbies: Blue and Green" (1989).
"The best place to defend is in the opposition penalty box," Jock Stein.
"I feel we have the players fit to wear the mantle of champions of Europe. I have told them so. Now it's up to them." Jock Stein after beating Vojvodina Novi in the Quarter Final of the European Cup, 1967
On referees…
"If you're good enough, the referee doesn't matter." Jock Stein.
Jock, meeting one of the knuckle-draggers…
Rangers fan: "You only won the European Cup because you had 5 Protestants in your team',
Stein (himself a protestant) responded: "Well you've never won it and you've got eleven!"
On the lack of religion…
'"It's not Religion that's the problem – it's the lack of religion!" Jock Stein
On the Celtic supporters…
"I'm happy where I am, I like the people I work with, I like the players and the directors of this club but most of all I like the fans and to see them happy makes me happy so I'm very happy here," Jock Stein, when asked about Manchester United showing interest in him in early 70's.
On Lisbon 1967 and Winning the European Cup – "My time will come!"
Jock Stein to John Mackenzie of the Scottish Daily Express, prior to European Cup final 1967 after enduring snubs and mind games from opposite number Herrera (Inter Milan Manager).
Stein's inspiring pre-match battle cry was: "If you're ever going to win the European Cup, then this is the day and this is the place. But we don't just want to win this cup, we want to do it playing good football – to make neutrals glad we've won it, glad to remember how we did it."
Jock Stein before the game 25 May 1967.
"I am now going to tell him (Herrera) how Celtic will be the first team to bring the European Cup back to Britain. But it will not help him in any manner, shape or form: we are going to attack as we have never attacked before. Cups are not won by individuals, but by men in a team who put their club before personal prestige. I am lucky – I have the players who do just that for Celtic," Jock Stein 23 May 1967.
"We must play as if there are no more games, no more tomorrows…" Jock Stein, shortly before kick off in Lisbon.
"We don't just want to win the European Cup. We want to do it playing good football, to make neutrals glad we won it, pleased to remember how we did it," Jock Stein before the European Cup win in 1967.
After winning the European Cup… "We did it by playing football. Pure, beautiful, inventive football," Jock Stein.
"There is always a time to move on."
"This team will never be beaten!" Jock Stein to Bill Shankly on bus back, overheard by Bertie Auld.
"There is not a prouder man on God's Earth than me at this moment. Winning was important, aye, but it was the way that we have won that has filled me with satisfaction. We did it by playing football. Pure, beautiful, inventive football. There was not a negative thought in our heads. Inter played right into our hands; it's so sad to see such gifted players shackled by a system that restricts their freedom to think and to act. Our fans would never accept that sort of sterile approach. Our objective is always to try to win with style," Jock Stein, 1967
WHAT THEY SAID ABOUT JOCK
"I always thought Jock Stein was the perfect international manager. But you (England) don't have anyone like that. You don't have Jock Steins, you'll never have a Jock Stein," Alex Ferguson
"I am proud to say that I knew Jock Stein as a manager, as a colleague and as a friend… he was the greatest manager in British football… men like Jock will live forever in the memory," Bill Shankly
Bill Shankly to Jock Stein in the Dressing room just after they won the European Cup (1967) – "John, you're immortal now!" (Jock in turn just laughed…)
"The greatest manager in the history of the game. You tell me a manager anywhere in the world who did something comparable, winning the European Cup with a Glasgow District XI." Hugh McIlvaney (journalist) in his documentary "Busby, Stein and Shankly: The Football Men 1997"
"The problem for us is that Big Jock and his players spoiled it for everyone who came after them…" Lou Macari, on becoming Celtic Manager (1994)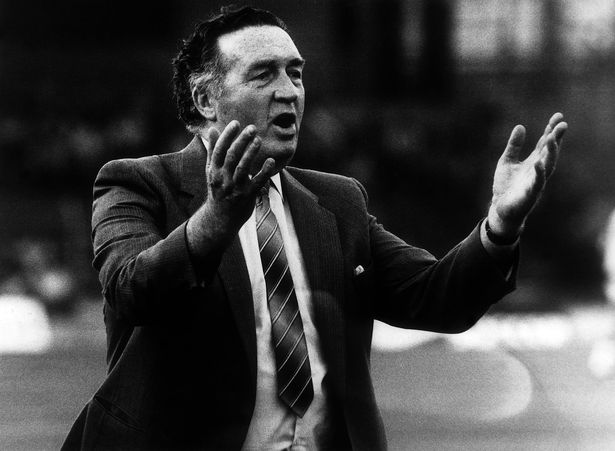 'I've got a vivid memory from 1965, when it was announced he was coming back from Hibs, of Billy McNeill saying, "Oh that's fantastic! Wait and see how things change now!".' John Divers, 1995 on the return of Jock Stein to the club as manager.
Another great wee story about the big man….
As I was born and raised just across from Barrowfield training ground a few of us used to go and watch the training sessions. The players played a game whereby they could only touch the ball twice, one to trap/control and then pass.
This day Tommy Gemmell and Big Yogi had started to argue and Big Jock Stein came over to find out what had happened, it went like this…
Jock – "Whits gone on here."
Tam – "Yogi's cheatin, boss, he's touched the ba' three times." (which he did).
Yogi – "Naw ah didnae, boss, he's makin it up tae get a free kick."
Jock – "Carry on Yogi, nae free kick."
Tam – "That's no fair boss he did touch it mair than he's sayin."
Jock – "Ach everybody knows Catholics don't tell lies."
(From "Ally Les Verts" of the KStreet forum May 2007 Source).
Thanks as always to the wonderful Celtic Wiki.