Not men with prominent roles in the establishment of our club, John Aloysius MacCreadie was present prior to the creation of Celtic and thus qualifies as a founding member to a certain degree. His father, Dominick MacCreadie, and brother, Dominick Jr, were also around the club in its embryonic days.
The MacCreadie family were originally from Donegal. Dominick Senior arrived in Scotland during the height of the famine in 1847. Having worked as a labourer, constructing roads around the country, he settled in Glasgow and set up a business as a rag dealer. A mark of his success was that he was able to move into the licensing trade, owning the Old Empire Bar in the Saltmarket. The pub made him a popular Irishman, not least because it was the first watering hole that Irish immigrants stumbled across after arriving at the Broomielaw.
The MacCreadie's lived on Steel Street, less half a mile from the family bar. It was there that John A MacCreadie grew up after his birth in 1856. The first child of the family, John played football with a local youth team, which was quite unusual with the sport being in its infant stages at this time. Aside of his sporting pursuits, John attended St Andrew's School. From there, he went on to St Mungo's where he was taught by Brother Walfrid, before completing his education at St Aloysius College. His younger brother, Dominick Junior, would follow in his footsteps, taking the same educational path.
In 1887, around the time of Celtic's formation, John married an Irish immigrant of some prestige – Catherine Hegerty. Catherine hailed from Dundalk and was the sister of the mayor of Louth. Interestingly, the MacCreadie clan expanded their business portfolio beyond the Old Empire Bar at this time, opting to delve into the metal, machinery and boiler businesses. Within a couple of years, John was working on his own as a machinery dealer. He then furthered his independence as he lived with his wife and child, also named John Aloysius MacCreadie, at their own house on London Road in Glasgow's East End.
As representatives of St Andrew's Parish, the MacCreadie family were involved in the discussions between Celtic and the church, alongside the other parish leaders of St Mary's, St Michael's and Sacred Heart. The latter three parishes of course stuck with the project, however St Andrews withdrew. Nevertheless, according to Willie Maley's book (The Story of the Celtic), John A MacCreadie remained interested and joined the burgeoning committee of men seeking to establish Celtic Football Club, in a personal capacity. Perhaps this was due to his Celtic connections within the Home Government Branch of the Irish National League, of which he was a member. He was also the first President of the Donegal Reunion Society, a lead member of the Catholic Literary Society and founder of the St Aloysius Association with the assistance of prominent Celtic founding fathers – Joseph Nelis, Joseph Shaughnessy and Dr John Conway.
Until the arrival of the Maley brothers in September 1887, John A MacCreadie was one of the few people that had any footballing knowledge in terms of actually playing the game! Though not prominent among the founding fathers, he was party to the discussions taking place and was a member of the club's committee within a couple of years. He was a pragmatic individual, sitting on the fence throughout the debates over paid officials and then limited liability. However, he did make up part of the subcommittee organised to put plans in place for the conversion to a limited company in April 1897.
Shortly after Celtic's conversion to a limited company, John's personal life took an upturn. He took over a pub on Greendyke Street. This was a trade he was familiar with, thanks to his father running the Old Empire Bar, and it was also in a profitable location being situated just along the road from the Glasgow Highlanders headquarters.
The financial reward of such entrepreneurship was short lived for John, for in late 1907, he suffered with flu, which put strain on his body owing to an underlying heart condition. By 2 January 1908, he had passed away at his home. He left behind his wife and 17 year old son. A mark of the respect he courted was that almost all leading members of the Glasgow Irish community were present at the funeral, along with a large Celtic delegation, at Dalbeth Cemetery.
The MacCreadie legacy continued at Celtic Football Club, through his brother, Dominick Junior, who was an original and lifelong member of the club, just as the pair's father was, despite John being the only committee member of the trio. In terms of his more immediate family legacy, his own son (also John A MacCreadie) never involved himself with Celtic, but he made his own mark volunteering to fight in Salonika in the first world war. Meanwhile, his wife, Catherine, took over the running of their pub on Greendyke Street.
As stated at the top of the piece, John A MacCreadie wasn't one of the leading founding members or an office bearer, but he did take part in discussions to form the club and was a long-time committee member. For that reason, he should be remembered in Celtic circles.
Click on the links below for articles on other Celtic Founding Fathers:
Patrick Welsh – William McKillop MP – John Glass – Hugh Darroch – Dr John Conway – Michael Cairns – John O'Hara – Daniel Molloy – Joseph Shaughnessy – James Curtis – Joseph Nelis – Francis McErlean – David Meikleham – Joseph McGroary – John Charles MacDonald – James McKay – James Quillan – John H McLaughlin – Brother Dorotheus – Brother Walfrid
INVINCIBLE by Matt Corr
The Celtic Star's very own Matt Corr – who you may also know as a Tour Guide at Celtic Park – publishes his first Celtic book, titled
INVINCIBLE
– early next month. This beautiful hardback book will be the definitive story of Celtic's magical 2016-17 season – it truly is wonderful, a real joy to read, and brilliantly written by Matt.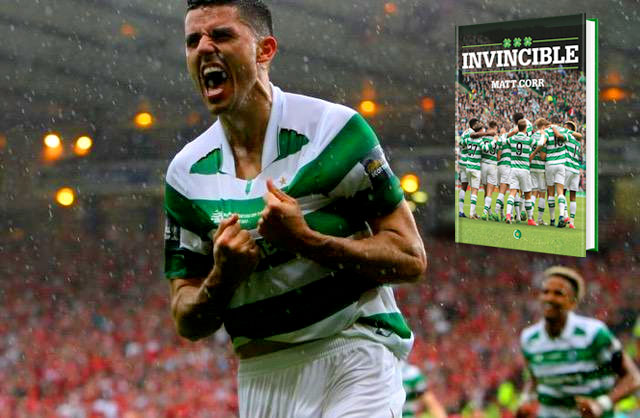 If you have been reading Matt's regular contributions on The Celtic Star or indeed in the Matchday Programme or in the Celtic View you will know just how talented a Celtic writer he is. The book is published by The Celtic Star and you can pre-order below.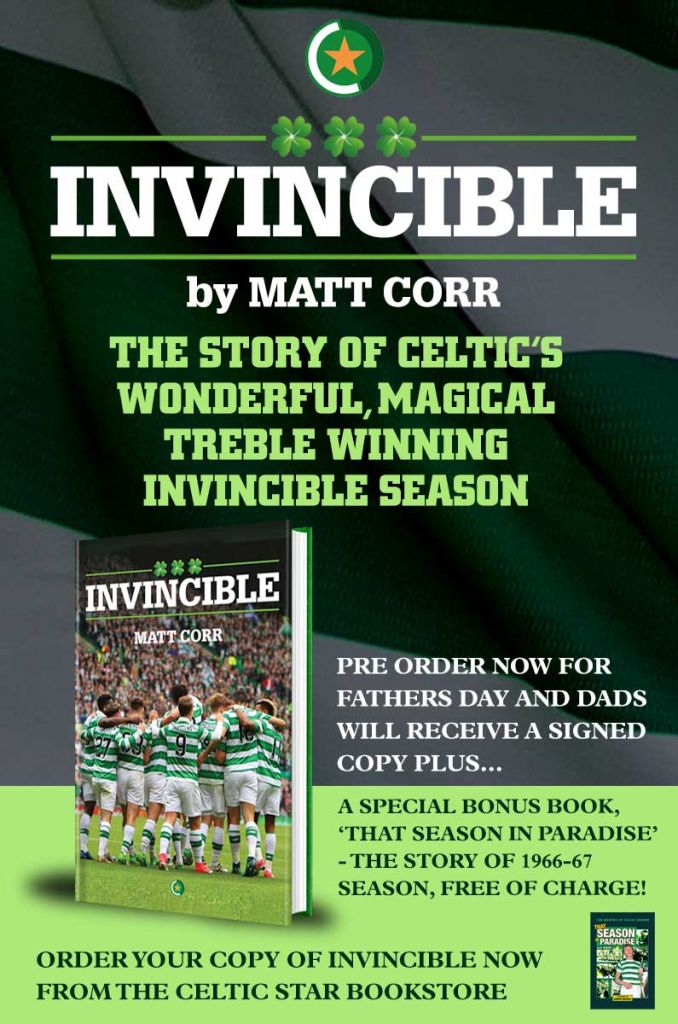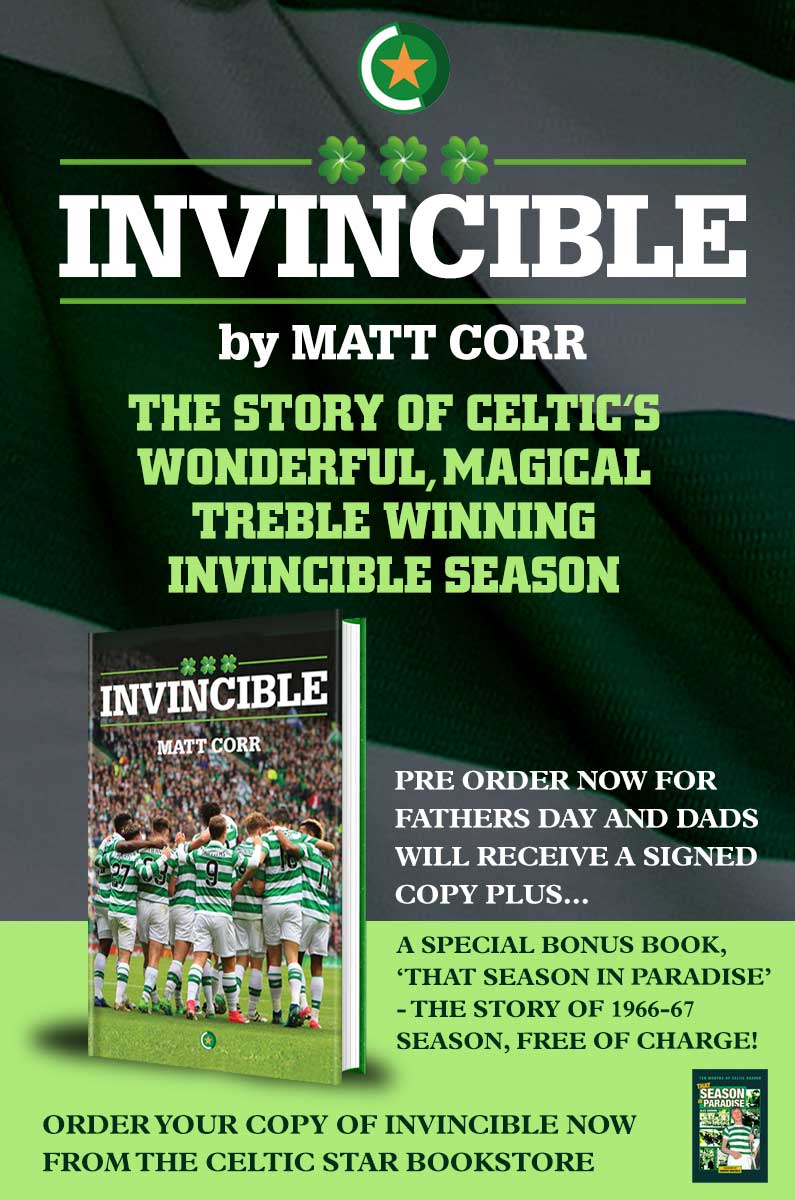 Support Celtic Youth Development
Help raise money for Celtic Youth Development by joining the £1 weekly lottery and you could win up to £25,000 – just click the photograph below to join. Lots of our readers have already done so and they're now doing their bit to help fund Celtic Youth Development that can deliver the stars of tomorrow and beyond. And you might even win a few bob too! And a special thank you to all The Celtic Star readers who have already signed up and are now supporting youth development to give us the Celtic Stars of the future…