The passing of John Hughes is a sad moment for all the Celtic family, particularly those of an age to have seen most of the games the big man played for the Bhoys.
For myself and my Celtic supporting friends from schooldays the name "Yogi" brings back so many memories of times off the field as well as on it.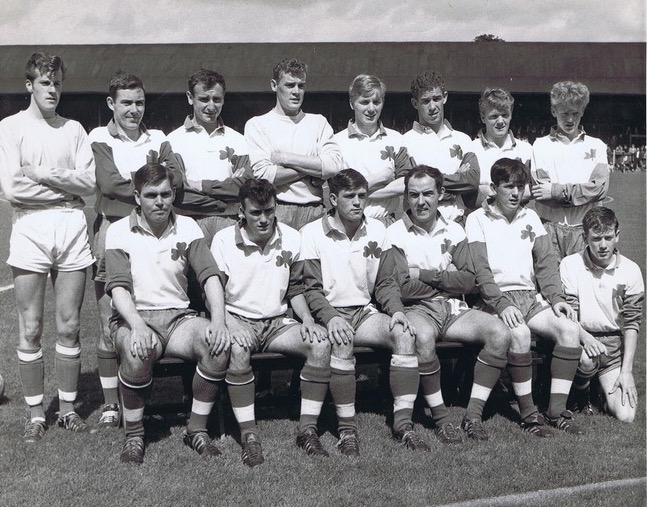 In a sense John Hughes and I started our Celtic careers at the same time. The 1960/61 season saw him make his first appearances on the pitch, while I was making my first appearances on the terracing. Although he was a few years older than me he was, at 17, still a youngster making his start. I was therefore keen for him to do well as, I thought, if he could make it then so could I. People who know me only from mid-teens will be surprised that up to that point I had a bit more weight. And while not fat I was occasionally ribbed for my slight chubbiness. In the early days the expression sometimes used to describe Yogi was "beefy". Perhaps undeserved but it gave me some hope that I could maybe emulate him. That feeling did not last long though as I soon came to realise my ability was not in line with my ambition.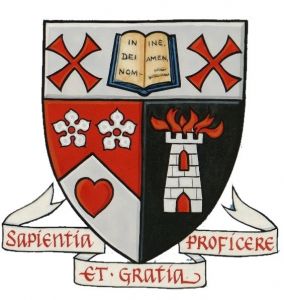 Another reason John had particular appeal for me was his school – St Pats, Coatbridge. That was the very school I was aspiring to go to in a couple of years as long as I passed the "Quali" or "11 Plus".
Our first season did not bring too much joy. Although it had started quite well with a League Cup win at Ibrox, we failed once again to qualify from the group for the knock-out stages. By the turn of the year the title was also out of our grasp. We did have a good run of form though in the second half of the season that saw us get to the Cup Final. However an Eddie Connachan goalkeeping master class, allied to some bad luck and poor shooting meant the Cup would be in the hands of a certain Mr Stein, the Dunfermline Athletic manager.
Yogi's form had contributed greatly to the Cup run as had the fact that we were now fielding a more settled line up. In the first half of the season there had been a lot of chopping and changing especially in the forward line. Even 60 or so years later my "first" Celtic team line up trips off the tongue without any hesitation.
Haffey, McKay, Kennedy, Crerand McNeill, Peacock, Gallagher, Fernie, Hughes, Chalmers, Byrne.
By the time I had started St Pats Yogi was very much a fixture in the Celtic first team. It is fair to say that the fans had divided opinions about him – sometimes the same fan would have different views on him in the same match. My uncle James was one of those who thought that Yogi was too inconsistent to be a first team regular. But that was an accusation that could be levelled at many Celtic players in those times.
I preferred him to be in the starting line-up. Inconsistent or not he was entertaining. When he got going on his mazy runs he could be unstoppable. Although we were inconsistent and not picking up trophies there were some great games and performances. Big Yogi had the ability to thrive in conditions that other players found difficult to cope with. An early example of that for me was a home game v Kilmarnock on a rain sodden pitch at Celtic Park.
As was the case with home games against the Ayrshire club Celtic wore their change "Shamrock" strip. Both teams also wore black armbands and observed a pre-match minute silence as a mark of respect for President J F Kennedy who had been assassinated the previous day. Yogi went on the rampage, tearing Killie apart. He scored a hat trick and set up another in a 5-0 rout of a team who were more likely candidates for the title than Celtic.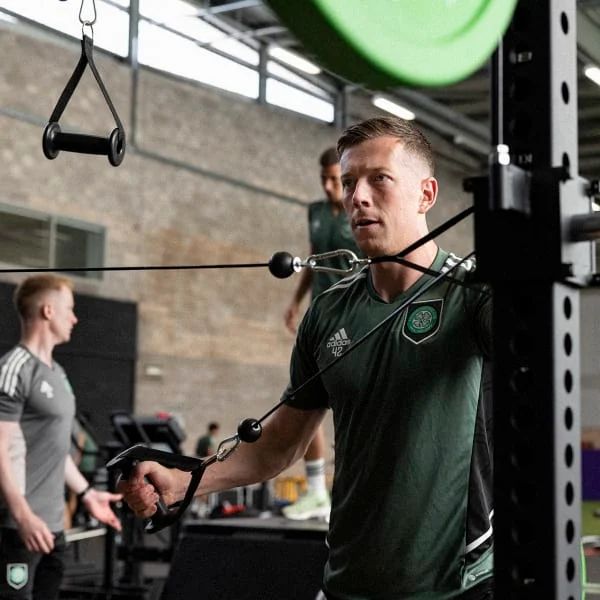 There was a spectacular solo goal in an exciting Scottish Cup tie on an extremely muddy pitch at a packed Cappielow and another solo slalom goal that gave Celtic a 1-0 win in Bratislava in the quarter finals of the European Cup Winners Cup.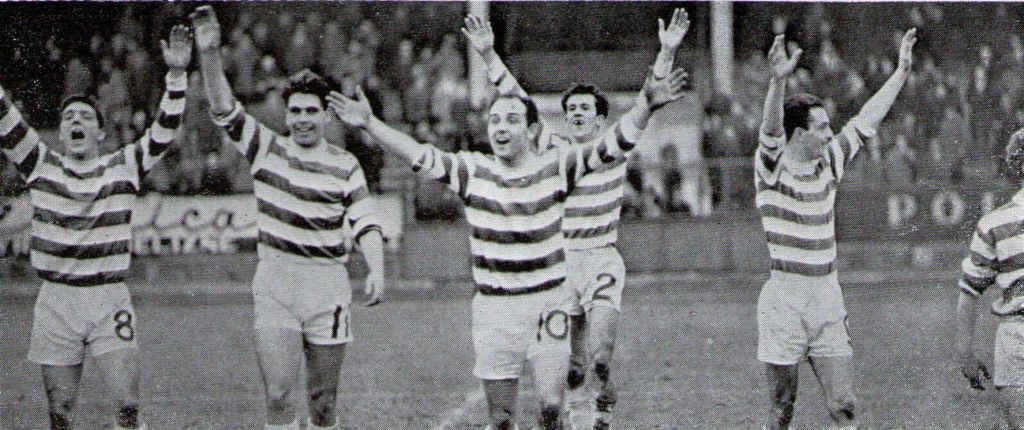 By this time the nickname Yogi Bear had become so well used that virtually no supporter ever thought to use his real name. The name had come about from the cartoon character bear who was always upsetting the "Rangers". At school we had a slight parody of the cartoon theme song.
" Yogi Bear is smarter than the average bear, Yogi Bear is always in the Rangers hair, In the Rangers goalmouth you will find him there, Scoring more goals than the average bear".
My "second" Celtic team was now established and this one was immortalised in song –
"Fallon, Young, Gemmell (who proudly wear the green), Clark, McNeill, Kennedy (the best there's ever been). Johnstone, Murdoch, Chalmers, John Divers and John Hughes (and 60,000 Celtic fans who proudly sing the news).
Truth be told there were not many 60,000 attendances or goals against the Rangers in those years but with wee Jinky on one wing and Big Yogi on the other at least you could reckon on getting entertained – and anyway good times for Yogi and the rest of us were just around the corner.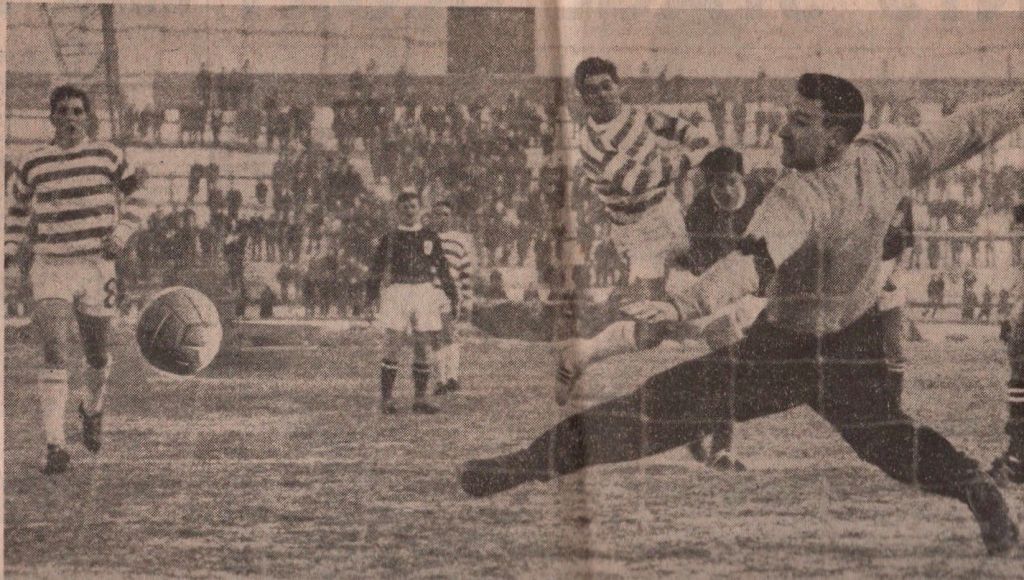 Probably the most famous of Yogi's 'weather related" performances was his "sand shoe shuffle" on a hard frozen pitch at home to Aberdeen on 30 January 1965. He scored 5 in the 8-0 win and the following day it was announced that Jock Stein would be coming to Celtic as manager. A few months later the Scottish Cup was won and we knew there would be more to follow.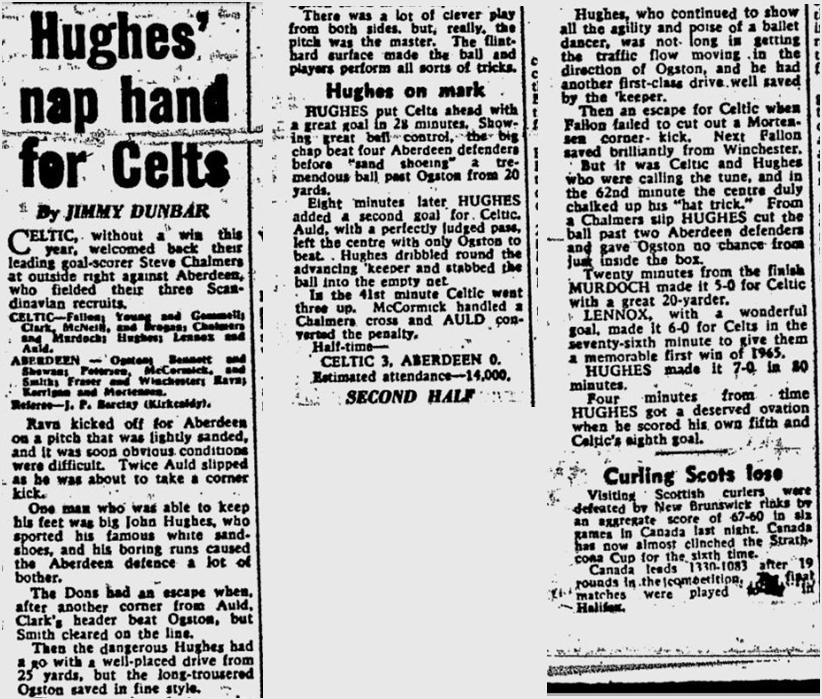 My appreciation of Yogi grew at the start of the 1965/66 season. On my first real away trip on a Supporters Bus he scored one of his crackers following a dazzling solo run. That goal won me the" first goal sweep" on the bus. John Divers had actually scored the opening goal but the holder of that ticket had decided to stay on in Dundee so I got the money. Around 6 weeks later I was even more delighted with Yogi as he scored the two penalties that gave us a 2-1 League Cup Final victory over Rangers. He had also tormented Kai Johansen the Rangers right back and the overall performance in this game let us know that Celtic would no longer be physically or mentally intimidated by the Ibrox men.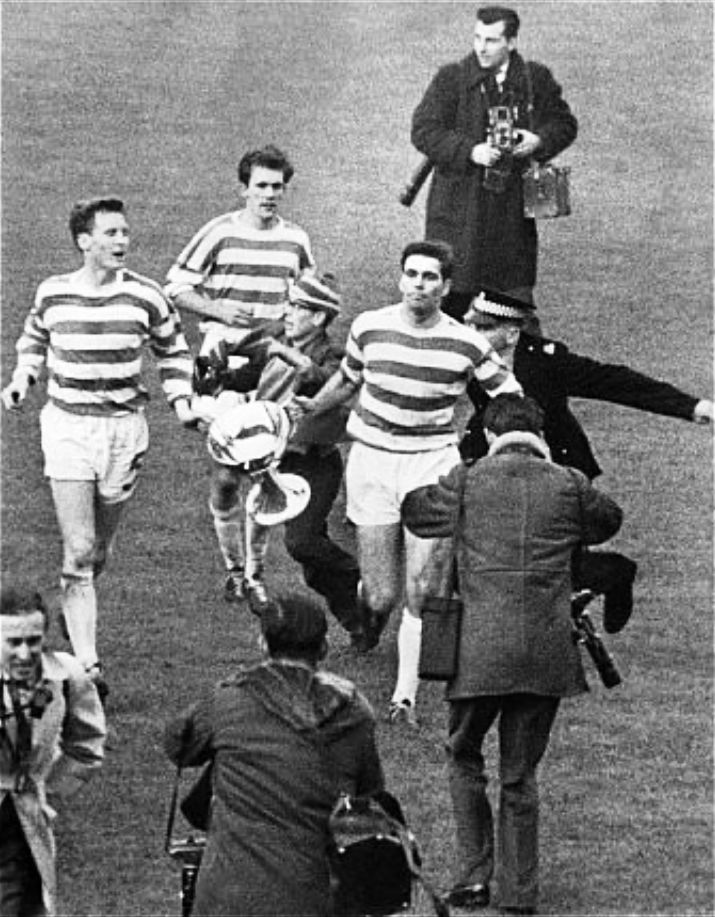 That was reinforced at the New Year with a 5-1 win in the "Old Firm" game at Celtic Park, Celtic's first success in this fixture for 12 years. This was another hard frozen pitch and Yogi once again showed his poise and ability in such conditions. All the Celtic players wore training shoes and there was some discussion in the press about the best footwear for these conditions and wondering if Rangers boots had been the issue. A school mate, Martin O'Neill (no relation to the Blessed Martin) sent a letter to the "Celtic View" saying it was not the Boots that beat Rangers, it was the Hughes! (for that pun to be appreciated though you do have to be aware of the way the name Hughie is pronounced in the West of Scotland)
The League was won and as everyone knows the glory years were with us. Although Yogi did not actually play in Lisbon, he had very much contributed to us getting there. And he would get the chance to play in a European Final in 1970. He had been one of the heroes in the run to Milan including a headed goal in the epic Semi Final against Leeds Utd. Considering his height Yogi scored relatively few headed goals. On the other hand Jinky, who was invariably the smallest man on the pitch, seemed quite prolific in that regard.
Milan of course was a disaster for Celtic, and Yogi. He missed a really good chance to put Celtic back in the lead in extra time. From out vantage point at the other end of the San Siro we thought for a few seconds that he had scored as it seemed a simple task to do so. Yogi said Big Jock never trusted him after that and they never saw eye to eye again. Yogi did play and score in several games the following season but in October 1971 he was transferred to Crystal Palace alongside Willie Wallace.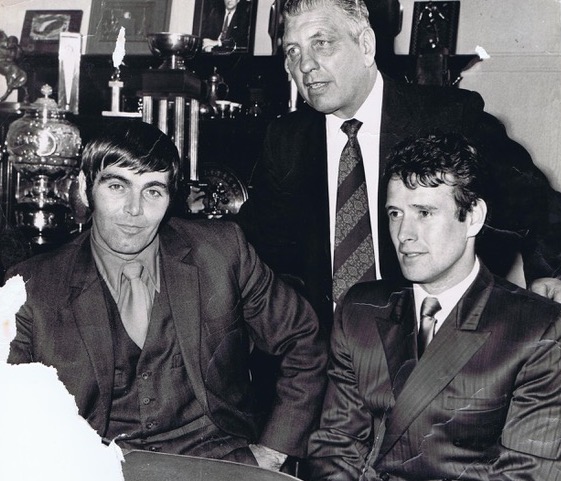 We are saddened to learn that former player John 'Yogi' Hughes has passed away, and our thoughts are with his friends and family ❤️💙#CPFC

— Crystal Palace F.C. (@CPFC) August 2, 2022
Continue reading for the story of Yogi's Bar in Coatbridge…