Yesterday marked the 78th anniversary of the D-Day landings, a turning point in the war against the Nazis and Axis powers. Many Celts were engaged in the War at this time, but John 'Jackie' Watters had a direct involvement in the D-Day invasion.
Jackie signed for the Celts on a provisional basis from St Roch's. As a 14-year-old, he attended Ibrox when John Thomson lost his life and he remarked that the goalkeeper had a hole in his head the size of his fist. This affected him but he continued playing and made his senior debut in 1938. A bizarre story concerns him that year, as Watters skied a corner kick against Rangers in a reserves match and the ball struck a pigeon!
Watters played poorly in 1939/40, which was in stark contrast to Joe Carruth (another Celtic forward of the time), who chose him to be best man at his wedding. Soon after, Watters was called up to the Royal Navy in 1940. He was sent to work as a physiotherapist at a Navy hospital, where he was made a petty officer because he was qualified in the science at university level. Watters then got a draft chit onto HMS Warspite as a Sick Berth Petty Officer, serving 6.5 years as a Navy Medic in total.
On the morning of the D-Day landings, the Warspite had been involved in a heavy duel. Jackie later said of the incident: "My rosaries were steaming then, I tell you." He told the full story of his involvement on D-Day, in the following way: "We were at the landings at Walcheren, the Hook of Holland, and then we bombarded Brest, Le Havre (upper Normandy) – you know, these were the sticky parts, along the coast, where the Army had sustained a lot of casualties. We were lying off the white cliffs of Dover, 40,000 tons and we were tossing about like a cork. And then we left for Walcheren. That's where the flying bombs were coming."
Having survived that fateful day, he was released by Celtic in 1947. He never played for the club after 1940, except in one reserve match at Cathkin Park, which also featured Jimmy Sirrel and Bobby Evans, on 26 August 1944. Jackie then went on to become a legend at Sunderland Athletic.
Liam Kelly
GET YOUR INVINCIBLE AND TWICE AS GOOD T-SHIRTS NOW FREE WITH MATT CORR'S BRILLIANT CELTIC BOOKS
You want one of these? It's completely FREE when you purchase INVINCIBLE or TWICE AS GOOD* from Celtic Star Books website, just click on the relevant link below to order your copy and when you do select the BOOK you want then add the T-SHIRT SIZE you require from  large, XL or XXL, adding that after your name so we'll know which size to send you…(please note that all small and medium Invincible t-shirts are now out of stock).
*£1 from every copy of Twice as Good will be donated to Marie Curie in memory of Harry Hood and in line with the wishes of the Hood family.
Order Invincible here…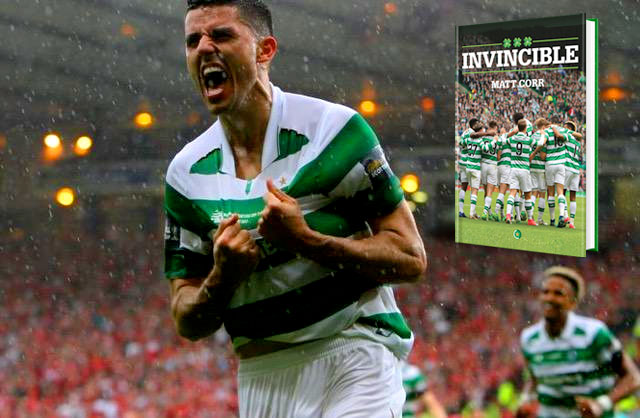 And order Harry Hood – Twice as Good here…