Sad, sad news this evening. Celtic legend and Lisbon Lion John 'Yogi' Hughes, today passed away peacefully after a short illness. Big Yogi was surrounded by his loving family.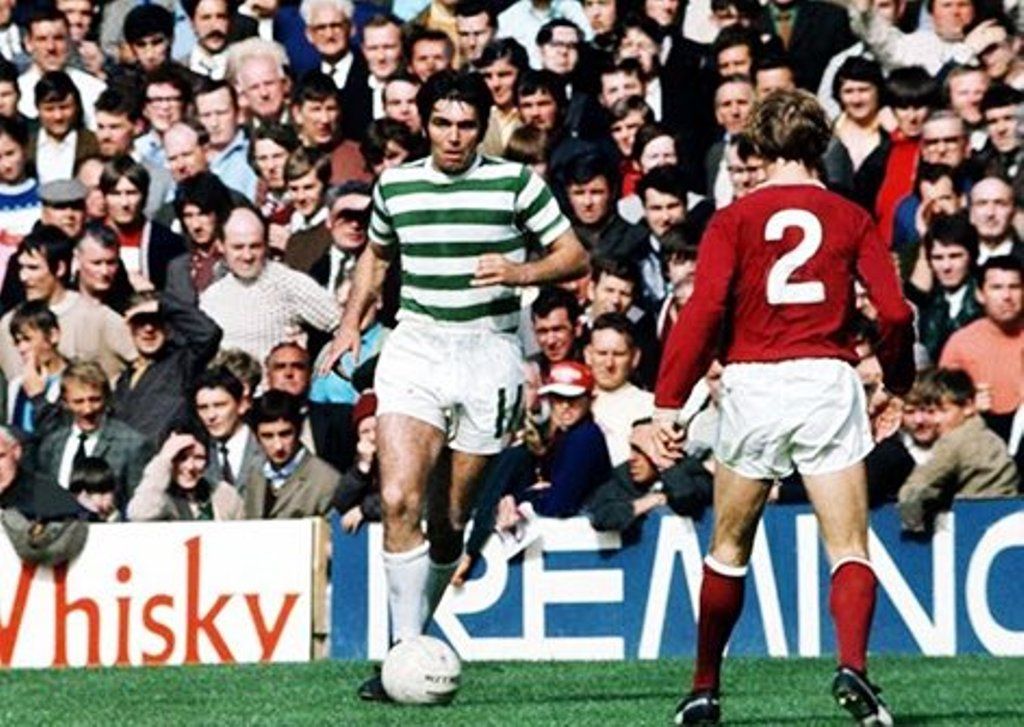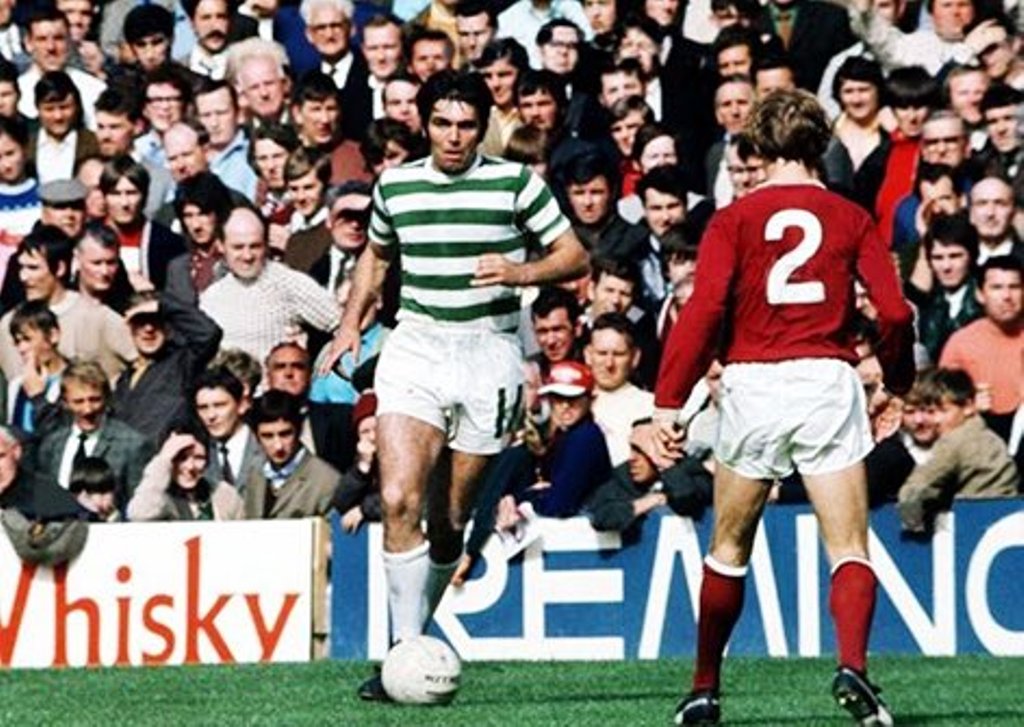 In a short statement released by the family this evening, privacy is requested at this sad time. And they are spot on when they say that Yogi "now joins the ranks of those will be immortal as long as there's a Glasgow Celtic."
Yogi scored 189 goals for Celtic in a remarkable career wearing the Hoops. It was a career that was ended prematurely and to the detriment of Celtic when both John Hughes and Willie Wallace were allowed to leave for Crystal Palace. While Wispy was the wrong side of 30, The bear was just 28 and had plenty of football left in him. His heart though was never really in it away from his beloved Celtic.
Yogi was tall, strong, skilful and had an eye for goal whether playing on the wing or through the middle. A Coatbridge boy, Yogi's football skills were of the St Pats variety, something we'd always joke about. It could be argued that Yogi's goals were carrying Celtic ahead of the arrival of Jock Stein. And before that, just after my own entrance into the world, in my first ever Celtic game as a Celtic supporter of a few days, Yogi celebrated my own arrival by scoring five goals against Aberdeen.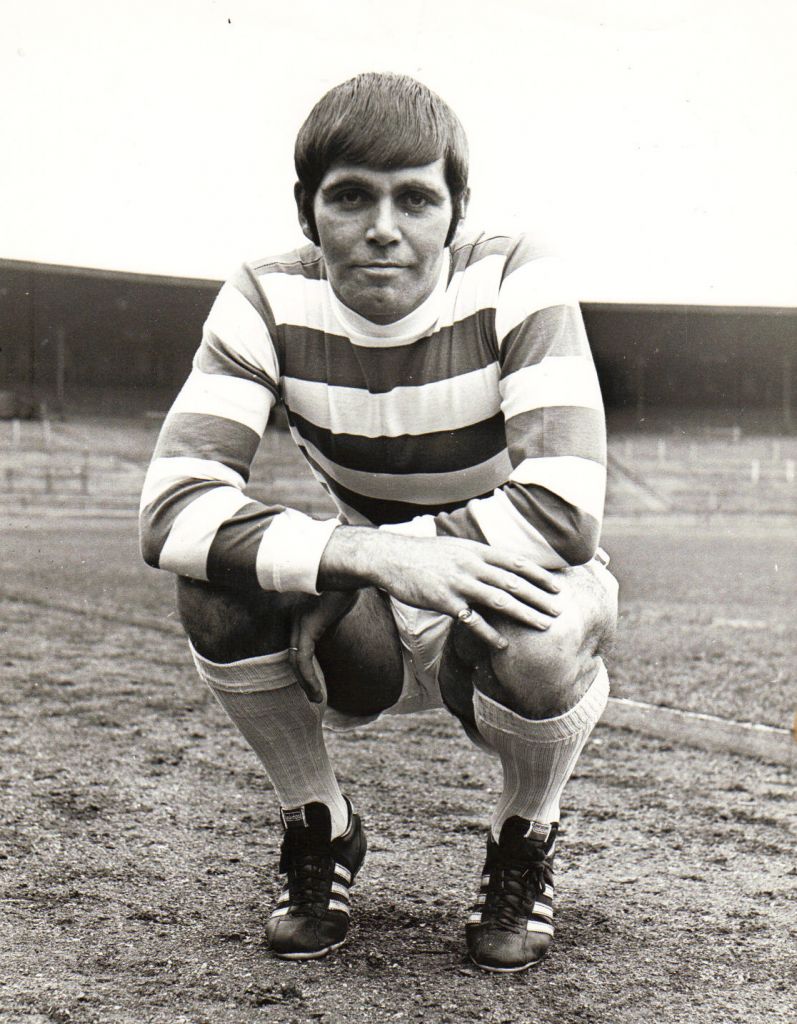 Injury denied John Hughes a place in the starting line-up in Lisbon in May 1967. he had played a huge part in getting Celtic to Lisbon but an ankle injury, despite his best efforts to ignore it, kept him out and it was a huge regret for the Celtic supporting Hughes.
Yogi seemed determined to do it all again and in 1970 he came ever so close. In the semi-final against Leeds United with over 136,000 fans packed into Hampden, a Hughes inspired Celtic completed away then home wins in the Battle of Britain.
Then in the Final in Milan with Celtic struggling but the game being level after 90 minutes against Feyenoord, Hughes almost won it for Celtic after an amazing run, that ended with a frustration as he had come so close to giving Celtic the lead and probably a second European Cup.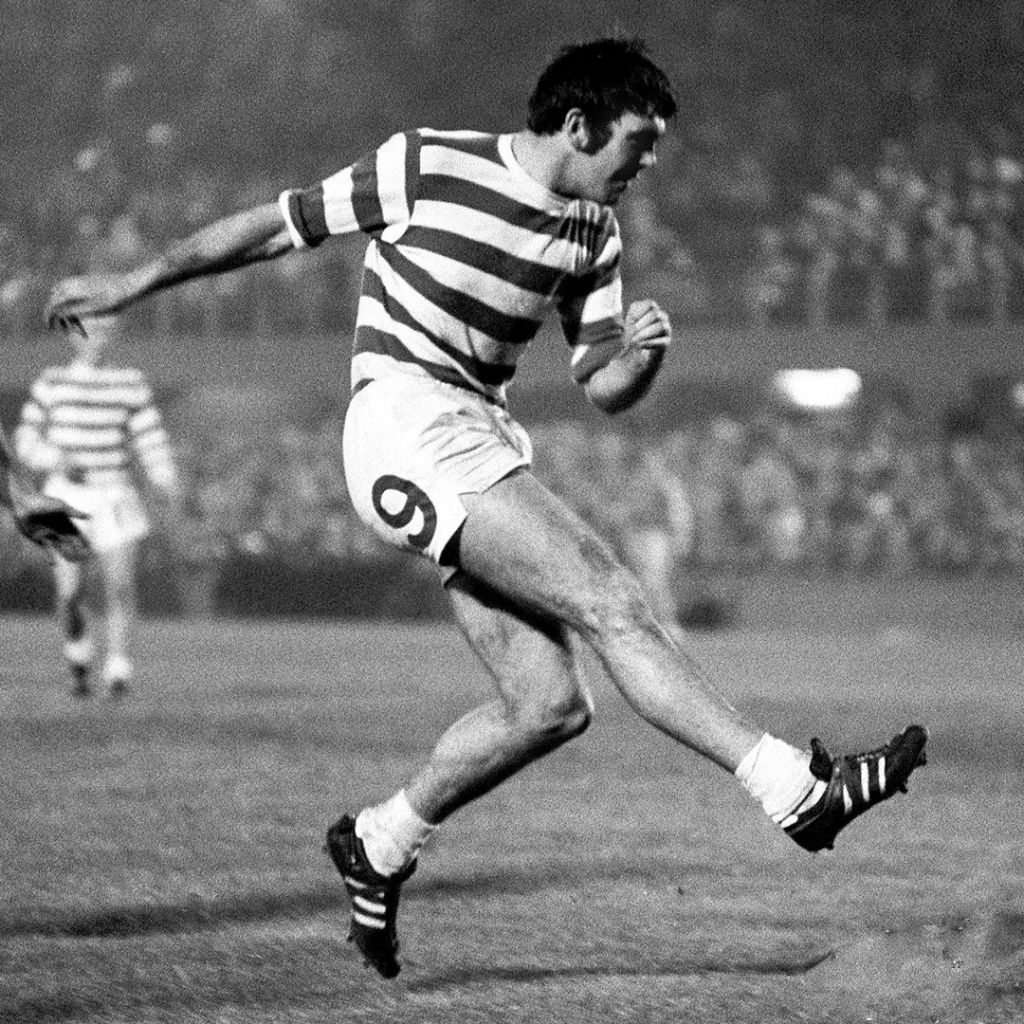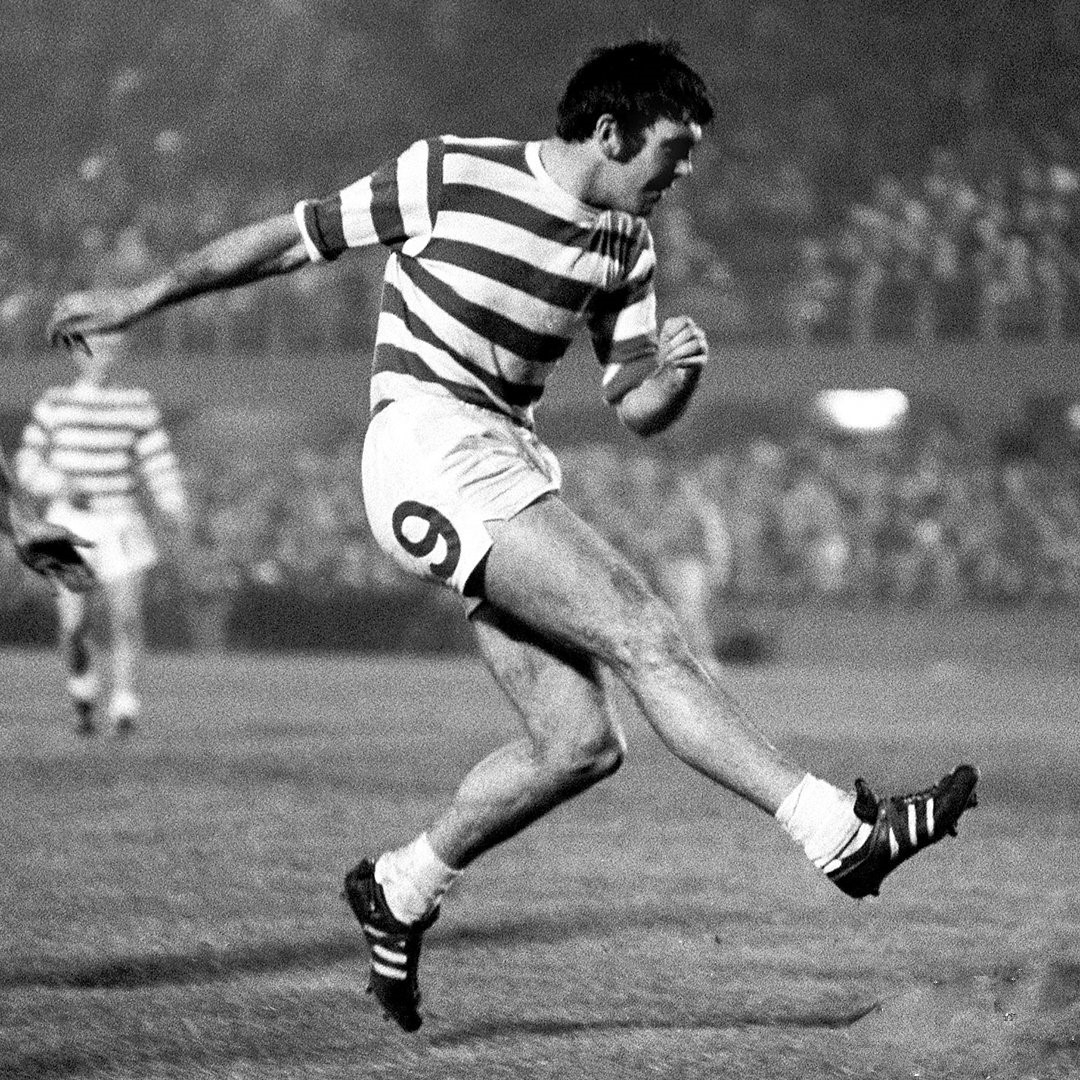 I once asked Yogi and that moment and with real emotion he told me that he'd never watched it. It hurt too much. John Hughes may have played for Celtic for eleven years but after leaving in 1971 he's just about kicked every ball, feeling our pain on occasion and celebrating our successes just like the rest of the wonderful Celtic support.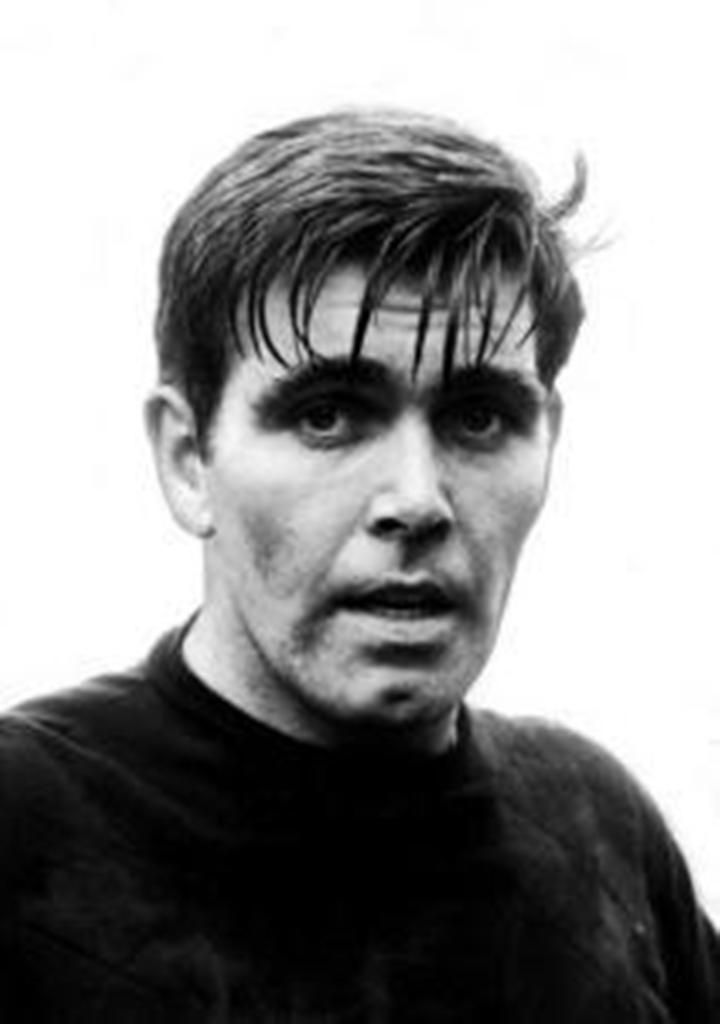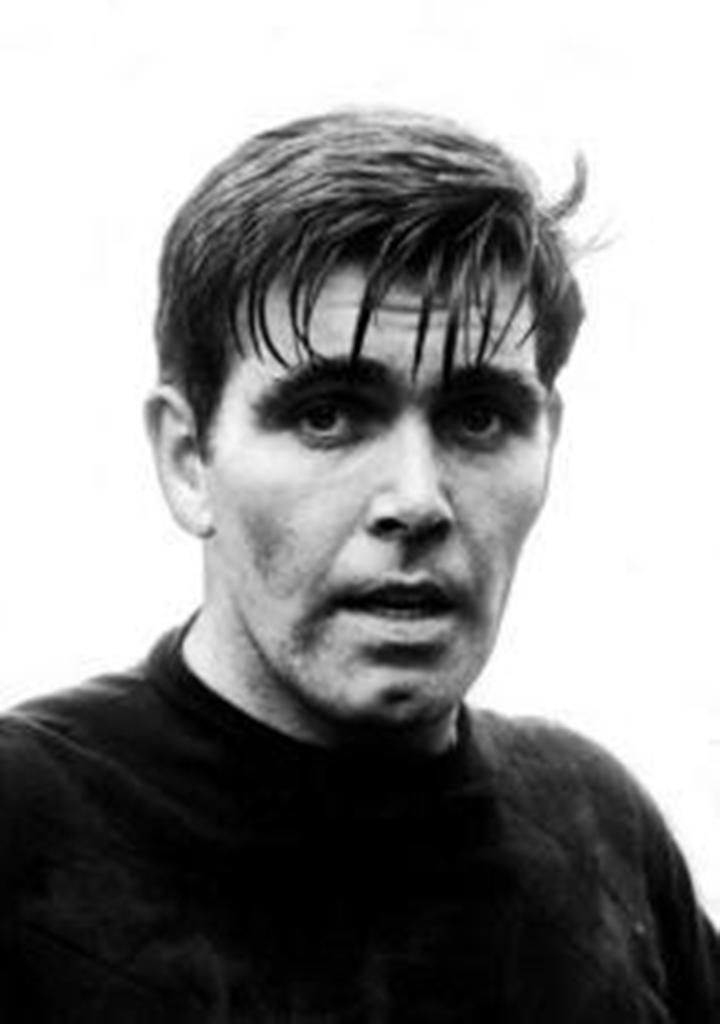 He enjoyed playing against Rangers and always seemed to do well against them, much like Paul Wilson did in the 1970s. Yogi knew what it meant to beat them and revelled in the occasions. No-one messed with Big Yogi or at least they did so at their own peril.
When he had a bad game everyone noticed, and it seemed to be exaggerated. However when he was on song there was simply no stopping him, he was a footballing force of nature. When you are wee, you hear about Celtic from your family and my dad used to rave about Yogi Bear, easily his favourite player among the Lisbon Lions.
Yogi represented Scotland on eight occasions, probably eight too many from Yogi's point of view. he never cared too much for the national side, or warmed to the selection committee over at the Scottish FA and his perception – often discussed at Celtic supporters events – was that they were biased towards one particular club, the one Yogi reckoned they all supported.
Yogi never missed a game at Celtic Park and was delighted at the club's success last season under Ange Postecoglou, his style of football suited Yogi perfectly. When it came to supporting Celtic, John 'Yogi' Hughes never stopped.
Rest in peace, Legend. YNWA.
💔💔💔💔💔💔💔💔💔💔💔 pic.twitter.com/j8ECrO5GTB

— John Hughes (@yogijunior3) August 1, 2022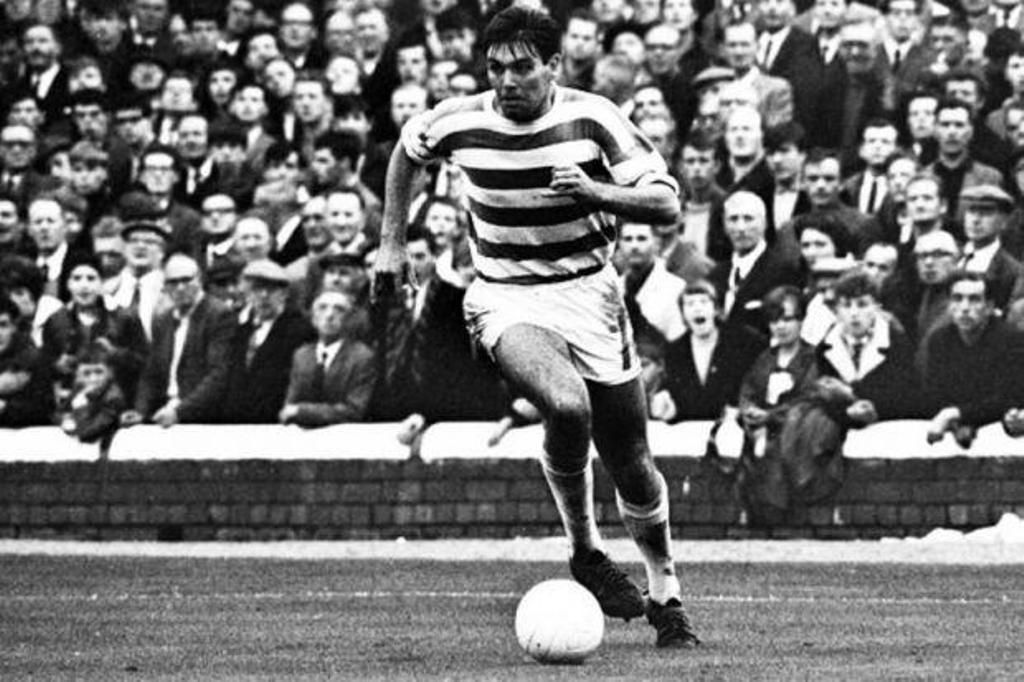 Yogi💚 pic.twitter.com/TTHddF3SYc

— Li'l Ze (@LilZe_7) August 1, 2022
💚Yogi🤍 pic.twitter.com/P5PLFR50Pk

— Celtic Wiki (@TheCelticWiki) August 1, 2022
You grow up thinking these men who we hold in high esteem will be with us forever .
The tales of his exploits on the pitch were legendary but he was more than just a footballer .
He was a husband , a father and a grandfather.
Our thoughts and prayers are with his family tonight https://t.co/ww4VPuSaNb

— Highland__Paddy (@Highland__paddy) August 1, 2022
RIP John Yogi Hughes 😢💚🍀 pic.twitter.com/YvHZy6HQN5

— Tommy Melly (@TommyMelly1973) August 1, 2022
The last time I had a blether with the big man was at Bertie Auld's play, in Glasgow.
We even had a laugh at how many of his squad were being served at the bar.
Sincere condolences to @yogijunior3 and family.
You wore our jersey with distinction.
Rest In Peace, John. 💚

— Davie McLaughlin (@McLaughlin_1888) August 1, 2022
So sad to hear that John Hughes has passed away and another living link to Lisbon gone. Here's the story of how he came to be known as Yogi, from Gerry McNee's The Story of Celtic. May he rest in eternal peace. pic.twitter.com/lWYdF5Zb1I

— Tweet Celtic 1952/53 (@_Tweet_Celtic_) August 1, 2022
R.I.P Big John Yogi Hughes.💔💚🙏 https://t.co/WeQiLoOfVU

— Matthew Blair (@mattybhoyblair) August 1, 2022
Yogi gone. In his pomp he was unstoppable. https://t.co/ad3Mqk0RBB

— Jim Spence (@JimSpenceDundee) August 1, 2022
The Committee and members would like to send their condolences to the family of JOHN YOGI HUGHES..R.I.P. JOHN HH YNWA 🙏🍀💚🙏

— Celtic DSA (@celticdsa) August 1, 2022
Everyone at Celtic Football Club is extremely sad to hear of the passing of Lisbon Lion, John 'Yogi' Hughes, who has died at the age of 79, and the thoughts and prayers of everyone at the club are with John's family and friends at this extremely sad time.

— Celtic Football Club (@CelticFC) August 1, 2022
Thoughts are with Theresa and all the Hughes family at this sad time. Yogi was Celtic to the core on and off the pitch.💚
R.I.P. John.🙏

— Thomas Boyd (@TomBoyd02) August 1, 2022
Some of Yogi's best goals including that one against Leedshttps://t.co/WQ3W3mi928

— Republic Of Football (@the_eriugena) August 1, 2022