CELTIC have had very few better players than Johnny Campbell. Born in 1872 in Glasgow the son of an Ironwork Labourer, he joined Celtic in 1890 and won Scottish Cup medals in 1892,1899 and 1900, Scottish League medals in 1893,1894 and 1898, 3 Glasgow Cup medals, 3 Glasgow Charity Cup medals and 12 caps for Scotland.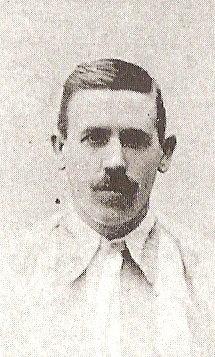 He had been away however for two years. Willie Maley, without being any too specific about it, talks about Johnny being upset by the folly of a "committee member" and he left for Aston Villa in 1895. He was hardly a failure there however for he won a "double" in 1897, as the Villa became only the second club to win the English League and Cup in the same season.
But, like most ex-Celts he hankered for home, and it was no coincidence that Maley, appointed "Secretary" in April 1897, saw to it very quickly that Johnny returned to team up once again with his old friend Sandy McMahon in the forward line that won the Scottish League in 1898. Had it not been for the folly of that committee member in 1895, Campbell would never have been away in the first place, and one can see a parallel here with Bertie Auld who departed to Birmingham (by coincidence the same city as Campbell) when he lost confidence in the Celtic establishment, but returned to a better regime a few years later – and was no worse a player! Indeed, possibly a lot better.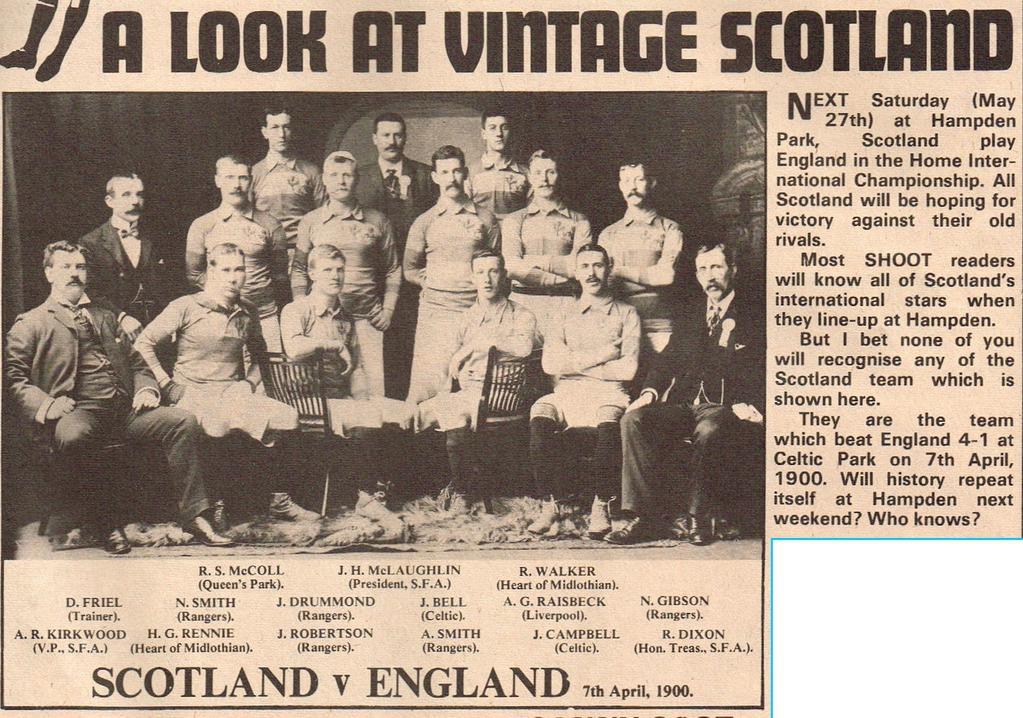 But the turn of the 19th/20th century saw a very good Rangers team and no great success was forthcoming for Celtic or Campbell in the Scottish League, but the Scottish Cup was won in 1899 and 1900 and then lost unluckily in the finals of 1901 and 1902. It was 1902/03, however, that was the third barren season in a row (as far as Scottish honours were concerned) and one that raised a question about Campbell and McMahon. Indeed it was the bad defeat to Rangers in the Scottish Cup at the end of February 1903 that was the death knell for the Celtic careers of McMahon and Campbell.
It would be fair to say that most Celtic supporters felt that the discarding of these two veterans was justified. They had both played their part, but now, well past their 30th birthdays, the time had come for their replacement by younger men. But no professional football player likes to give up too easily. McMahon, although nursing lumbago in his back, flirted briefly with Clyde and Partick Thistle, but Campbell had a far more substantial contribution to make – for another year at least. He was made an offer by Third Lanark, and realising that he had little to lose, he decided to give it a try. He already owned a public house, and still loved football, with a feeling that he still had something to give.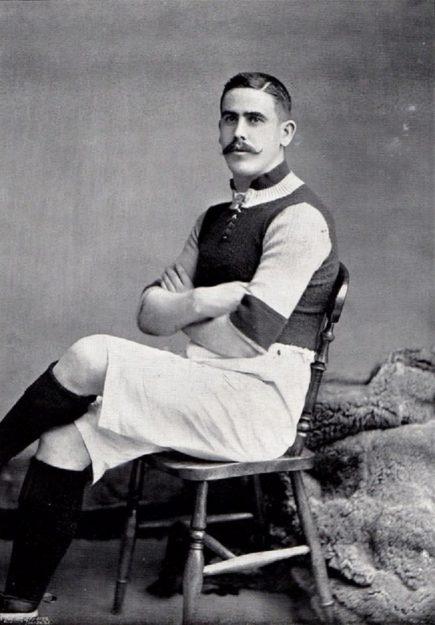 The Third Lanark Rifle Volunteers, the "warriors", the "sodgers" had recently appointed a huge Englishman to be their Manager. He had the unlikely name of Frank Heaven. There is a suggestion in Thomas Taw's brilliant book on Third Lanark in the 1903/04 season that Heaven did not approve of the signing of Campbell – "a worn out relic, an empty husk" – but very soon, the two of them got on together, and Campbell seldom missed a game that season.
Campbell was a competent goal scorer, still had some speed and also an excellent football brain which could read a game and which won loads of games for the Thirds. Campbell also had two other advantages – he had plenty of great players around him in Willy Wardrope, Hugh Wilson, Bobby Barr and John Cross with whom he fitted in well, and he also, when playing for Thirds, no longer had the pressure of playing for Celtic.
Even as early as 1903, Celtic had a large impatient support for whom a defeat was a national calamity, whereas the pressure at Cathkin was nothing like as intense. Campbell, a thoughtful, intelligent and sensitive man, fitted in excellently to this more relaxed and less pressurised atmosphere.
By the end of November Campbell's Thirds had defeated Celtic three times, once at Parkhead where Campbell having been well received by his old fans "combined generalship with sterling play" to defeat Celtic in August. He then repeated the performance a month later at Cathkin before scoring the only goal in the Glasgow Cup final replay at Ibrox in late November.
This was a painful one for Celtic fans, who were not having a great season until the penny dropped that the best half back combination was Young, Loney and Hay and that the best centre forward was neither Sam Gilligan not Alec Bennett but the shy underperformer from Croy called Jimmy Quinn! Sadly for Campbell and Third Lanark, the mighty half-back trio was in position when Celtic beat them narrowly 2-1 in the Scottish Cup semi-final in March, and Quinn, though playing an inside right, scored one of the goals.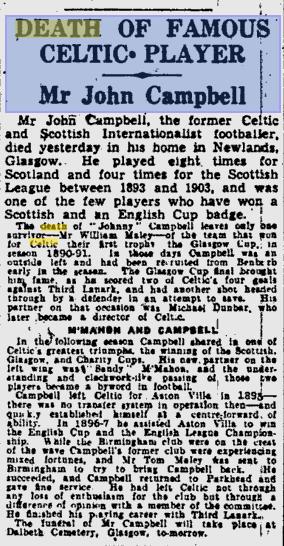 A week after Quinn's hat-trick in the Scottish Cup final, Campbell's Third Lanark beat Dundee to win the Scottish League. It was a great moment for the Cathkin side, and a fitting denouement to the career of Johnny Campbell, who now really did begin to struggle with injuries and old age. He retired in 1906, but lived on until 1947. He was a frequent visitor to Celtic Park and indeed Cathkin, and remained very proud of what he had done for both Glasgow clubs – and indeed for Aston Villa and Scotland. His death was much mourned by those who remembered him.
David Potter