Annoyed? Yes. Surprised? Certainly not. What could possibly go wrong with a reconstruction panel consisting of 15 different clubs all trying to restructure Scottish football via Zoom?
How could it possibly fail when headed by Hamilton's Les Gray and Hearts Ann Budge. Onereprents a club suckered by an online fraudster who despite being blocked by their banks cyber security team remained convinced enough by the scammers to ignore the warnings and continue making a further 20 transactions. The other proceeded over an overtime and over budget redevelopment of a main stand designed to ensure more fans and more corporate money could flow into the club coffers, then forgot to order the plastic seats upon which the extra bums could be located.
You'd almost think they'd been set up to fail wouldn't you?
With the news that the Scottish football's reconstruction talks have ended with insufficient support to reconfigure the divisions, you find yourself grasping at your barnet and pulling hard. Frustration doesn't come close to describing it. Exasperation is a bit nearer the mark.
I don't see the logic in Brechin not being relegated?
If Hearts, Stranraer & Thistle all go down then why not Brechin?
This doesn't look good, especially with their chairman on The SPFL board.
They dont half make life difficult for themselves https://t.co/kqQ69j2OMJ

— Lumos🍀 (@starryplough67) May 9, 2020
Here, incidentally is the SPFL's logic for this…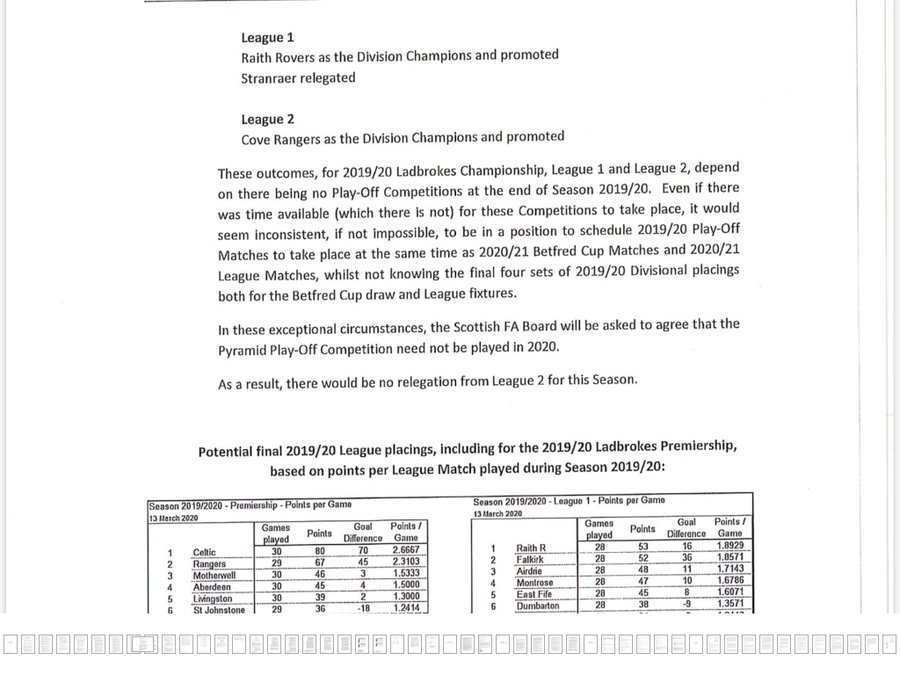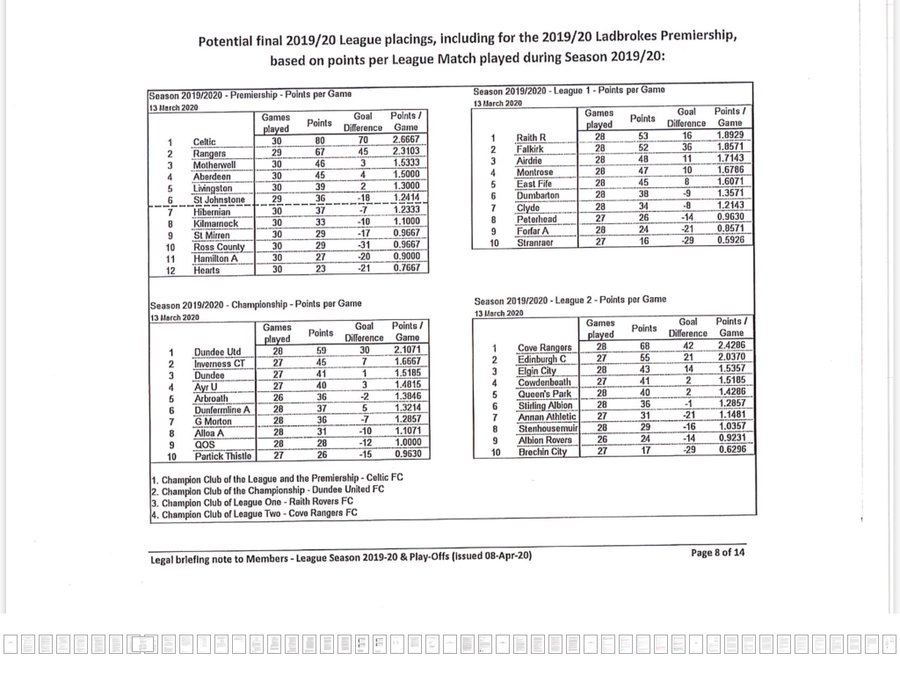 Theodore Roosevelt said 'Believe you can and you're halfway there.' In Scottish football you get halfway and retreat.
It appears the plans had managed to get boiled down to two alternatives.
The first a 14-14-14 structure had seemed the obvious one to succeed given that the 10 current bottom-tier clubs had already backed the plan. That option required the backing of nine of the 12 Premiership clubs alongside eight in the Championship and 15 from Leagues One and Two.
The second a 14-14-16 model, needed the approval of 11 of the 12 Premiership clubs, 17 in total from the top flight and Championship, and 32 of the current 42. That of course seemed more problematic on paper given the level of support needed for it to succeed, but surely a consensus could be found to approve one of the two alternatives.
Unfortunately agreeing on the colour of the content of their toilet bowl of a morning would be too much for those in charge of Scotland's football clubs, finding a way to restructure 4 divisions to ensure clubs aren't punished for landing in the relegation places seems too tough a task. Two alternatives, one choice, too difficult.
PARTICK THISTLE STATEMENT…
Board update on Reconstruction and Relegation

— Partick Thistle FC (@PartickThistle) May 9, 2020
It's hardly surprising given the mess the SPFL made when simply organising a virtual show of hands over the embarrassing SPFL vote, the fact that was a stretch too far for the great minds of Scottish football governance should have been enough of a warning. Then of course there is the now all out civil war between the SPFL board and 'the' Rangers chairman, who happens to actually be a member of the SPFL board.
Welcome to Scotland.
I think Michael Stewart called that 'unedifying', pull it all together and you simply have the shambles of Scottish football in microcosm.
Speaking on behalf of the task force and to the BBC https://www.bbc.co.uk/sport/football/52592567 Aberdeen chairman Dave Cormack said:
"The strong feeling of the group was that we must focus all of our energies on emerging from the crisis we face, due to the pandemic, on getting back to playing football safely and getting fans back into grounds as soon as practicably possible.
"Whilst the group sympathises with the plight of the situation the relegated teams are faced with, it concluded that this is not the right time to consider immediate reconstruction in the midst of a crisis.
"But the group is willing to engage in and pick up on these discussions once we are through Covid-19."
FALKIRK STATEMENT…
📝 Falkirk FC respond to news of the failure of league reconstruction talks

👉 https://t.co/IGbnkWxiKC #COYB pic.twitter.com/NyTX0P4YY1

— Falkirk FC (@FalkirkFC) May 8, 2020
Because dealing with two things at once – one of which you can't even plan for at present – is far beyond the grasp of the great leaders of Scottish football. Dave Cormack went on to example the difficulties faced by way of a mime. He patted his head and tried to rub his belly at the same time. Okay he didn't but he may as well have.
And in among this ineptitude lies a giant of European football constrained by the idiocy that surrounds us. Celtic can only hope that one of the positives to come out of this awful Covid 19 shutdown is that football clubs and broadcasters of other countries partake in some creative thinking for cross border leagues and that Celtic are ready to join the working groups when the opportunity arises. Surely Celtic must now consider exiting this maddening parochial country and expand beyond our current constraints.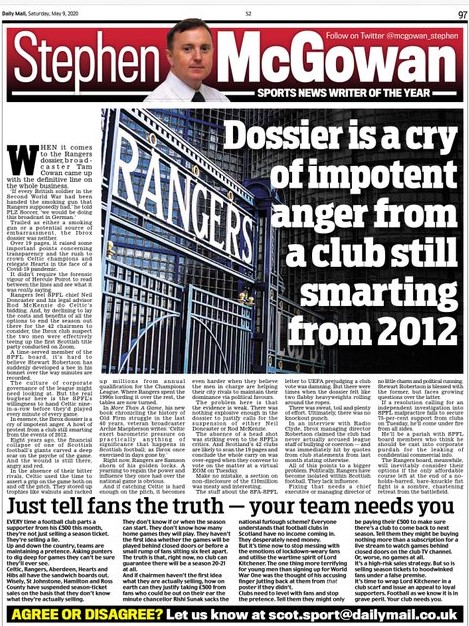 Scottish football will never think outside the box when clubs can rely on the interest in the Glasgow Derby and the away supports the clubs carry across the country. While that remains and the cash comfort blanket to keep clubs in clover, they will not even consider any strategy with any element of risk attached.
What we have is groundhog season. Sure the away trips to Hearts and Aberdeen are a challenge and yes there are four games against our Glasgow rivals but for how long? Hearts are now dropping through the relegation trapdoor and 'the' Rangers are going to have to think of another new name any week now.
Celtic's name can attract players, yet the league itself turns them off. You can play teams four times a season in the league, meet that same club in the cups and it's six, add in a replay in the Scottish Cup and you can be a player facing up to the same opposition seven times.
How do you sell that prospect to a professional player? There is only so much the name of Celtic can do. We might get them through the door but can we keep them when the product bores them to distraction?
A restructure would have brought some freshness and expanded leagues would have reduced the boredom. Yet we can't even get a structure sorted before we begin to look at maximising marketing opportunities or some of that blue sky thinking I was hoping guys like Cormack might bring to the party. Sadly we are experiencing a roadmap around a roundabout. We always end up back at where we started.
Jimmy Dean said 'I can't change the direction of the wind, but I can adjust my sails'. Given the good ship Celtic seems stuck in Scottish football's harbour, it's time we plotted a new course and left this port behind.
Scottish football is stifling the potential of Celtic. The collapse of this reconstruction group should be all the encouragement we need to adjust our sails.
Niall J